Post Disclaimer
I may earn a commission for purchases made through my links. It helps me run this site. Check out my disclosure for more details.
Many players like myself have a good or a couple of pairs of trail running shoes to help them get around the disc golf course. Courses are as different as trail running shoes themselves but they have many common aspects that make them ideal for snapping on a pair of trails.
Trail shoes are lightweight and grippy, many are waterproof and can cope with multiple terrain types and shifting elevations.
If you want a shoe that can cope with burst of acceleration and won't cause you to skid when you are pivoting to a stop on your throws a sports shoe doesn't always cut it.
You need something a bit more robust that can cope with slick conditions and gradient shifts. Trail shoes are designed to cope with surfaces like these and even more challenging territories.
Trail Running Shoes That Are Great For Disc Golf Courses
In this post you will see a lot of shoes that would be ideal for the conditions you can find out in the field. You have the option to go with waterproof shoes, or ones that offer only a litter bit of water resistance and offer more breathability. There are also shoes that offer the best of both worlds. Here they are.
New Balance 481 V3 Trail Runners
I like to wear New Balance a lot. Even for my everyday activities. I like a chunky shoe. They are that and also provide super comfort. But the version 3 of the 481s offer something a little bit more special.
They have a Vibram sole which makes them a safe bet for gripping concrete tees. They are just good on hard surfaces, they are a good all rounder across all terrains – wood, grass, roots, dirt, clay and mud. The 481 is made with a 50-50 split of textile and leather. Perfectly balanced then.
This is what makes it a good shoe for disc golf courses as it keeps your feet steady on uneven rocky ground due to the grippy AT tread on the outsole. This tread is good for those courses with changing patches of ground, from super slick mud, to fine gravel and soggy grass.
On the inside of the shoe there is a Cush+ foam compound insert. I have went through many pairs of New Balance shoes over the years and still have pairs more than 10 years old. I keep buying them because of the support and comfort they provide. Longevity is not a problem.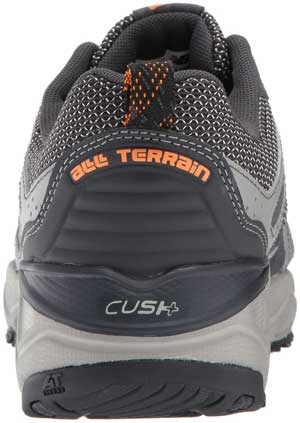 whats good – soft yet supportive feel from memory foam insole, grips well in multiple terrains, water proof, very tough
whats bad –
Nike Pegasus Trail 3 GTX
This is an expensive trail shoe, no doubt about it. Priced at between $150-160 dollars usually its a fantastic looking shoe. But it has more than just good looks like myself.
Its waterproof without being having a Goretex membrane. Not that you'll notice but this shoe has a smaller sole profile than a lot of running shoes. The Pegasus Trail 3 GTX has a lug depth of 3.3 mm. Trail shoes normally measure 3.5 mm.
Whilst not astronomically different its the same analogy as a race bred BMW stripping out the radio, air con and back seats just to lower the weight and make it more aggressive and agile.
Despite the trim these shoes really latch well to snow, wet grass, mud and gravel. As they were designed to help runner pivot through uphill and downhill climbs in rugged uneven woodlands, and loose rocks, you'll have no trouble holding your ground on the disc golf course.
One reason why you'll love this shoe is because it's so flexible. Your feet and toes will love the freedom they have as you amble about the course. But be assured they will be read to roll whenever you have to move into action. They are as happy walking as they are running. That's the mark of a good shoe for disc golf.
what's good– amazing grip in all terrain, lightweight, extreme water protection, no need to break them in, loads of comfort straight out of the box
what's bad – in all shoes with superior waterproofing like this your feet will get hot. So if your feet already run hot in normal weather you are going to boil in the summer heat. Very expensive shoes – if you use these often you will you will need to be able to afford the yearly premium to upgrade. Playing 4/5 times a week will give you 8-12 months sometimes less out of your shoes before they start to fail
Salomons Speedcross 5 Trail Running Shoe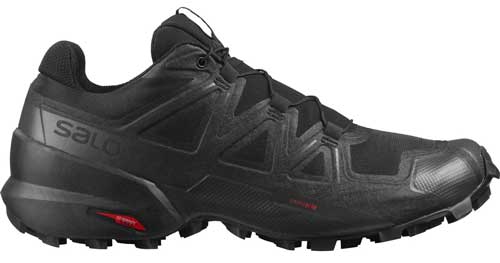 Just like the aforementioned Nike GTX this is a fine looking shoe. Yes the Saloman Speedcross 5 is also very expensive and also outstanding. That's something to do with the fact thats it's a premium trail running shoe.
Your feet will feel plush and supported inside these. The lacing panel and Sensifit midsole cradel wraps your foot and ankle in securely.
These are all about speed, hence the name. Its starts with the 1-pull laces which work a treat in damp and cold conditions. No more fiddling about with long laces should they come undone.
Underneath the sole hard rubber lugs are deeply embedded and spaced out to navigate tough surfaces and rough unstable conditions.
They have been specified to keep runners losing their footing when they are stopping fast on descending trails shifting their weight this way and that at a breaths notice. So on the course with less extremities than a trail run you can be assured your feet are going to feel very planted in woods and over loose rocks, gravel, dirt and mud.
And if you decide to run off tail up at mountain on the way home the SpeedCross 5 runners have you covered.
The shock absorbance is also top notch. For such a light shoe (11 oz), they are as tough as an old boot.
Ultimate Frisbee players are big fans of the Speedcross 5 and for all the reasons mentioned above.
Whats good – excel in the wet, dirt and mud, will double as your favorite hiking shoes, great push off on uneven wet surfaces, designed to take abuse on any terrain, good for field sports
whats bad – a lot of bucks, the heel is quite prominent, rubber lugs will go through a lot of wear on concrete tees, on asphalt those rubber lugs can be a bit too grippy
Asics Frequent Trail Running Shoes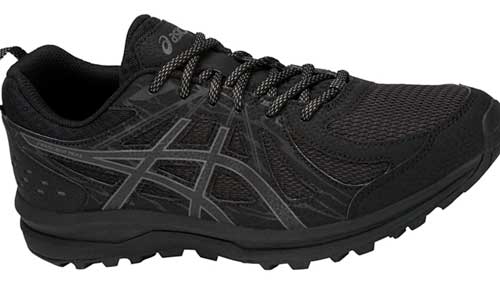 The Asics Frequent trail runners are shoes that punch well above their weight. When on sale you can get them for roughly $40. But even if you paid $60 and up for these they would still be excellent value. The reason Asics have a lot of fans for outdoor sports is the tread has great grip on grass and rocky surfaces. They only weigh a spritely 11 oz  and have great arch support so they'll feel light as a feature on a golf course.
This is usually more of a thing with runners but if you have a particular insole you like to wear in your shoe you cannot remove this one as its glued on. There is plenty of room in the toebox so adding something like A Dr School insole to prevent shin splints will work.
If you are buying a pair of these shoes on the internet they are known for being true to the size displayed. Shoes have a very high ratio of returns as brands are always getting the size charts wrong.
One thing to bear in mind is these Asics Frequent runners aren't waterproof . The mesh fabric is quick drying but not much uses when its pouring out of the heavens.
whats good – keenly price, good arch support, toe cap is reinforced, toebox has lot of room in the toebox (even to add a thin insole), good on multiple terrains like mud, wet grass, concrete. Hold up well against toe drags when your throwing discs.
whats bad – insole are glued in so if yours is thick your toes will be cramped if you add it on top, padding is basic, on really wet surfaces grip can fail,  very thick laces
Some Pointers To Help You Pick The Best Trail Runners For Disc Golf
There are 3 types of trail shoes come in 3 varities
off trail
light trail
rugged trail
Light trails will get you away on most disc golf courses. They will provide grip on uneven terrain and provide a light bit of protection in wooded areas, choppy grass, roots and gravel. They'll even stop you slipping about like crazy. They are good for warmer weather.
Rugged trail shoes are a beefed up version of light trail runners. They are good for courses with inclines, changing slopes, mud, looses rocks dirt and gravel. They will help you in mud and swamped grass.
Off trail shoes take the protection and grip up another notch. They offer even higher levels of protection, traction and stability.
The best thing about trail shoes is that you can also wear them on the pavement. As they are lighter than a hiking boot you won't suffer from foot fatigue early in the day and they'll still fell comfortable driving home after a long session on the course.
Waterproof Disc Golf Shoes
If you have a really wet day or are going to do some field work and the grass isn't trimmed and you are worried about downpours Goretex shoes offer a high level of water resistance. It doesn't add any weight to the shoe and all the top brands from Salomans to Nike offer Goretex shoes. Goretex will also keep your feet dry in the snow.
More Disc Golf Shoes Reading Content
If you liked this post this ones got a rundown of all the best disc golf shoes available to buy right now