Post Disclaimer
I may earn a commission for purchases made through my links. It helps me run this site. Check out my disclosure for more details.
If you want to level up in the sport of Disc Golf you need to play consistently, and improve. You can't play consistency if you are slipping all over the place because your footwear can't handle moist ground or hilly terrain. A good pair of disc golf shoes will provide you balance and leverage, no matter what the weather has done to the course.
The major sport shoes brands don't make shoes specifically for or targeted to disc golf. But grass is grass, slopes are slopes, dirt is dirt and water resistant shoes will protect you from wet soil and grass. That's why trail shoes make excellent disc golf companions, and even hiking shoes in rougher terrain and wintry conditions.
A new start up company called Idio Syncrasy has emerged in 2022 as the first sole (pun intended) company I've ever heard of dedicated to making disc golf shoes. I'll report back soon on them once I've tried out their shoes.
So trail running shoes, hiking shoes and cross trainers are the best shoes for this sport. Or you could even try what a buddy of mine uses, Nike football shoes. He says they have lasted longer than any other shoe his tried as the soles can handle much higher amounts of torque than anything else. Definitely on my to try list.
Adidas is the preferred brand of choice by many PGDA pros. The Tech Response shoe (reviewed below) is extremely popular in the golf ball as well as disc golf sport. Adidas are the biggest seller no doubt in golf, but there are plenty of other brands that make some awesome shoes.
Multi- Terrain Disc Golf Shoes
A good shoe for disc golf has to hold up to multiple terrains- and sometimes all of them on the same day. Shoes need to navigate grass, mud, hike through woodlands, sand and rock. They need to handle short bursts of speed. They also need to be able to handle scarring from constant toe dragging and they may also have to survive the washing machine.
In an ideal world you would keep one pair of shoes for rough days, one for mud, one for pristine grass, one for dry days etc. But not everyone is on a pros wages and trail running shoes cover a multitude of bases. You don't want a shoe thats going to fall apart from a bit of rough play
If you play regularly you can expect a good 12 months out of your shoes before the soles start to wear out. I know its short, but that's the way it is. The ball of the foot and toe tend to wear out pretty fast from all those pivots when you're throwing discs, and placing a lot of torque through your foot on flicks.
If you sign up for a rei.com membership card you can get a lifelong warranty on anything you buy. So if your shoes unnaturally wear out fast hit them up for a refund.
For a good all-rounder with plenty of balance, New Balance's (no pun intended this time) 570, 571 and 620 are fantastic all terrain shoes without the hefty price tag of Salomans. They also provide excellent stability on grass.
There is no one "best" shoe" as it depends on the weather and the type of terrain you need the shoes for. Pros will bag several pairs of shoes to accommodate all the different courses they will need them for, but not everyone has the budget. You can expect your shoes to last a season at best if you are playing 3-5 days per week.
To get more life from your shoes you could use a standard pair of cross trainers for your practice games and use your more expensive shoes for tournaments. Or you could rotate a couple of pairs of shoes if you can afford that.
If your course is wet or the temperature drops to chillingly cold you could put some Sealskinz overshoes over your regular trainers to stop water getting in and to keep your feet warm.
They are good to bag incase the weather changes for the dramatic. Seals are good if you already have a pair of non-goretex shoes you like. They will save you some money on buying some waterproof shoes.
Lugged Soles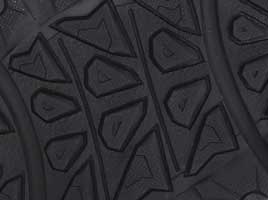 A shoe with a lug sole is better for providing increased traction over uneven surfaces. The thick indentations ensure your grip is stabilised on uneven or rugged terrain. This is good on disc golf courses where you have to tread across, grass, dirt, rock slabs, woodland scrub, roots and gravel. Sometimes all on the same day.
Shoes also have to be able to offer the versatility of navigating everyday surfaces like pavement and asphalt and get you to the course without having to change them over to "normal" shoes.
Shoes need to be tear resistant and strong to protect your feet from abrasions caused by challenging surfaces.
Trail Types
Trail shoes come in 3 varities
light trail
rugged trail
off trail
Off trail shoes are for the most extreme territories, rugged trail for varying landscapes like uneven slopes, mud, rock slabs, grass, light trail shoes are good for even surfaces they also give you a bit of protection from woodlands, roots and rough grass and such. Trail shoes are preferred to hiking shoes because of their light weight and versatility.
Waterproof Disc Golf Shoes
Many folks prefer to use hiking boots (like Gore-Tex Rocky boots) in the snow for instance. Walking shoes can sort you out on grassy courses, trail shoes would do a much better job on muddy ground.
Anything Gore-tex is going to be waterproof. There are a few options on this list to help you decide. Running shoes are also very comfortable but you may have to ditch them though in winter months if you get a lot of frost, damp or snowy weather. For this type of weather look for waterproofs like Merrels Goretex.
Cross trainers can of course be used as can running shoes like a lightweight pair of Salomon Wings. Bear in mind running shoes will wear out quick but it's nice to have a light breathable pair of shoes for the summer.
If comfort is your preferred state you can't go wrong with a pair of Saucony's. Are you eyeing up a pair of Chameleon's by Merrill as you've see Bear Grylls wear them? Bear in mind (pun intended) they are designed for narrow footed people.
For great grip off the teepad trail running shoes are your friend. Anything with a Vibram Sole will protect your soles from concrete based pads.
Low Mid or High-Tops?
This is an individual choice. Some people don't mid a higher ankle covering hiking boot, for others this is too bulky and awkward. Some people feel low tops provide much better weight transfer than mid or high top shoes, especially on run ups.
Dual layer turf shoes, designed for indoor and outdoor turf provide grip and excellent wear protection against concrete and hard ground and grip turf, grass and mud really well.
Cushioning
Comfort and padding is a big issue if you are especially if you are playing or practicing repeatedly all day. Comfort can range from barefoot which is  virtually none to maximum which is quite soft.  If you play multiple times a week you will need a good pair of shoes with plenty of air circulation to keep your feet cool and free of sweat in the summer, and dry during rain and throughout muddy waters.
DIY Shoe Repairs
Don't just throw out a pair of shoes if the sole has split off or worn out. Get yourself some shoe glue and extend the life of your shoe. Aquaseal is specifically for repairing hiking boots, running shoes, climbing shoes and cleats.
It can be used on soles and can even rebuild worn out heels. It works on all types of footwear, from neoprene, rubber and even Gore-Tex.
To Cleat or Not To Cleat
Some people like to wear cleats like Avery Jenkins to provide more traction in snow or slick grass, personally I don't like them as they make your foot too planted on the surface so its hard to rotate. I already have a dodgy right knee as its my leading foot I don't like to put any undue pressure on it. The choice to wear them is up to you, just have 911 on speed dial.
New Balance 481 V3 Trail Running Shoe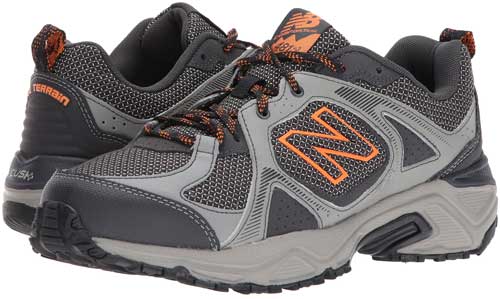 The 481 V3 by New Balance has one of those Vibram soles I mentioned about earlier that is good grip for concrete teepads. This is all all-terrain shoe, it's athletic, comfortable and well ventilated.
New Balance also have quite a chunky outsole like Moab Edge 2 by Merrell mentioned above, but it does have a collar that supports your ankle and prevents fatigue. This shoe has a perfect 50-50 blend of leather and textile. This is a great shoe for disc golf terrain as it allows for uneven rocky surfaces courtesy of its AT tread on the outsole.
This tread is great is so many surfaces, from over slippy mud, to lose gravel and wet grass. Its about the best all round contender I've had the pleasure of wearing. I've still have NB shoes from years ago that i use for every day wear. Longevity is great.
And having worn New Balance shoes for years I can testify that inside the comfort is always top notch. This features their trademark ultra soft insert Cush+ foam compound.
These shoes have a great tread and loads of bounce, they are lightweight and feel fantastic as you navigate an 18 hole game. I can't recommend them enough especially as they are a great price. Some running shoes cost $150 and these offer every bit of good they do for a fraction of the price.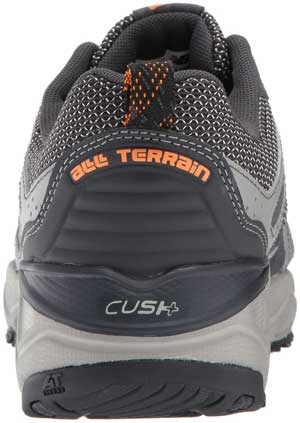 whats good – plush feeling memory foam and cushioned sole, good in multiple surfaces, water resistant, durable
whats bad – not much, you could get addicted to buying them, but just to be nit picky the laces are very thin and not overly long – but i like that as i don't have to tie multiple loops in them
Check your size here on Amazon
Salomons Speedcross 5 Trial Running Shoe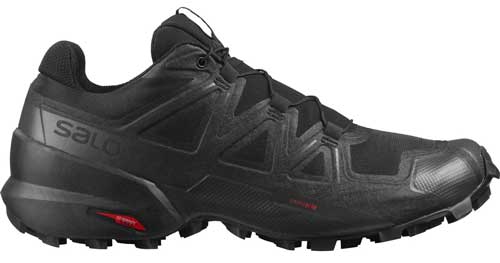 Who doesn't have a Salomons Shoe as a guilty pleasure? Sure are expensive and some are over hyped. The Speedcross 5 is expensive but worth the hype.
This shoe has a lot of clever technology from the simple fast 1-pull lace up system (no more fiddling with wet laces in the rain) to Sensifit cradle/cushioning incorporated into the mid foot and upper foot lacing panel which wraps your foot and ankle in snugly.
The rubbery lugs are very deep and spaced out to handle rough terrain and messy conditions. They are designed to stabilze runners when they are breaking hard on descending trail runs so you expect your feet to be very secure in wooded areas and hilly rocky mudland.
The impact absorbance is fantastic. They are also quite a light shoe, a meagre 110z for such a well padded beast, thats impressive
Not surprisingly the Speedcross 5 are a firm favorite in the disc golf and ultimate frisbee world.
Whats good – excel in the wet, dirt and mud, will double as your favorite hiking shoes, great push off on uneven wet surfaces, designed to take abuse on any terrain, good for field sports
whats bad – expensive, quite a big heel, rubber lugs could wear down with constant concrete use, all that rubber can be a tad too grippy for asphalt
Asics Gel Kayano 28 Running Shoes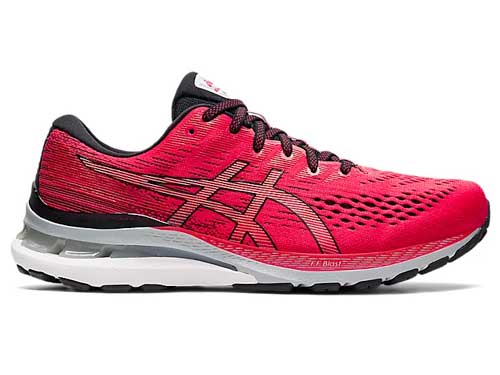 The Kayano shoes from Asics are for wider feet. Aimed at runners primarily this a good all-rounder for disc golf courses as they fair well on a multitude of surfaces, dirt, grass, wooded trails, concrete and even asphalt.
The tread is small and is not suitable for wet conditions. This shoe definitely prefers the better weather. its light tread and gel cushioning make it quite a nimble companion.
This shoe performs less favorably on gravel, and if you want to play some beach golf this is not the shoe to wear. You'd be better going barefoot.
These shoes have quite a high heel that accommodates its gel technology inserts. If you prefer a flatter heel pass these by.
What's good – good all-rounder, nice cushioning
Not so good – doesn't like bumpy rough terrain, it prefers flat non-slippy surfaces. Tread wears out fast as its light
New Balance 875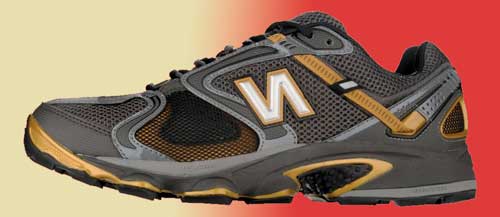 This solidly built trail runner shoe has been around the block for since 2009 and is aimed primarily for summer weather. It has plenty of ventilation and provides a good amount of underfoot protection.
This shoe has been discontinued by New Balance but you can still find it about online.
Its more like a lightweight cross-training shoe designed for the outdoors, rather than a pure agile trail runner.
This cross over makes it an excellent companion for disc golf players as it provides a great deal of traction on rough or uneven terrain with a durable build quality.
The 875 has a reinforced liner built into the lacing structure and combined with the N-Lock wrap around strap it provides extra midfoot support and makes the shoe fit snugly. It's a bit more robust than a running shoe requires and can lead to foot fatigue over a long run, but the extra toughness makes it ideal for disc golf.
What's Good – lightweight, features Rock Stop® technology and Abzorb cushioning that protects your feet over hilly, rocky and rugged terrain
Not so good -The large side vents are great for summer ventilation but not good for rain or damp conditions.
You might find the New Balance 875 sneaker here on Amazon.
Adidas Tech Response Golf Shoe 2.0
The closest you are going to get to a disc golf shoe (so far) from one of the major sporting brands, the Tech Response from Adidas. Designed for regular golf this shoe will excel in lush and even a bit of rough patchy uneven grass.
These shoes have spikes for added stability on grass so that makes them a no-no for concrete teepads and hard synthetic grounds. You can also get them without the spikes. They aren't water proof (even though the spikes are for wet ground…like what?) but you can fix this with a can of water proof spray.
Obviously these shoes play well on pristine grass, they won't fair so well on uneven surfaces or rugged terrain so you will be limited to courses where you can wear them. They will handle patches of woodland and rough scrub land but they aren't built to survive rocky terrain.
What's the point in wearing these ball golf shoes for disc golf then? They are lightweight, hold excellent traction on grass, they are perfect on the fairway, and provide excellent grip during run-ups. They are super comfortable.
The standard fitting is suitable for narrow foot types and small arches. Can get a wide fitting.
Whats good – inexpensive run from mid $40s and up depending on size, very comfortable
Whats bad – they are not waterproof, only suitable for neat cut grass and a light bit of rough ground
Merrell Moab Edge 2 Hiking Shoe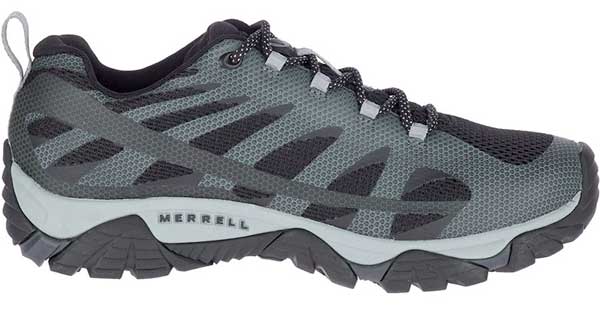 The Moba Edge 2 by Merrell is a pretty chunky 100% textile shoe without the bulk of a traditional hiking boot. The size 10 I got to review weighs only 140z – anything under 20 is light enough for a sport like disc golf, so this fares well.  Trail runners tend to like their shoes around 11-12oz so unless you intend to run around your course between shots these hit the sweet spot for me.
The insert is sturdy and has quite an aggressive slant which supports medium to high arches quite well.  Wearing it throughout the days its fine for a person like me with high arches, but i can't imagine someone with flat feet is going to dig it. You'll probably end up swapping in your own.
The insert is slightly on the hard side, there is not a lot of cushioning in it or underfoot neither. If you like more underfoot cushioning you can put your own comfort insoles in. But as you won't be running in them it could be ok for you, unless you really prefer a super soft stride. The side walls of the shoe have some nice padding though and feel sturdy.
Nice padding inside the toebox adds to the comfort of the shoe in a big way. Other brands sit up and take notice. Comes in medium and wide width. The rubber outsole is pretty huge. Takes this from being a normal sports shoe into hybrid trail/hiking shoe.
Whats good – keen price, great comfort
Whats bad – Protective insole has quite a high arch so if you have smaller arches you can experience a some discomfort and fatigue in the midfoot area. Little impact protection on inner sole. Most of the bulk of the shoe is in the outsole. If you have nimble feet and ankles it can get a drag carrying around on long days.
New Balance 623 V3 Casual Comfort Cross Trainer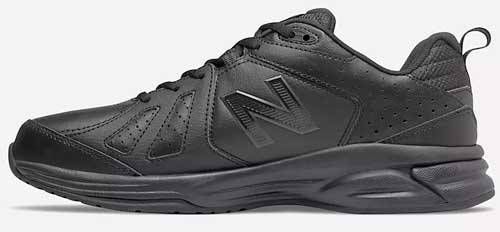 The 623 is a cut price New Balance cross trainer, loved by thousands, that has excellent value for disc golf players. You can get a pair for well under $60. These all leather shoes are water resistant and have
This chunky shoe really provides support to your feet, especially on uneven surfaces its like your foot is pushed into the ground preventing it rolling too far laterally in any direction. New Balance shoes are built too last and the 623s are no exception.
The sole is not as durable as the other NB trail shoes mentioned in this review- the 875 and 471 have much better threads, and that would explain the difference in price. A fair amount of people have complained online that the sole can come apart on this shoe after about a year.
This shoes are wide fitting have plenty of comfort and great cushioning. They are also non slip- whilst although they do not have extra wide or deep lugs they are ok for sleek grass.
What's good – non-slip, great price, great build, look good, suitable for wide feet, durable shoe that can take a bit of punishment
whats bad – they are light but NB shoes are a bit bulky for some people (not me), i think they make a good trainer to rotate as leather is a bit stiff which can get grating if you're playing 3-4 days per week in them, longevity issues with the sole. Not good in challenging changeable terrain.
Asics Frequent Trail Running Shoes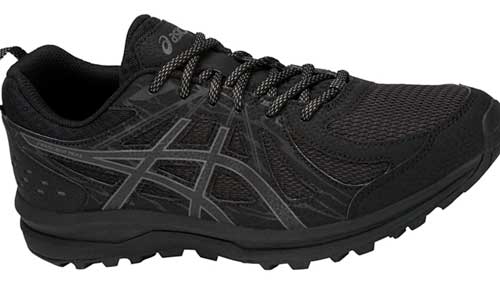 These are a low price shoe with a lot of excellent features well above their pay grade. Weighing a light 10 oz you're feet will feet as light on a disc golf course. These trail tread outsoles have great grip on rocky surfaces and grass. Great arch support.
Be in mind if you do have a preferred insole of your own this one is glued in. Your toes have plenty of room to move in these around the toebox so you can even add a Dr Scholl runners insole on top of the Asics sole to prevent shin splints.
If you're ordering online Asics shoes are famed for being true to the numbers. No wonder 3/4 of all online shoes get sent back, size charts are always wrong. Or the charts are right but the manufacture has got the size on the shoes wrong.
They are not waterproof but If you get your feet wet these have fast drying mesh fabric. Hold up well against toe drags when your throwing discs.
whats good – low price, reinforced toe cap, great arch support, plenty of room in the toebox (especially if you add an insole), good on dirt, wet grass and mud
whats bad – have glue insoles so if you want to swap your own grab some pliers, laces are very thick, not a lot of padding in them, can get slippy on wet surfaces
Keen Voyageur Hiking Shoes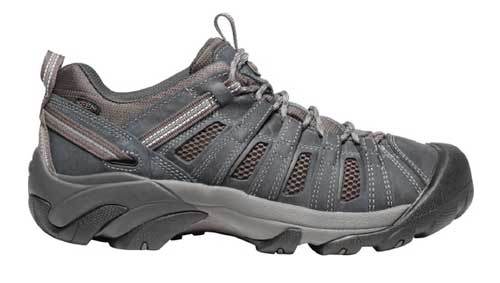 For such a big shoe it is really well ventilated. They weigh 15.6 oz which is light for a hiking shoe, thanks to its low profile height it has cut out the excessive weight. For a hiking boot they do come at an entry level price usually around $80.
This boot features a metatomical dual-density EVA footbed which gives your arch a lot of support,. The foam is also designed to cradle the contours of your foot. But you can remove it if you prefer your own insole. Shock absorption is also provided by the EVA midsole.
If you have wide feet you'll find a lot of comfort in the Voyageurs. Especially around the toes (where the feet are widest). Goes without saying these are great on mud and wooded areas. They are waterproof and make a great shoe for soggy, wintry or snowy weather.
Can handle mud, gravel and rocks pretty really well, and have enough cushioning in the sole for all day comfort. This is one tough shoe, they aren't as indestructible as Keen used to be as they have farmed out manufacturing from Thailand to China.
For disc golf you'll get a long time out of them especially if you rotate them with one other shoe. To me they are for mud days and when the cold weather demands a bit more toughness form your shoe.
The sole is hard plastic and if you where to use this as a true hiking boot you can find a loss of traction on wet rocky surfaces. Not much of an issue on the average disc golf course.
There is also a Targhee version which provides more waterproofing. The Voyageurs are still waterproof just not as much as the Targhees.
whats good – water resistance, plenty of room in toe box, great winter shoe. Feet won't over sweat in humid conditions thanks to breathable, easy to clean, good arch support
whats bad – height measures 2 inches, which can get very annoying on flat surfaces, not really for ambling slowly around the course, hard plastic sole can be slippy on rocky surfaces
Puma Ignite Power Adapt Golf Shoes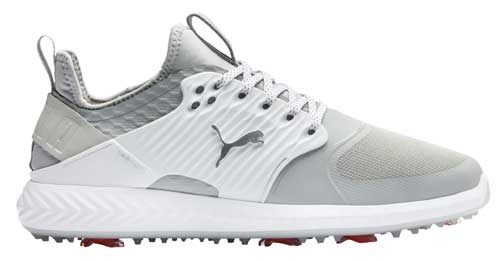 I like a lot of other people i suppose have always had a problem with Puma. I never considered them to be a "cool" brand. But can I lay my prejudice aside to analyze these disc golf shoes? Besides I'm too old to be cool now anyways according to my kids 🙁
First up this shoe has a lot of support, and Puma readily go to town naming all the shoes technical focal points. Here's a brief summary
Powercage Saddle unit – this plastic mould wrap around structure supports the lateral side and front medial shoe midsole unit – laces go through the mold and it tightens around the midsole
DISC lacing & Adaptive FIT system – secures the front and sides of your feet and provides running shoe performance (alledgedly)
HEEL LOCK Window – embraces your heel snugly securing it to the rear of your shoe – the more you tighten the laces the more snug your heel fits in the cup – keeping you "locked in"
IGNITE  Foam cushioning + Pwrframe System developed to stabilize golfers when they swing
PwrAdapt system provides stability, comfort  and shock absorption for your sole
3 Dimensional Traction control provides stability and grip
Now that mouthful is out the way are these shoes any good for disc golf? These shoes are really designed for summer weather they have a breathable mesh on the toe box. They can't be used on concrete tees as they have metal spikes. They are a grass mainstay, but they are extremely super comfortable and you're feet won't sweat in the summer.
Anybody with itchy feet or prone to athletes foot are going to do well with these on summer days. These shoes are a bit on the big size because of the foot cage and saddle lacing system. You can by half a size smaller if you don't want to aggressively tighten the laces.
whats good – fantastic comfort, you'll wear these for hours during a game of disc golf with no problems, lightly water resistant, Puma Golf have excellent, responsive customer service, top of shoe is like a slip on sock- easy to quickly get feet in and out
whats bad – laces very thin and easy to snap (but you can buy the "disc" version without laces), not spikeless, won't handle challenging terrain, prefers grass and not mucky wooded areas, not winter friendly and cloth material won't hold up to soggy conditions or heavy rain, only for turf tees
Callaway Coronado V2 SL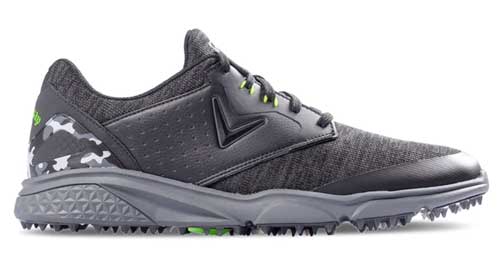 A fair bit of trad golf shoes on this list and this is another one. To be fair there's plenty of hiking/hybrid shoes as well. Some days you need a sturdier boot others something thats light and breathable. This is a synthetic spike/spikeless shoe wrapped with a waterproof mesh and leather upper section.
The spikes can be removed so you can customize the shoe to match your surfaces. The V2 Coronado upgrades these items from the original (V1) shoe
Eva Foam replaced by Forged Foam
new CounterLok heel stabilizer to keep your foot planted on wet fairways
a price hike, yikes (only about $10)
Designed to stabilize a golfers swing the heel features a Counterlok stabilizer which keeps your foot planted as you swing. This is also applicable to launching discs.
They are actually good in wet grass traction wise thanks to fusion spikeless outsole and a bonus is they are easy to clean.
pros – can be used on concrete and turf tees, use for ball and disc golf, lightweight, waterproofing works so well has a 2 year warranty, comfy forged foam insole, superb grip, 9 spike outsole system can be removed
cons –  price is very high, maybe too high for disc Golf, depending on size can be $130-200
Adidas S2G Spikeless Golf Shoes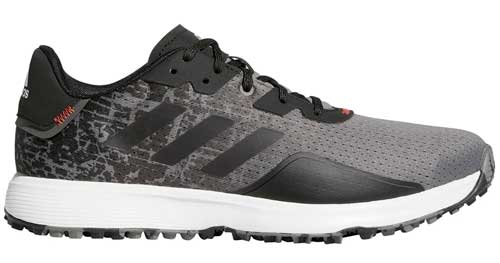 A golf shoe you can wear downtown after the game and look and feel cool in. The S2G SPKL  come in leather and also in textile material. For you greenheads, the textile version is made from a 50% recycled composite Adidas are calling Primegreen.
They are certainly designed for comfort and feature "bounce" midsole cushioning which keeps a spring in your step all day. I have tried a lot of Adidas shoes over the years, both professionally (what i like to deem I am on the course) and leisurely. But I like these a lot, they fit like a glove and my feet don't tire in them after a few hours wear.
These are a preferred summer wear, they are light, but they stain way to easy on dirty ground. They do provide a bit of rain or dew protection but they are not waterproof, more lightly water repellent. They have an interior lining but once moisture gets heavy it starts to soak right through.
These sporty looking shoes feel sporty with good padding on the tongue and the heel. They also provide great grip on soft ground and slick grass.
Pros – all day comfort baby especially on hard summer grass, good for driving in hopping out of the car and getting straight on the fairways, look good with you casual apparel, great price circa the $75 mark
Cons – V-Traxion tread pattern very close together making them hard to clean out, and just only cleanliness these shoes stain very easily, not waterproof as advertised, narrow fitting even if you order wide
ASICS Gel-Cumulus 23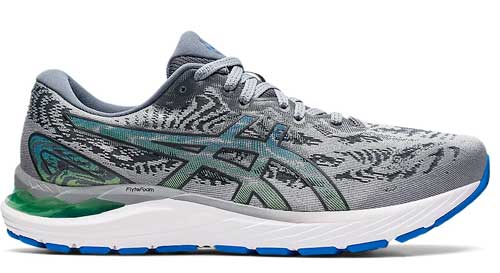 Asics shoes are relatively plain looking. But what goods a flashy shoe that feels like you've stepped on a bed of nails? I'd take plain any old day over than a fancy pants overpriced shoe that does nothing for your feet.
So this is a super comfy running shoe from Asics that suits anyone with high arches. These are slightly heavier than most running shoes but with that you get extra padding. This is good for disc golf when you don't need to do a lot of sustained sprinting, just bursts of speed when you launch a disc into the fairway.
If you have prominent arches you are gonna love these. They have excellent heel and arch support. If you don't have the right shoe support and your arches are high all the pressure will go on your heels.
Your calves won't develop and your ankles are gonna absorb a lot of the impact instead of your calves ironically. The result will be pain and misalignment issues.
This shoes are also excellent when the going gets slick. The heel is lined with AHAR+ and the forefoot uses AHAR which provides excellent traction. Plus if you are wearing these for everyday activity and walks in the evening, the heel has a reflective strip for added visibility.
Pros – loads of comfort due to flytefoam, suits folks with high arches, good room in the toebox, allow your foot to pronate, good in the wet, so good on hard surfaces you'll want to wear them at work
Cons  –  the design is a bit lacking in originality, when it rains or when you are in overgrown wet grass or scrub the padding soaks up a lot of moisture and can make them heavy
Sketchers Pivot Spikeless Golf Shoe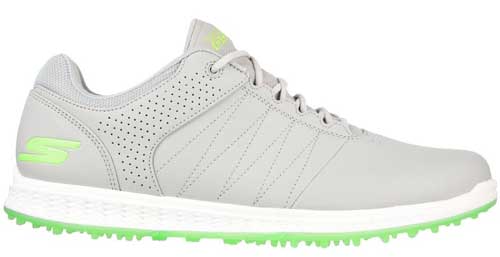 Sketchers can get a lot of hate in the sporting world, many people think they are soft shoe designed for people who want comfort above all else. But these are seriously a good disc golf show. They are water resistant and have the famed sketchers ultra go foam insole. The outsole is also a nice lean size.
These shoes provide light waterproofing and the sole provides great traction on wet surfaces. They do prefer grass and aren't going to rock as good on uneven territory. But wet grass, sand and light scrub as the Pivot does it thing.
This shoe also looks great and you'll probably put more wear and tear on it using it as an everyday shoe.
whats good – lightweight shoe, extremely comfortable, great grip in the wet, can play long days and feet still feel fresh, good price at around $75
whats bad – small perforated vents provide a little bit of ventilation but can get hot in searing summer heat, not designed for overly muddy courses or rocky terrain, won't provide protection against overly wet grass or heavy rain. Materials are a bit on the cheap side
Do You Need Stability Sports Shoes?
If you need shoes for rugged uneven trail choose something with lugged soles. Lugged soles allow you to navigate across mud, dirt, gravel, shrubs, waste ground and even rock and help you maintain balance. Terrain can also change throughout the course going from beautifully cut grass to overgrown woodlands.
Trail runners are designed to minimize excessive foot rotation (pronation). If you have problems where you foot excessively pronates you may need a specific shoe type. How do you know what this is? Look at the wear on any shoes you've worn quite a lot.
3 terms describe how your foot contacts the ground. They are:
Pronation
Underpronation
Neutral
Pronation describes the way your foot rolls moves once your heel strikes the ground as you walk or run. There are 3 ways that describe this movement – Supination, Overpronation and Neutral.
These all describe the gait cycle which is the pattern your heel rotates to displace shock through your foot during your stride.
Supinators and overpronators need added corrective support to prevent ankle and foot pain and injuries. Stability shoes provide the extra support needed by supinators and overpronators.
Supinators/Underpronators
If you are a supinator the outside of your heel will have worn down at a sharper angle than the rest of your heel. That's because you are hitting the ground at a higher angle with the outside of your heel with very little or perhaps even no pronation (inward rolling).
Supinators put more pressure on the smaller toes and along along the outside of the foot, this is more pronounced when you run. Suprinators place a large amount of shock also throughout the lower regions of the leg.
Supinators are also known and underpronators.
The outside of a suprinators heel hits the ground at a high angle and has very little or sometimes no pronation (inward rolling). Most of the push off comes from the smaller toes. This is not optimum as the load energy cannot be transferred across the whole of the foot.
If the weight is to be transferred equally it has to go through the ball of the foot for correct shock absorption. Common injuries  for supinators are ankle strains, shin splints and plantar fasciitis. Supinators tend to have high arches.
Supinator Summary  – check your shoes for excessive wear on the outside edge of your shoes.
High arch shoes like the Asics Gel-Cumulus range are specifically designed for high arches.
Supinators suit neutral shoes. Dyad and Ghost make neutral shoes with extra cushioning, but if you prefer a lightweight shoe Brooks Ghost 14 is a better option.
Overpronators
If you are an overpronator (like me) the tell tale signs are wear to the inner edges of your heel. This happens when this is a misalignment of correct weight transfer, its the same as the supinator only instead of the outside of your heel the weight is displaced to the inner edge of your foot.
This happens when your foot hits the ground and your ankles rolls inwardly. Overpronators tend to have flat feet and low arches. My son has this condition and low arches can cause a lot of problems, especially throughout your knee and hip joints as you age.
In an ideal world (neutral) your weight should be transferred to the ball of your foot. Instead overpronators big and second toes take most of the strain. Common injuries are heel spurs, plantar fasciitis, bunions and shin splints.
Overpronators tend to have flat feet and low arches. Even after wearing corrective arches and seeing a foot specialist some people cannot develop arches. If this is you you need to wear supportive overpronator shoes when playing sports.
Overpronator Test – check your shoes for excessive wear on the inside of the heel, around the big toe and under the ball of the foot.
Sports shoes specifically designed for low arches or flat feet are ideal for overpronators.
Neutral
This is the idea foot position to have for even distributing shock absorption especially when you run and have to move at pace. If you have a neutral (also known as correct) walking/running posture, once your foot hits the ground the outside of the heel comes into contact with the surface as it should, rolls forward at approximately 15 degrees and the weight is evenly distributed from your heel to the front of your foot. The weight is transferred evenly through all your toes.
Injuries can of course still happen, but from the get-go your body is set up correctly to handle the torque running through your lower limbs especially when you are doing something that requires high impact, like speed bursts (throwing run ups).
Neutral shoes generally have a lot more cushioning in the heel as no extra support is needed throughout the foot to provide stability. As no corrective measure are required neutral shoes are generally lighter.
Neutral Test – shoes will have even wear on the heels without an exaggerated wear on any part of the sole.
Shoes with normal sized arches are the idea choice for neutral feet.
Gait Analysis
Gait analysis will give a much more details diagnosis of your foot stride. Wear patterns provide a general overview but gait analysis takes it to the next level. This is done by analyzing video footage of you running on a treadmill.
It is a much more specialized and individualized approach, as you could misdiagnose your foot type, especially if you fall somewhere between a neutral and overpronator for example.
Video footage can be slowed down so your foot specialist can pinpoint exactly what is happening as your foot hits the ground.
Test Your Self At Home
This will not provide as detailed as analysis as videoing your gait, but it will give you a general idea. Stand up straight in a pair of your everyday shoes. look down at your feet. If they are both pointing forward you most like have a neutral gait.
If your feet flare out to the side (like a V from behind the heel) its most likely you overpronate. If they go the opposite way and taper in (like a capital A from behind the heel) your most likely underpronate.
Arch Footprint Analysis
Testing your arches can elaborate further on your foot wear. Put some plain paper or newspaper on the floor and wet your feet. Stand on the paper and then get off. Look at the mark left on the paper.
If you can see the heel and front of your feet and a little bit of your middle foot you have a neutral stance.
Can you see the heel, front foot but cannot see any of the middle footprint? – you have high arches and are a supinator.
If you can see the entire foot outline or most of it you have flat feet and are an overpronator.
The Best Disc Golf Shoes For Women
Here's a list of shoes specifically designed for women.
New Balance 875 V1
An upgrade from the popular 871
New Balance Women's 623 Casual Comfort Cross Trainer
Salomons Womens Speedcross 5 Goretex