Post Disclaimer
I may earn a commission for purchases made through my links. It helps me run this site. Check out my disclosure for more details.
When it comes to disc golf bags the world is your oyster, but it can soon become a lobster that pinches you sharply with it's piercing claws if you get it wrong. How so? Well a poorly made bag can hurt your discs, your back and also your pocket.
Types of Available Disc Golf Bags
Pouch bags – small bags that hold 5-10 discs. Can also be called satchel, sling, tote or carry bags.
Backpacks – medium, large and XL bags than can hold more than 20 discs and a lot of other gear- good for when you want to try every disc in your arsenal or want to bag a load of discs for your group.
If you like to be prepared for all eventualities -discs, refreshments, sun protection, extra layers, antiperspirants, wipes, you-name-it, this is the bag.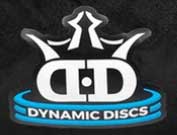 Stack your bag and try out multiple weights of your go-to discs. Backpacks also distribute the weight easily with 2 straps so although they're larger and more awkward to carry they are designed for comfort as well.
Some larger bags have coolers. As do some mid size bags.
Highest Scoring Large Backpack Pick –
Dynamic Discs Commander Cooler Backpack
– No 4 in out entire list – see the review below
Sack bags – like The Throwback Sack can encompass everything from a range of discs to a cooler for keeping your drinks chilled.
Sling bags – similar to pouch bags these are small no fuss single strap bags that can hold up to 10 discs, usually a bit more than a pouch bag. Just sling it round your shoulder and go!
Highest scoring little sling/sack/pouch bag

–
Westside Discs Sling Bag
– No 4 on list – reviewed below
Ultimate Luxury Bags – the largest of the backpacks like the Fitactic or gorgeous looking Ranger Bag by Dynamic Discs are monsters that can hold 30 discs and 2 putters. Plus a lot of refreshments.
Highest Scoring Luxury bag –
Dynamic Discs Ranger
– No 1 on list – reviewed below
Practice Bag – Like this animal by prodigy, it can hold 45 discs. Awesome for heading into a field, empty course or even to the beach and letting them rip. Good for developing your long game. The only downside is retrieving all those discs.
Disc Golf Starter Bag – this is a bag aimed at new players to get them up and running. It usually consists of 3 discs and a basic bag. Nothing too fancy but enough to hit the course without spending a fortune.  But know the cons – In reality it's not really worth spending the money on.
Just bring a basic backpack or sports sling bag if you don't want to get a dedicated disc golf back yet. Then at least invest in a pouch or tote bag because its shaped to hold your discs so you'll have less disc casualties.
Summary of Top 42 Bags
Dynamic Discs Ranger Bag
Dynamic Discs Trooper Bag
Mission Rig Bag by Handeye Supply Company/Dynamic Discs
Westside Discs Sling Bag
Dynamic Discs Commander Cooler Backpack
Disc Living Sling Bag
Throwback Sack
Rogue Iron Satchel Bag
Latitude 64 Core Backpack
Star Frame Bags Brick Cooler Bag 2.0
Athletico Power Shot Backpack
Dynamic Discs Cadet Backpack
Innova Adventure Bag

MVP Disc Sports Shuttle Backpack

Infinite Discs Slinger Bag
Westside Discs Empire Backpack
Fitactic (Huju) Luxury Backpack
Towch disc Golf Towel Pouch
Westside Discs Noble Disc Golf Backpack
Fade Crunch Disc Golf Bag
Latitude 64 Luxury E4 Backpack
Lowik Disc golf Sling Bag
Prodigy V2 Practice Bag
Fade Lite Disc Golf Bag
Infinite Discs Huck Pack

MVP Disc Sports Nucleus Tournament Bag

Axiom Discs Shuttle Backpack
Dynamic Discs Soldier Cooler Bag
Axiom Discs Cell Starter Bag
Himal Disc Golf Bag
Driven Slingshot Disc Golf Bag
NutSac Disc Golf Sling Bag
Prodigy Disc BP-2 V3
Discology OG V2 Disc Golf Backpack
Kestrel Disc Golf Sling Bag
Throwback All Day Disc Golf Cooler bag
Discology Izzo Bag
Windspeed Cadet Sling Bag
Divergent Discs Starter Bag
Qogir Back Pack
Dsleaf Disc Golf Bag
Dotpraise Bag
What should you look for in a bag?
It is certainly handy to have compact pouch bags when you just want to quickly move and get out and play without needing a whole punch of discs and accessories. Most pouch/sling bags can carry a water bottle and space for a scorecard.
If you are starting out with only a few discs a small bag will be all that you need so save your money until you are truly invested in disc golf and want to take it up a level.
Larger bags or backpacks are cool when you want to carry a load of discs and gear and of course you have the option to keep your refreshments and water chilled by getting a bag with a cooler. Depending on what size you are you may want a large bag or not.
Do you like to bag a towel or extra layers? You are hardly gonna fit that in a pouch bag unless its of the mini variety.
Options to look out for include:
Build quality and padding – Do you have a bad back or shoulder injury? Something with extra padding like the Prodigy BP-3 is gonna cut it. Or something strong and lightweight with less bulk is going to help you on long play days.
Not much lighter than the strong double stitched dual compartment 11 ounce Fade Gear Lite Crunch Bag that can still hold up to 12 discs. At around $20 this is one impressive bag.
Do you like to plan ahead?  – Something like a cooler bag is gonna help you on steaming hot days as long as you remember to cram it full of ice blocks, and look out for one with a liner to stop it leaking.
All weather Bag – something that is rain resistant like the 20 disc holding Core Disc Backpack by Latitude 64 is going to help.
Disc Capacity – do you want something that can hold 23 discs? If so go large or supersize if you want to carry everything including the kitchen sink with you.
Ease of Access – Is your bag easy to open? Quick zip, buttons or straps? Or do you have to stop your game and set your bag up on your folding stool to steady it before you slowly undo the straps? When its running on full capacity are discs easily accessed?
Fast Selection – Functionality is a big issue if you're bagging a lot of discs you want something that makes it easy to find your discs. You want a bag with enough space between the discs so you can quickly spot what you need at a glance. One with a rigid base, strong walls and sturdy dividers so your discs don't compact together.
Other things to look out for is how well is the bag laid out, is it haphazard or organized? Can you fit your other stuff in it with ease and not just your discs if you are opting for a large bag? Is it so cheaply made or lightweight you wind up breaking all your discs.
Can your bag hold 2 putters without compromising the rest of its space? – Backpacks are the way to go here if you want to carry an adequate supply of other discs.
Does it have compartments on the side or a lot of pockets for drinks, phones, keys & stuff?
Is it durable? – Well stitched? Waterproof? Fade resistant? Is it well insulated -Does it keep your drinks cool? Do you regularly strip off when it gets too hot? You need a bag to hold these layers if you don't want to carry a hoodie around with you.
These are some of the things we will answer in our reviews below.
Disc Golf Bag Reviews
This list is not based on price and that's why you'll see lots of real cheap and some expensive options in my top 20.
No 1 – Dynamic Discs Ranger Backpack
One of the best quality bags that has everything, comfort, space and build quality. Upfront this is not a cheap bag. The Trooper (next on the list) is a much more affordable and yet brilliant option.
The Ranger will get you through a full day on the course with aplomb.  Ventilation is great – the bag is engineered to be cool on hot days and provide all day comfort thanks to its velvety back support and hybrid poly-nylon fabric.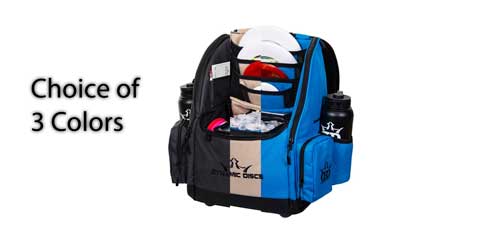 The straps are so comfortable, this bag hugs you and fits like a glove. You can a Walkstool in a collapsable holster or use it to carry another water container. Naturally you can attach an umbrella instead of a stool. But a large brolly maybe not.
There is also a towel clip. You can use the large top compartment for holding your discs or hold any layers you shed on the course.
Store your bug spray, wallet and personal items in the 2 side pockets. You'll fit an iPhone Max or Samsung Ultra in there. On the other side theres a slot for a mini and 2 pencil holders.
Take 20 discs with you in the main compartment and 2 in the side. Enough for any pro on the course.
The side disc holder let you carry your go to driver or main mid so you don't have to open the bag. Pretty cool.
There's a cool little slide in pocket on the front flap which you can use as an utility disc holder. Or store your junior mini marker in there for quick access.
Once the flap is open tuck it inside the bag and attach it via velcro strips. It stops the flap covering up your discs when the zipper is open.
If you've paid your dues with smaller shoulder bags you won't be disappointed with the upgrade. Now all you need is a Zuca Cart and you've hit the executive class.
The main department has a removable divider you can use to separate your disc from clothes or any other items you want to store in the main bag if you aren't running it with full disc capacity.
To maximize disc space take out the divider and you'll fit an extra disc it there.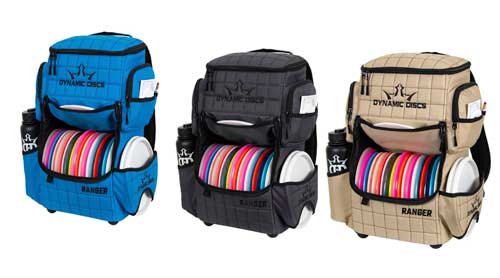 The Ranger stands to attention with ease. It has really strong well padded walls and thick padding on the top. It has no problem staying upright when it is carrying a full load and its 5 rounded feet keep the fabric away from soggy slopes.
A cool comfort feature is the bag had horizontal pads with gaps in between them which reduce the contact points on your back. This allows air to circulate freely which helps you stay cool on scorching summer days.
These horizontal strips also help the bag to sit on your upper back more and reduce the bags weight, especially on the lumbar spine. If your back fatigues early this mitigates some of that as you play your round.
There is a carry handle on the top which is attached to the straps, this is a great position as it keeps it out of the way. Its there when you need it but is nicely tucked out of the way when you don't.
Cool Colors -Cobalt blue has to be seen in the flesh to appreciate, Sandstone & Heather Charcoal.
Alternative Options – For similar but less cost see Dynamic Discs Trooper at a quarter of the price (reviewed next) , you'll lose the luxury options but still able to pack over 20 discs. See also Westside Discs Noble Backpack (reviewed below), not as stylish or comfortable and slightly more expensive and with less color options.
Budget Serious – expensive close to $170 unless on sale
Pros – Sandstone looks exceptionally good. Waterproof bases and feet keep your bag and contents dry.You can fit close to 30 discs in the Ranger once you utilize the side pockets, top compartment and the flap.
Cons – priced at close to $200 its out of reach for lots of people. Top pocket is not waterproof, not a feature usually on backpacks, but a water resistant liner would be appreciated at this price if you are holding drinks in there.
Large mid-range discs can feel the pinch inside the main compartment, another inch of headroom would have made this bag even better.
A get-around is to use an insulated ice pack and make sure your bottle lid is on tight.
Umbrella holder is small so don't pack an extra large sports brolly.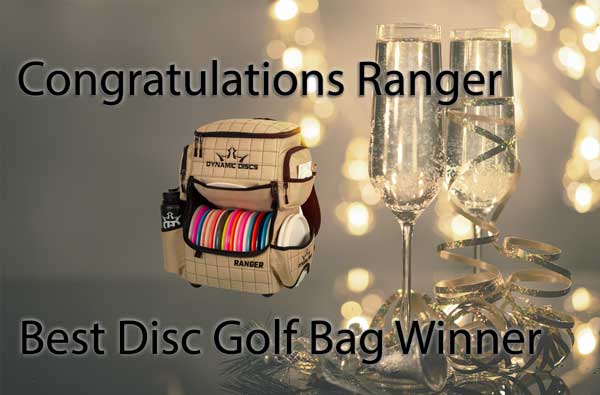 No 2 – Dynamic Discs Trooper Backpack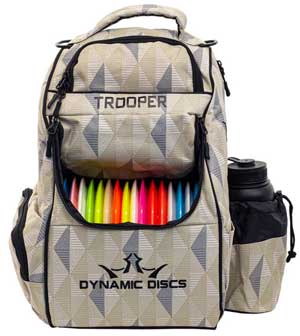 A well priced bag for the features it provides by the famed Dynamic discs. A sturdy well made backpack that can hold over 20 discs and hold everything you need for a full day of disc golf.
Dynamic sells this for just under $40 and it packs a lot into its 17 inch frame and still manages to weigh in at a light 2 pounds, well 4 oz under 2 pounds to be exact.
It has 3 pockets on the outside to handle your keys, snacks and scorecard. 2 of them are hidden on the sides and you can actual fit a golden retriever and a small towel in there at the same time. And that's just in one of them.
You can also clip a towel with a loop on top of the bag or use it for bag tags.
You can fit a junior disc and a mini marker in the other one and you're pretty much rocking with everything you could possibly need to play on the course.
The upper compartment can handle up to 4 discs or you could just use it to carry some of your layers. It has a lot of space. It also has a zipper mesh pocket inside to hold flat items like scorecards.
You can fit up to 18 discs in the main section.
The main compartment flap has velcro on the back so you can keep it open and attach it inside the bag.
This medium sized backpack can pull you out of a jam if you are playing stretches into the evening. You can pull out some layers or switch to glow plastic discs. There's enough room in the bag to pack for these scenarios.
It also has 2 D rings on the top to attach bag tags or towels and the straps are wide with adequate padding to carry all day in comfort.
Budget Friendly – very affordable bag around $40
Pros– water bottle has drawstring to keep it securely locked in. The last thing you want is your stuff bouncing about and distracting you as you walk.
Theres even plenty of wiggle room even with a 32 oz insulated bottle. Can go larger!
Bag is squat which helps it stay upright. Has a lot of capacity for discs and clothing + accessories. A cheap way to come fully loaded for a round of disc golf.
Nice grip handle – thick and padded. Can handle 18-20 discs and leave you room for your comforts.
Cons – could have done with more external pockets to hold your items. The bottom could be more padded or reinforced.
Size matters sometimes – If the main bag was 20 inches instead of 17 it would make getting discs out easier once your bag is full. Sometimes you have to wiggle your disc out or take 3 or 4 out to make way when its packed tight. It's get tighter if the putter pouch is full.
D rings are plastic so they won't cope with anything too heavy.
Zippers could be more robust, would help keep them intact for the long run.
No 3 – Mission Rig Bag by Handeye Supply Company/Dynamic Discs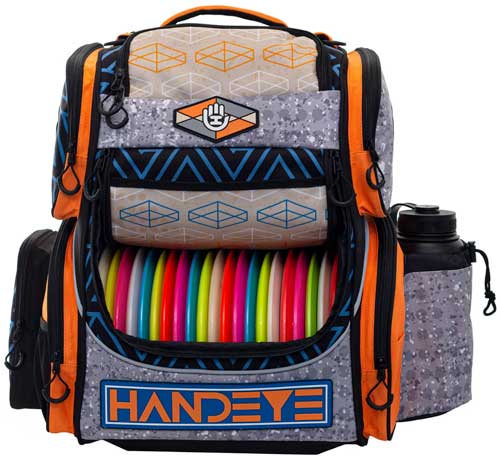 The Mission Rig – With pockets galore, huge disc capacity and crazy color combos, its hard not to like this bag. Unless you're jealous of course, because paying $120 and over for a bag, well you've got to love disc golf, and you also need to justify spending that money, even if you do have it to spare.
So who would benefit from this bag?
The outside of the bag has a mixture of 5 pockets- 2 are large sized and 3 are medium sized. There is another thin slot on the front of the bag, suitable for a disc or scorecard if you want to keep it within easy reach.  On the back panel there is a zippered pouch towards the top of the bag. This makes it easy to get to your preferred putters out.
The lower pockets have mesh that can stretch out and secure your items. Also, they are big enough to fit a disc. The top pocket right behind your head is thin and can hold two discs for easy access, but any more and it's a bit tight. The upper compartment is larger and can fit about 8 discs without getting overloaded. You could maybe squeeze 10 if you don't mind them being jammed up at the back.
This is a great place for storing food, adding an insulated cooler bag with some ice packs, or some clothing. To gauge the size, you can fit a 6 pack in here if you wish. The main compartment can hold 20 discs easily. There is also a removable divider to help you organise your disc slots.
The bag weighs just over 5 pounds. But the foam padding is so thick on the back panel, and combined with the padded straps, it feels great on the shoulders, even if you have the bag stuffed to the gills.
With a rail system made of molded plastic on the bottom of the bag and reinforced feet, it will stay dry and stand up when you put it down. There is a bug bear with the plastic rails though, they can dig into your back when you are carrying the bag if you have the straps pulled real tight.
Budget High – Priced around $120 when on offer, it's not cheap but in some respects you get what you pay for. A bag with great quality and construction that holds 35 discs.
Pros – disc storage is great, thoroughly well designed, quality materials, nice colors and design choices like Aurora & Chris Clemons, plastic bottom rail keeps bottom of bag off dirty and wet ground, holds a 32oz bottle with drawstring
Cons – plastic rail at bottom of bag digs into your back if you have shortened the straps (loosen them to avoid this), no hooks or slots for an umbrella or carabiner attachment
No 4 – Westside Discs Sling Bag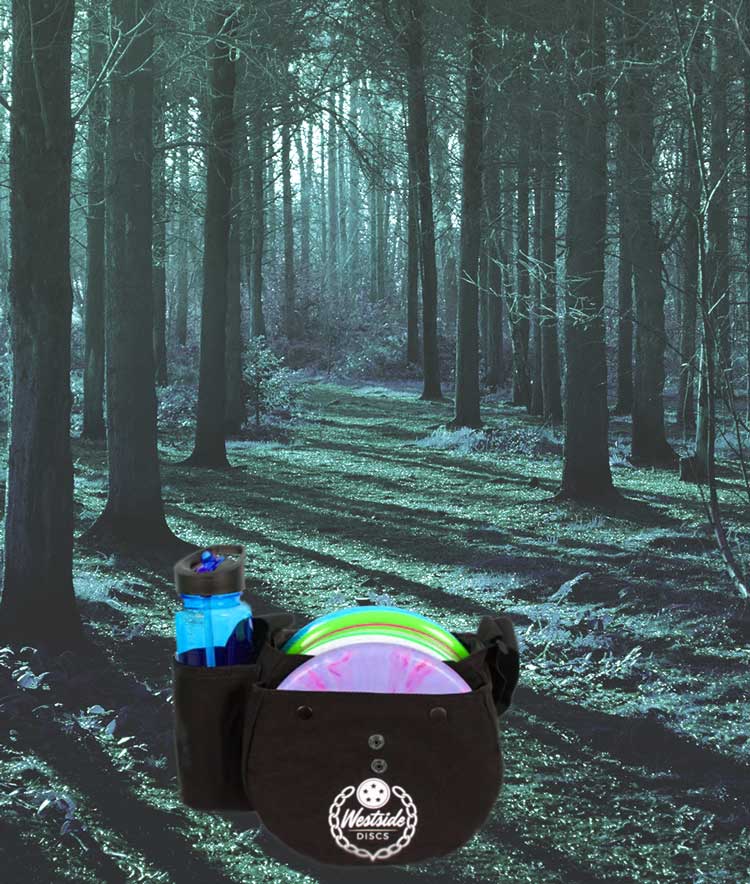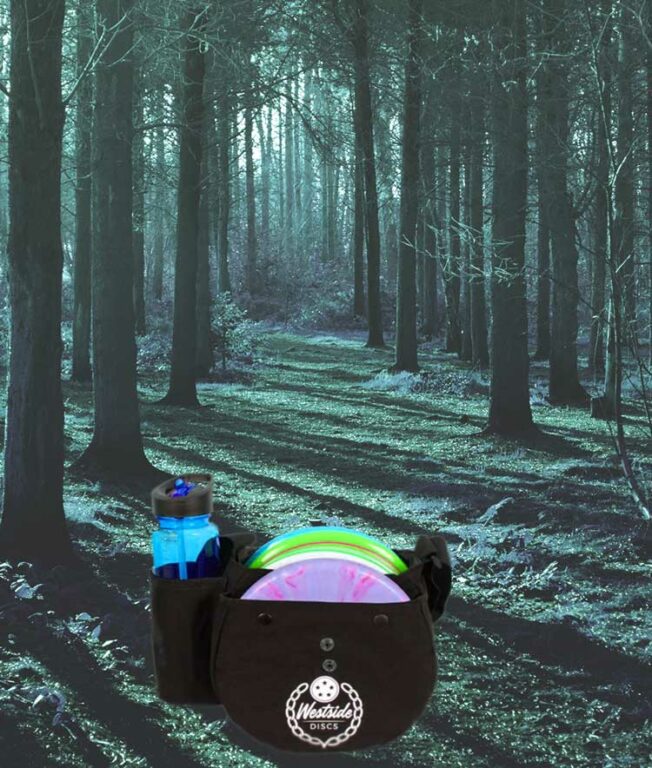 The options when it comes to carrying discs are go big, go medium go small, or go get a cart and chuck everything in.
Go light, get out fast and leave without a fuss with this little budget friendly sling bag by Westside Discs. It can pack 12 discs, has a zipper mesh pocket inside the flap for all your bits, and can hold a large water bottle.
Is this the fastest gun in the West-side? -Access to your discs is quick, just pull apart the snap on buttons on the flap, so yes its quick to access. Discs have enough headroom and don't sit too deeply in the bag as its only 11 inches tall.
You can cram more discs in this shoulder bag than 10, you might not be able to close the bag but they won't fall out as the main compartment is snug.
The bag is so small you can even attach it to your belt by running it through the supplied loops.  It's tiny- 13 x 11.5 inches and weighs nothing (0.3 KG).
It will safely hold a 24 oz tall boy, but struggles with larger tumblers.
Budget Friendliest  – so cheap its practically for free
Pros – With this sling bag you can leave home with all the essentials in place, namely your discs and some liquid refreshment. Snaps are much quicker to open than zippers.
Enough space to get a good game in with plenty of discs when you don't want a large bag. Tough grade but light canvas material. Water proof lining.
Has all you need when you don't want to pack food and lots of refreshments. Belt loop is cool when you don't want to set your bag down and pick it up constantly.
Cons – Water holder isn't insulated. Won't hold a large hydro or yeti. The bag has no luxuries, naturally.
No 5 – Dynamic Discs Commander Cooler Backpack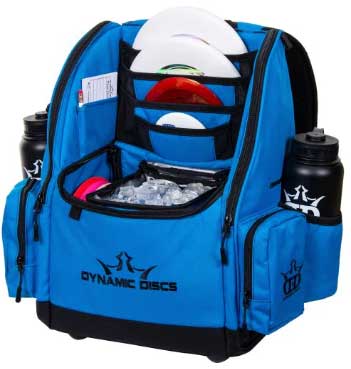 What a bag. Competition ready, Well designed, comfortable, and the discs are laid out in a neat descending order reminiscent of a record shop. Well, 4 of them anyway.
It would have been nice if you could have fitted more of the discs in this way but that would have called for a wider bag or something that stretched to 6 feet tall. Not very practical!
But you can fit another 10 at least beside the cooler pouch. You can comfortably fit a 4 pack in there with some ice. Maybe though it's not wise to bring beer on a professional course.
This bag weighs 4 pounds and if you are going to pack a load of stuff it will get heavy. It's well supported and padded so the load is spread quite well so it won't pummel you into the ground.
The bottom is reinforced which makes the commander stand to attention. It provides it with a really sturdy feeling of quality.
It's also a nice bag to take on hiking expeditions. Especially as it has a chair strap that you can attach a folding seat to naturally, which may come hand when you want to chill and pontificate at the top of a summit.
There are 2 tall vertical zipped pockets running along each side of the bag. there is ample room for all your small to medium items and even some rain proofs.
You can store 2 water bottles quite neatly on the side pouches plus there's 2 mini zippers to hold any small items you don't want to fall out of your pants pockets.
This bag is stretches beyond $150, so it is what it is price wise, but you are paying for quality. A lot of cheaper bags carry more discs but the commander does it with style and packs a good sized cooler.
Budget Serious – You gotta love the sport and refreshments , circa $170
Pros – spacious, really comfortable, ergonomically designed and extremely durable. Extra padding on the back stops a fully loaded bag pulverising your bones.
Strap for attaching a fold up chair or umbrella.
Won't fall over – The Commander also stands upright when you set it down.
Great access to use, especially in the top main compartment.
Cons – Although the bag is well laid out and caters for gear, food and refreshments one downsize of the cooler department and disc layout is the capacity is limited to 10 discs in the main compartment and 6 in the sides.
A 4 pound bag without anything packed in it yet is going to be heavy for some people. unless you are used to army patrols or have a bit of bulk it can get wearisome especially on those days when you are just lacking oomph.
No 6 – Disc Living Cross Body Sling Bag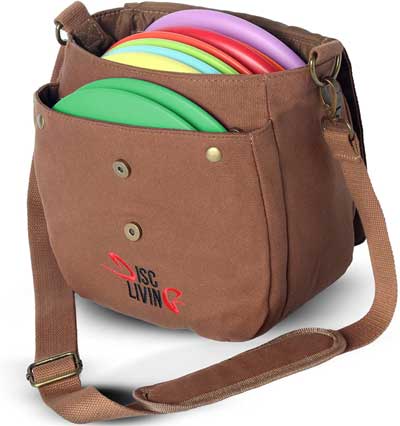 My favorite little sling bag. A small 10 disc bag that rocks. This bag is lighter than air weighing only 80z. Its sturdy though with hefty stitching, but not really meant for anything heavy.
You can detach the strap and attach it to your belt with loops if you prefer not to sling it.
Has a padded strap and this bag won't tax you around the course you'll only be carrying 8-10 discs at a time, maybe a large water bottle and your keys and stuff. The strap is padded anyway for extra comfort.
If you like to play fast and light your'e not going to be able to grab your discs much quicker than with one of these tote bags. Discs are always at arms length.
Theres no fiddling with velcro or straps, just yank the magnetic sleeve open and you're in.
Sometimes you can pack too much. Too much clutter and stuff that you don't need. You don't always need to go full on survivalist commando. Light can be JUST RIGHT.
The price point makes this bag very beginner friendly. It is low cost and is another perfect companion for someone trying out disc golf to see if they are gonna stick around for the long game.
Compared to – the Throwback Sack coming up next, this is a much better grab and go bag. The Throwback has the cooler but thats a pillion pouch bag – a little bag with a big add-on. Which is a whole different story.
Budget Friendly – Usually mid $20's
Pros – water resistant, uber lightweight, minimalist design. Holds 2 putter up front. Won't get in your way around the course.
Cons – Gets very cramped after 7 discs are inside. Especially if you have 2 putters in the front. Bag can fall over quite a bit when you try and stand it up. I usually have it on it's side so its just the way it is to me, cheap and lightweight- it can't have everything.
Magnetic buttons have been reported to fail by a minority of folks after a while. I'm not having that problem but its something i'm gonna keep and eye out for so i can neither confirm nor deny.
This bag is not for carrying anything heavy, the strap is too narrow and lightweight for that. So if you want to leave out a few discs and carry a couple of beverages you should look for something else as the material and strap are very thin.
No 7 – Throwback Sack Disc Golf Bag With Cooler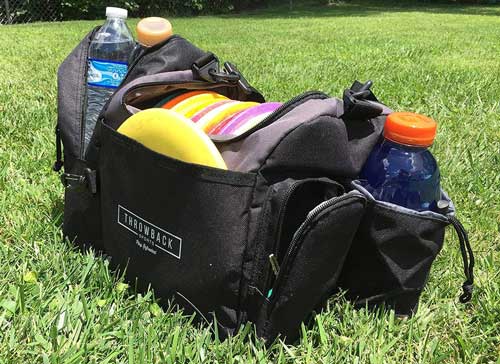 By Throwback Sports the sack is a little 15 disc pouch bag with a 6 can cooler compartment. A small bag with big appeal. It's my favorite small cooler bag to use.
You can pick it up for roughly $60. It hits that mid-tier spot where you are moving out of the budget end into something with a lot more features and options. Read on to see if its worthy.
Attach your Naglene 32 oz or Thermoflask on the side. Also comes with a pencil holder and wallet pockets and towel clip. It has a 12 month warranty and has a very comfortably strap and thick padded back.
If you have the cooler packed you'll want to start draining it's contents pretty fast as theres not much room in the bag once is crammed.
The bottom is reinforced but the side pockets aren't, but the bag is so small and compact it doesn't lose its shape. It has plastic feet on the bottom to keep it planted and they actually work.
If you are carrying a fully loaded bag it can also tax your shoulder over 18 holes unless you can lighten your load round the first 9 holes. That's the difference between this and a larger double strapped backpack, backpacks distribute the load over 2 shoulders.
You can attach backpack straps to the 4 connections if weight becomes an issue for you.
There is plenty of room for discs. Bag Hack – If you push the dividers to the side you can squeeze 13 or 14 discs in there. You can hold a putter in the front compartment, 2 would be a stretch, so for a small bag like this to hold 14 discs its excellent value for money.
Obviously there are some cons that the Throwback Sack has which are mentioned below, but they aren't really a deal breaker if you don't need a fully packed cooler.
I like to use this bag with just a few items in the cooler some food and refreshments and carry 15 discs in it.
Budget Value – Around 60 dollars its not a bargain but has a lot of features
Compared to the Disc Living bag above this is a bit more of a burden to carry and isn't as convenient when you want to pack fast and travel light. It does have a higher disc capacity though so if that's what you need and a cooler in a compact size then this is the bag for you.
Pros – Can accommodate 6 x 32 oz cans. Dense padding on back which stops cooler contents annihilating your hips. Bag Can fit 14 discs and not 12 as advertised.
Cons – Can not really fit 6 tall boys without straining the liner. Switch to 12 oz cans or 4 tall boys instead. Not fully waterproof. If you like to switch between disc golf and ultimate frisbee the larger UF discs won't fit in.
Discs beside the cooler can pick up condensation and moisture if they are beside an ice pack or freezing cooler can.
On a fully loaded bag the strap can dig into your shoulder.
No 8 – Rogue Iron Satchel Bag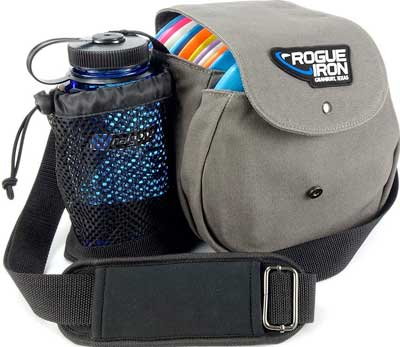 How this rugged little pouch lets you sling up to 14 discs inside is a wonder. Plus you can attach a 32 Oz bottle to the side. A small thing with big appeal. This is a great little disc bag when you just want to grab and go.
When you don't need to bring a ton of gear and just want to get out and play. Go minimal.
You can also store a mini bluetooth speaker beside the water bottle on the side. Crank out some tunes while you play.
This is a great bag for beginners but it's more than just a starter bag.  If you know your way around a disc golf course you'll appreciate it when you want to get a quick round of 9 in, or when you just want to go lite.
Budget Smiley –  Usually just over $30 its a step above the low end of the market
Pros – This dinky little sling bag has 3 disc compartments to organize your discs which you can also collapse if you don't have a full bag.
Bungee cord to keep smaller water bottles snug.
Good bag to have when you need to travel light in a packed car or plane. Plus you still can fit in a 32 oz hydro flask or taller hiking bottle.
Good bag for new players who don't have a load of discs and want something light. Magnetic collapsible pockets are a great idea, you can fold them away when you don't need them.
Cons – Accessories pockets are a little on the small size and the mesh pockets are very tight so they are really only designed for small electronics, keys and the like.
Using a taller water bottle can cause the bag to fall over, unless there is a tree to hang it onto it can get annoying – the trick is don't use a tall tumbler. It prefers chunkier bottles.
If you're using the putter pouch, your putter can get stuck on the closing magnets.
No 9 – Latitude 64 Core Disc Golf Backpack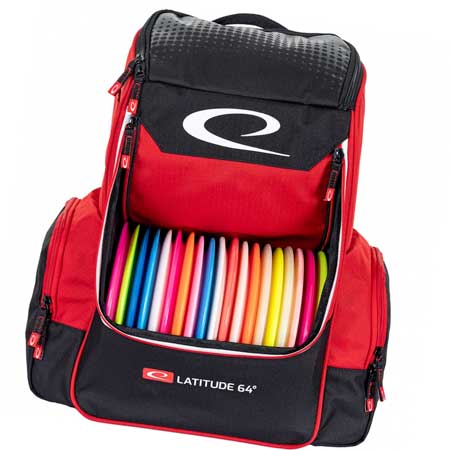 Is this bag still relevant (answered below) with the Pro Core 2 waiting in the wings to be released?
Latitude 64 make absolutely gorgeous looking Disc Golf bags. From their budget friendly Base & Swift range right through to their more expensive luxury E2 & E4 range. This bag sits comfortably in the middle. Great comfort, capacity, quick disc access and indestructible material.
Designed to sit on your upper back to take stress of the vulnerable lower back lumbar region the Core pro bag not only looks classy it is classy.
The Pro is an update from the Core bag and its structure gets beefy up a bit and it stores more discs.
It has all the usual slots up top for holding more discs, a stay open velcro flap for the main compartment allows you to quickly access your discs. Has an elasticated pocket on the top side for a mini.
You can fit roughly 18 discs in the main compartment and there is an inner pocket to store your precious items. and two large cargo style side pockets.
The top pocket holds a lot- you can fit 4 putters in there or use it to carry your accessories. You'll have to slot a water bottle in the top side pockets or use the 2 lower zipper pockets and keep them open. Can leave a bit of residue in your bag if the rains on and you're bottle isn't filling the slot.
Has stiffened plastic plates inside the lining to keep the bag upright. Just looking at the picture above you can just see and feel the robustness and chunky all round padding.
Budget Value – around $70-90 (depends on offers) it could go lower when the Pro Core 2 is released- getting into higher territory, but this bag packs lots of punch for its weight
Pros – High grade zippers, sturdy feet on bottom to match overall rugged build. Padded back for comfort during long playing days. Compact and lightweight for a backpack weighing in at 3.5 pounds.
Bags folds for easy travel and storage. Tough all weather resistant material built to last the long term. Tie downs for retrievers, folding stool or umbrella.
Cons – No tailor built water bottle holder on the outside. If you use the lower pockets you can run the risk of leakages. Run with the top slots and you can make the bag top heavy. Use the top zipper compartment and you sacrifice quick access to water.
Rubber pads on bottom too small to keep bottom of bag getting muddy. Only has a single disc separator so you'll have to use some padding, maybe a disc towel or something smaller to stop discs moving about if you're not running a full bag.
No 10 – StarFrame Bags Brick Cooler Bag 2.0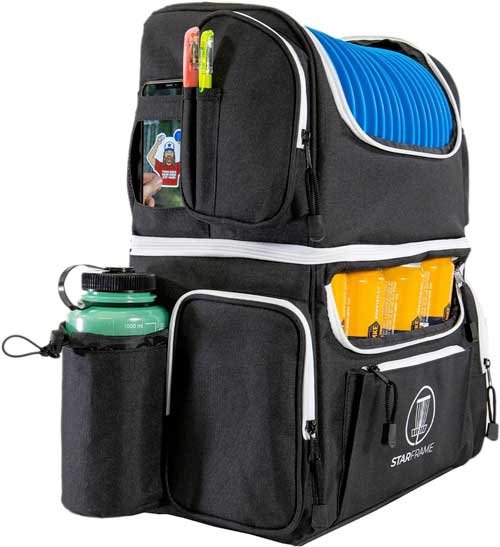 Large & insulated Just like we love it! Is this a disc golf bag or a drinks cabinet? Party on. Not much use to me as i don't drink anyway, but yeah for sure it can pack a lot of alco free drinks as well.
I like the way you can cram the cooler on the bottom full of upright cans and still fits 16 or so discs in the top compartment. The U-shaped zipper means you have a great visual on your discs.
It also makes them easy to grab and if you've fully packed the cooler department the top section has 3 hardened inserts to keep it upright and stop getting wedged by your  mini drinks cabinet, or I mean cooler compartment.
The cooler is lined with PEVA so if your cans sprout a leak the rest of your bag won't suffer.
But back to disc golf there are enough ergonomics to make sure you can concentrate ion your game play with top tier zipper pockets on the side to hold your scorecard, birdie bag, pencils and personal items such as keys and there's a nifty little phone holding sleeve.
You also get a dual putter pocket on the lower tier side pocket plus a wide neck drinks holder and needles to say another two pockets for carrying small beverages (obviously aimed at beer cans) or water bottles on the top side.
It's 19.5 x 12 inches tall so will be a good fit if you have a cart or small auto. It also want totally dwarf you when you are carrying it.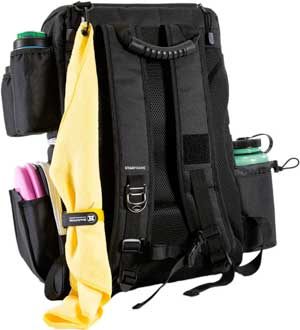 Budget Stretcher – Around $100 – Can you live without this party bag that is the question?
Pros – the extra large cooler is massive. If you and the boys like to frolf or DG on a beach this thing will keep all up to 24 beverages chilled. Can also be used for carting Tall Ball Koozies.
Cons – One of the main cons is its party piece – this thing is aimed at the party animal? How can you seriously party raucous style on a disc golf course? Unless its private and there aren't that many about.
Who needs 24 cans? Unless you want to be the group water boy.
If you don't have the cooler fully loaded the discs up top can flop down and fall out if you have the zipper open.
No 11 – Athletico Power Shot Backpack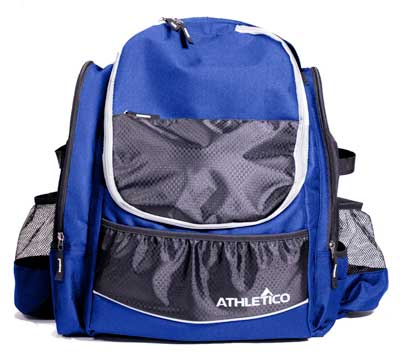 This product review is going to be short and to the point. And sometimes that's all you need. I like this bag, i like it a lot.
If you like a backpack but think they are a little bit too big or heavy this hits that in-between sweet spot. The Power Shot from Athletico can easily hold 20 discs. Its deceptively spacious. Made of tough rain resistant polyester, it has like all good backpacks should – a lumbar support and padded straps. it's also as light as a feather.
You'll fit more than 20 discs in if you like squeezing 2 discs in each putter pocket. You can also remove the main disc divider at the bottom as it's attached with velcro. So your disc golf bag can double up as all utility bag if you want.
It's only 18 inches tall so it won't drag you about the course like a rag doll. The tough lightweight mesh keeps the bag well vented. Reinforced feet stop it falling over.
This is a no fuss lightweight bag with enough compartments for your discs, drinks and scorecards including a stool or umbrella holder. When you've loaded your discs there's plenty of room for your bug spray, food and extra clothing layers. Pencil holders will stop you getting jabbed or breaking your lead tips.
Its also built in the U.S. so you won't have too much quibbles invoking your 12 month warranty if something goes wrong.
It's laid out in the traditional backpack stance with 3 hanging putter pockets inside the main compartment. One thing about these bags is they make finding your discs easy, and the Power Shot doesn't break this rule. Bottom pockets allow to you attach a tri leg.
Backpack Comparison -It comes higher up the list than the Fitatic bag because of its price point, comfort and comparable features. It's usually retails just below the $40 mark.
It beats Dynamic Discs Cadet Bag as it holds more discs and feels snug on your back. Even more so when you tighten the straps.  The side pocket is also insulated to keep your drinks bottle chilled.
Budget Buddy – For these features 40 odd dollars is doable
Pros – very good price for a large capacity bag. Lightweight and water bottle holder is insulated to keep your drinks slightly cooler. Water proof fabric. Small enough to carry by the top handle. Beefy stitching – well put together.
Cons – Its got that air mesh design all over the front and back. If you don't like it, too bad. This is a bit nit picky as this is an outstanding bag for the money, the disc dividers could have a little more separation for distinguishing between drivers and mids. But that's probably a bit harsh.
No 12 – Dynamic Discs Cadet Backpack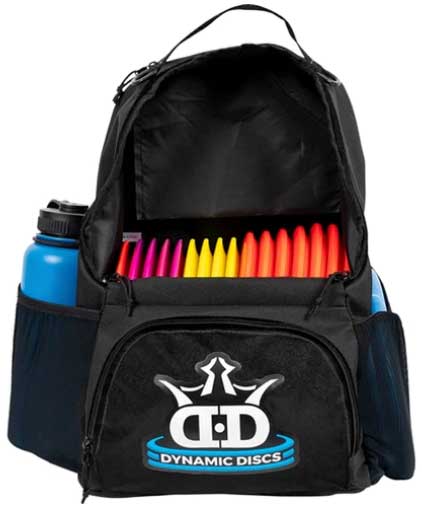 Next up here's a mid to large capacity bag – the best of both worlds that fits players of a more seasoned vintage. That is those who've been playing a year or 2. It can hold 17 discs plus it's extremely low priced usually around the mid $20 mark, unless its on sale.
Its a very light bag that even has two D Rings on the hand strap for attaching a towel. Smart design. The discs sit snug up front plus there are 2 side pockets for water bottles and 2 zippered layers that you can fit some layers and accessories inside.
And painfully don't bend over or your water bottle will fly out as the mesh don't tighten.
The discs also settle at the base of the bag so you've also more room to stuff some apparel, your wallet, energy snacks and all your other cool disc gold accessories. You can even store 2 discs on the side pockets.
Budget Friendly – A snip that reaches into the mid 20 dollar mark unless on offer
Pros– could have challenged for the best bang for your buck bag. Holds a lot of discs and its lightweight.
Cons– The Cadet takes some squeezing and adjusting to stay bolt upright straight on the ground. And then it falls over. If it falls over and your water bottle leaks that could be a problem. The discs also flail all over the place if the bag tips over. Just like they where shook about by an angry bear.
If you don't pack some apparel on top of the discs they can crunch and bounce about like a pack of marching ants when this is on your back, especially if you like to power walk. And I do, but without the sound of marching ants ….
And thats why it didn't pip higher up the list. This list is about picking the perfect bag, not the best value for money bag.
No 13 – Innova Adventure Pack Bag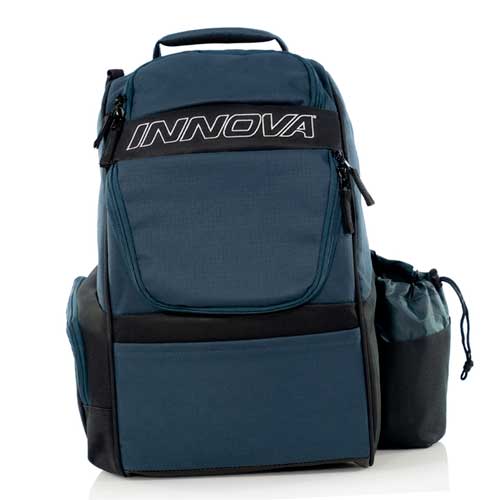 The Adventure Pack Back from Innova is a lightweight backpack made of 600D Nylon. Sitting in the budget end of the market for backpacks this bag provided some serious value for money and has enough storage and features to get you and your crew through a 18 hole game or even 2 in a row if the need arises.
This bag will easily hold 25 discs and weighs just under 2 pounds. Its a much more sturdy bag than Innovas Huck Pack which is made from the same material.  You can easily hold a 32oz bottle in the side pocket holder which you can tie for added security.
There is a cool hidden pocket inside the bottom front of the bag, useful for carrying your phone or other precious items.
It has a loop to carabiner towels, umbrellas, bottle or stools to it. The bottom of the bag is waterproof which is a nice addition in a bag at this price. The straps are adjustable & padded as is the top handle, which you'll be grabbing a lot unless you prop the bag up at the read with a disc or 2 or something else as its prone to falling over. Incidentally the pricier Innova Superhero doesn't have a top handle, and misses out on this essential convenience.
All-in-all this is a great bag for someone who doesn't want to pay upmarket prices. You'll miss the padding and the bags ability to stand tall (may get covered in mud and sand), but you'll get plenty of space and adequate pockets that deliver the basics and that bit more, all in a comfortable to carry backpack.
Budget Advance – the budget is pushed out of the economy bracket, though just barely but its worth it
Pros – Some value at just under $40, bag is so light and comfortable you can use it as 1 strap sling bag. 4 zippered pockets provide plenty of room for extras, strong 600D material, very lightweight under 2 lbs.
Cons – bag is prone to falling flat on its face – especially if not sitting on flat surface, discs are hard to get in and out when running it at full capacity (main flap doesn't open that far), bottom of bag is not reinforced strongly (another reason why it keeps tipping)
N0 14 –
MVP Disc Sports Shuttle Backpack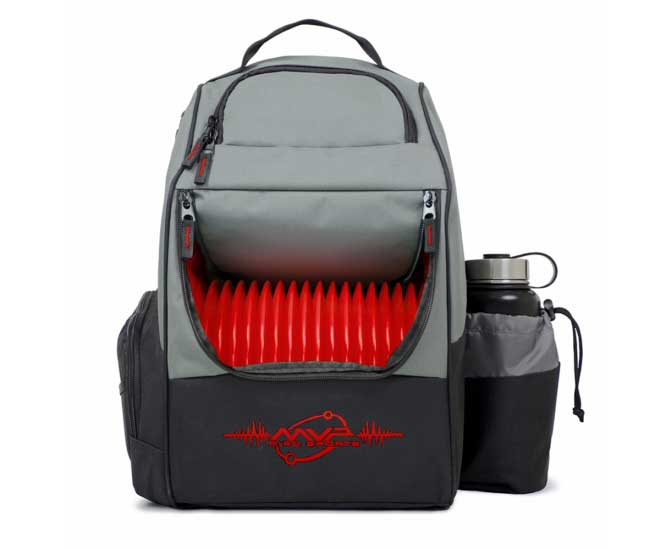 The Shuttle is an economy bag from MVP with mid-tier appeal. There are not many bags of this quality for around $25 that can get you storage to hold 20+ discs with 3 large bottles and a holder for a 32 oz bottle. And it has a drawstring, a simple drawstring to  securely tighten your bottle in, and shamefully some more expensive brands don't have this feature which must cost 3 cent at the manufacturing stage.
It doesn't have dividers for the discs, but at this price who cares. If you run with 14-16 in it they will fit together quite snugly and not fall over. Now this bag would make a nice upgrade from someone used to a sling bag who wants to venture into the backpack world for more storage and disc capacity.
The walls and internal structure aren't reinforced but thats what keeps the price so low. Unless you are planting the bag on hilly terrain it sits up quite well. But turn the bag around on a hill and it stands.
Budget babe – A heck of a lot of value for just over $20
Pros – wonderfully cheap, great storage options, straps provide adequate comfort levels
Cons – there shouldn't be many at this price but to mention why you'd opt for a different bag would be to have an insulated bottle holder, if you want to run at full disc capacity you'll have to use the top compartment for about 6 discs, and cram about 14 in the main compartment- and the downside is you lose some space up top for apparel, food, towels….
Also not a lot of padding or reinforcement in this bag. But hey who's complaining?
No 15 –  Infinite Discs Slinger Bag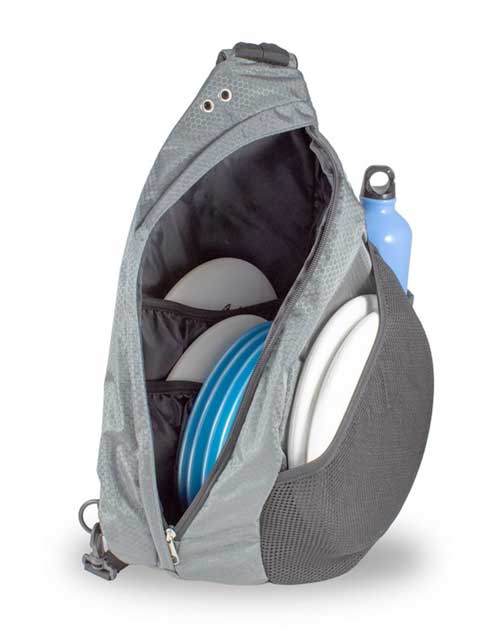 The Slinger bag is great for days when you don't want to carry lots of discs, When you want to go light. Light this bag is but it is not overly light on disc space. Advertised for holding 12, you can get about 15 discs in here if you really want. The Slinger costs around $25 and there is an upgrade the "deluxe" version that has beefed up the cloth, added a carabiner and it'll hold an extra couple of discs but that's about it.
The Slinger is designed for travelling light. Sometimes having less discs is better for your game. It forces you to strip down and focus on your throws, the old adage less is more works if you try it. Choose 8 of your best discs and 2 putters and off you go.
Naturally there is a smaller zippered pockets to hold your wallet and essential items plus a slot  for a 32oz bottle. Pick a shoulder and adjust the strap clip to hang on the left or right. And off you go. The bag sits at an angle across your back so you can leave the zipper open a bit to access your discs faster and due to the angle they won't fall out when your walking.
This bag holds your essentials nothing more nothing less. Its so cheap its good to have along with a bigger backpack for the days you want to go large. This is for the days you want to go light and get it right.
Budget Babe – under $25 usually the ability to carry discs and a few items is appealing
Pros – lightweight small bag that manages 12 discs with ease, light enough to carry in one hand, affordable, padded strap makes 10 discs in the bag and a water bottle feel lighter than air, can clip on a towel to the double eye holes, drawcord on water bottle keeps it secured
Cons – not a lot of storage for a large lunch, if you like a lot of discs this is out, this bag works better going light so 8 discs and a bit of room for some extra items and the bag is getting full, zipper can get stuck
No 16 – Westside Discs Empire Backpack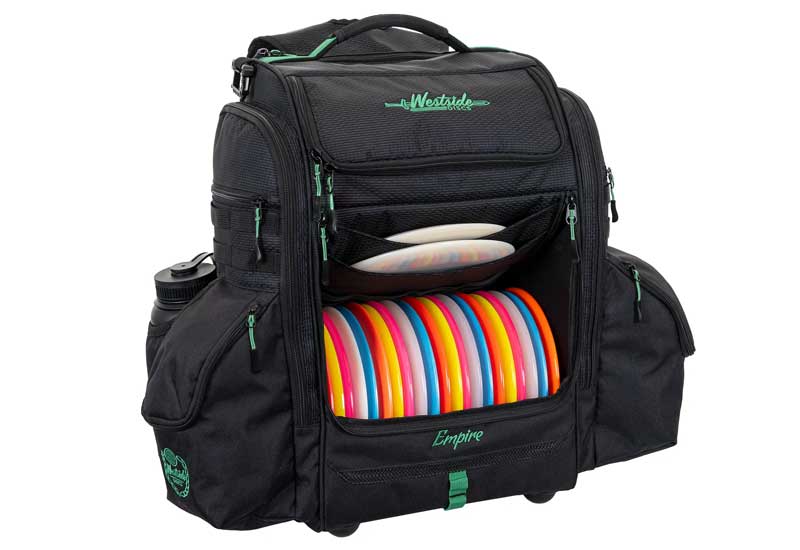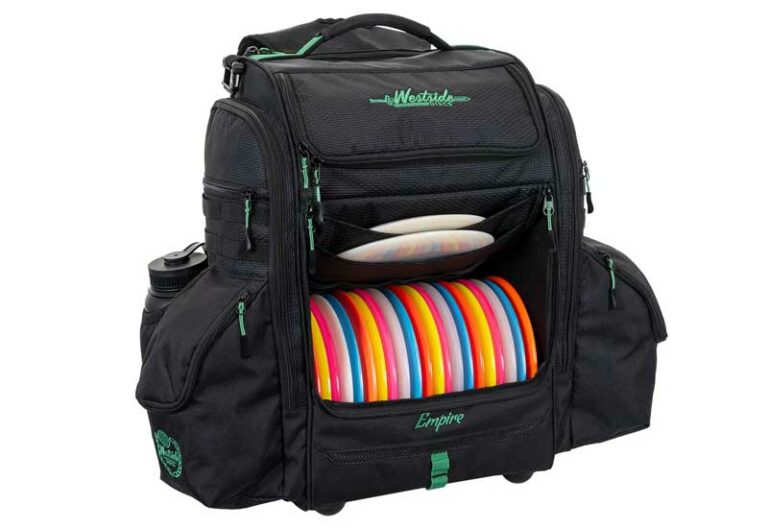 This bag could have taken the No 1 spot best of features. But it costs approx $250 and not everyone needs a bag this size. You can get started and keep playing at an advanced level with smaller bags. But if you want to go large choose the Empire.
So how many discs does this bag fit? Easily 20 in the main bag slot, 4 in the side pockets on the bag exterior (2 per side) and another 2 in the putter pouch which is neatly tucked away at the rear of the bag at the top. So that is 26 that will fit in easily. There is a huge top compartment in the Empire which you can use to store more discs.
But as you already have quick access to your main discs on the side pockets, and a massive main compartment, unless you want to go with  monster amount of discs this is a great place for storing food, more layers, towels, a rain jacket and anything else.
At the top of the bag on the sides there are nice flat pockets that are the ideal size for holding your cell. You have a separate slot to keep it getting damage by any sharp items that can move about when you are walking.
There are 2 huge side pockets running thee whole length of the bag. They are so huge you can storing a folding stool, a large water bottle, and if you are holding drinks in there the pocket is also insulated. It also has a mesh to stop your items moving about. This pocket has got some padding on it to keep your personals from sustaining damage.
Behind this pocket there are 2 larger water bottle slots, big enough to hold 2 x 32 oz bottles. At the front of the exterior there are 2 quick access mini zippered pockets, the ideal size for chalk bags, scorecards that kinda thing.
It also has 4 straps for securing carry on items, stools, umbrellas, retrievers, plus there is a D ring for adding on clip on items.
The padding on the rear of this bag is very pronounced, it is great on your lower back as it has extra thick layering of padding there. The strap are the same, plus you can click the bag around your waist to make it easier to carry.
The material is waterproof there is no issues with the backpack falling over, it is strongly built. The bottom has 5 large feet that keep it above the ground which stop it getting wet and also support its structure.
Budget Supersize – About $250 this bag is premium priced
Pros – monstrous bag, loads of pockets, loads of hydration locations, can store lots of accessories, holds a crazy amount of discs, is extremely well padded and waterproof.
Cons – very high budget, massive bag size can confuse you with too much disc and accessory options.
No 17 – Fitactic (Huju) Luxury Backpack
This bag from Fitactic (Huju) starts off ticking all the right boxes. It can support a hefty 45 pounds of weight so it won't be troubled by holding 30 discs of your choosing. The side pockets can hold not one but 2 large 24oz bottles.
Looks cool in classic black Nylon but if blacks not your thing theres desert or woodland camouflage as options. Has 11 pockets in total for all your stuff and a removable disc divider.
For your comfort it has extra wide lightly padded shoulder straps and a padded back, although some extra padding around the shoulder straps would have been appreciated.
If you want to add more items on to your already bulging backpack there's 4 side straps for rigging up towels or stools. One of them has an adjustable tie down so you can secure your umbrella or anything else tightly.
The bag also comes loaded with side pockets deep enough to hold a 3-4 cans per side.
Disc access is good and you adjust the 2 capacity hanging putter pocket (just above the main disc holder) to your liking sliding it closer to the top of the bag or deeper inside if you prefer.
You can also store 2 putters in the front pockets.
The bag has 2 inserts to slide into the sides of the bag. Although there are no instructions to tell you this. These help the bag stay upright so without them in properly your backpack will flop over.
You'll receive the bag flat packed at first. So make sure should slide the insides in correctly. They go inside 2 velcro pockets.
If you want to you can add your name or stickers or club patches to a customizable name card so no one steals or accidentally saunters off with your bag.
A nice little feature is the mini pocket inside the side pocket for holding you phone or other electronics. Nothing  as annoying as trying to find your phone in amongst all your other stuff. Oh and it's made of soft anti-scratch material to protect your screens.
This is a well thought out bag that even has pencil holder beside the side pockets that have been designed to stop the lead from breaking. Clever.
The bag is pretty pricey from what looks to be a clone of a Grip backpack. Which is why it's also sold under the brand name Huju Bag.
Which does smack a bit of Chinese multi-brand basic clones. But saying that this is not a cheaply made imitation product.
Budget Step Up – You get a lot of capacity and quality. if you are ready to step up your game its worth the investment
Pros – plenty of room and compartments to split up your apparel, food and accessories. Discs are easily accessed with spaced dividers. Has a detachable rain cover and sturdy rails and rubber pads to support the bottom. Can survive a long tour season. Its got 11 pockets!
Cons: only comes in 3 colors – tactical black, and 2 camos. Instructions amiss- buying off Amazon you have to figure out a few things yourself. No biggie if you had a backpack before, but a heads up would be nice.
Seems to be a clone of many other U.S. brand name products.
Also quite pricey some stores offering it for $125 and over. For that i think i want more brand for my money.
No 18 – Towch Disc Golf Towel Pouch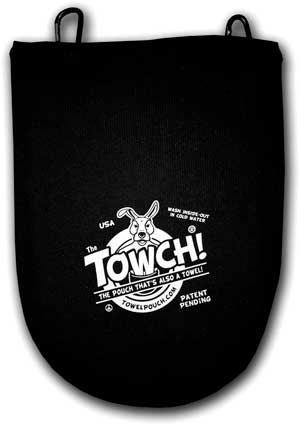 Yes its a towel, yes its a pouch – yes it for beginners, or novelty hunters, and yes disc capacity is small. Oh, and it may be a hat. You can also  hang it on an existing bag loop via the d rings.
So if you are a real sweaty guy or gal, not throwing judgements on anyone, a 3 disc towel bag might suit you well.
The fact is this is more of a disc cleaner and not for personal use. So it's a nice addition to a larger bag. You just load your dirty disc inside and let the textured cotton clean your disc. Rub it from the outside and keep your hands clean.
Saves you getting out a pack or wipes or dipping into your dudes.
So its not a disc carrier really, you get 3 discs – that's 1 driver, 1 putter and 1 mid-range. That doesn't leave a lot of room for options.
Do you buy into the name? Towch is a combination of Towel & Pouch. TOWCH. Clever branding aside or not, and who really cares?
One place where i can see this working if if you're bag doesn't have a big enough putter pocket like the Rogue Iron sling bag. Or maybe you've none at all, so slip this baby onto your bag or fanny pack.

Budget Friendly – Not going to break the bank at just over 10 bucks
Pros – looks cool (cool stamp), feels nice and soft on the outside and doubles as a putter pocket. Comes in a lot of crazy colors like Yummy Yellow, Galactic Green and Nautical Navy.
Is machine washable, and being cotton won't shrink if you wash it cold. Hang it on the line with a disc inside to retain its shape.
Cons – tries to do a lot- doubles as a hat, putter pouch, you and attachment to your bag or belt courtesy of the carabiners.
No 19 – Westside Discs Noble Backpack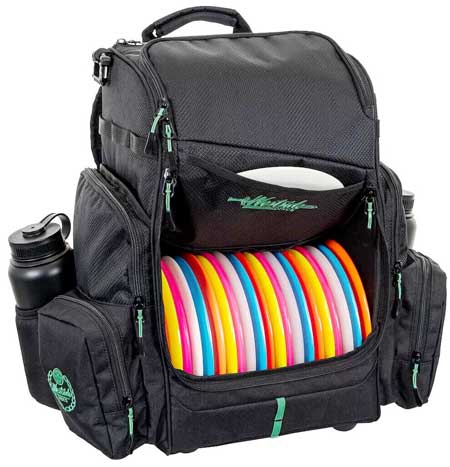 The Noble by WDs is a piece of class, double period. It can hold 22 discs with ease. This bag is costly so if you are just a casual hobbyist you have too much money to spare if you buy it.
You can fit up to 4 discs on the side which is a handy feature to keep your main go to discs handy. Also has dual insulated water bottle holders on the side which is a game changer for me on thirsty days.
This bag is luxury, its one of the best built backpacks on my list.Its well put together, solid as a rock and though it weighs 5 pounds its so comfy you wouldn't think it. The straps are extra wide and well padded.
It has 4 zipper pockets on the side before you even get into the main bag, and two of them are extra large. The main bag is split up really well with a putter pouch and 2 deep top pouches just below that for more discs.
There's a disc pouch on the outside front for your best loved disc. You can also attach and secure stools, towels or apparel on several fabric loops. You can even attach items to the straps- just loop your sweatshirt or disc towel (Towch) through it.
You can clip your stool on the side and secure it with adjustable straps which stops it swinging all over the place.
Who is this aimed at? Advanced players that like to carry multiples of the same disc. So you know already what discs you like to play with but maybe some are a bit more stable or understable than others, a bit more beat in, or brand new. The noble will let you pack 'em in comfort and style.
The top pocket is spacious enough for a couple of sweatshirts or a rain jacket or you can flat stack a good 7 or so discs on top of each other instead. The putter pouch at the very top can fit 2 discs in easily, you can stretch it to 3.
Alternatives  Backpacks – Dynamic Discs Ranger – $15 cheaper and more comfy, for less luxury and a $130 saving choose the Trooper (No 2 on our list)
Budget Breaker – amazing bag but you need to be serious about DG before parting with close to $200 of your hard earned cash
Pros – can fit 2 Nalgene 30 ouncers on the sides. XL zipper pockets on the side. Grab handle on top feels indestructible and has lots of padding. Water pr0of base with 5 big plastic feet to keep the bag upright and the main fabric away from muddy soil.
Extra padding at the bottom of the bag is great for your lumbar region. really a game changer if you're on a course with lots of slopes.
Side pockets have elastic bands to stop your keys jingling about or secure your phone. It has cool little side pockets that let you slide items inside such as disc retrievers, speakers or pens.
Also has a snack pouch pocket that you can stuff with your energy bars, alternative healthy options are advisable as well.
Cons – Very little cons with this bag so i'm going to be a little picky. Close to $200 its not really a snip. The water bottle holder could have a bungie to tighten it, it's a bit loose as its wide fitting and its not too tall.
You don't want to keep checking behind you to see if your bottle fell out if you aren't packing something tall.
Wide load- this bag is 20 inches wide when you pack the sides wider still.
Color -Limited to black. I don't always feel like a black man.
If you can bypass these small moot points and have the budget you're gonna love this bag.
No 20  – Fade Crunch Shoulder Bag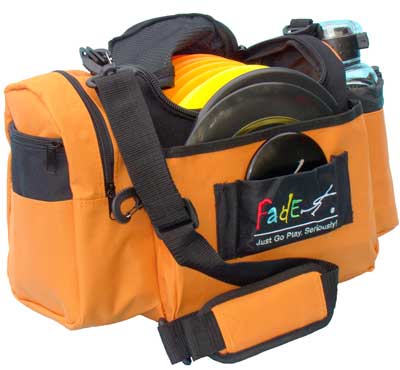 Quirky little shoulder bag that is marketed as having room for your lunch.  Fade also have a cut down version of this bag named the Lite. It competes with the likes of the Rogue Iron & Disc Living's sling bags.
You can pack small but still bag 12 discs and 2 putters. With a slot for a mini marker and zippered pockets for your stash the Crunch has got you covered.
This bag is still comfortable with a padded shoulder strap. If you like to carry a towel you can clip one on. Comes with a velcro disc divider to separate your discs.
If you have a small frame and love little tote bags you can't go too far wrong with this.
There is an optional shoulder strap with rainfly accessory to accompany this bag they called the Weatherguard which is a 4- point strap harness with rainfly and poncho. it is kinda expensive though at 40 bucks or so.
I like Fade, I mean I like their ethos. They are a fun company, they make good bags with good funnily named colors (see below). Hilariously they say they've tested their bags toughness by slamming it against trees and running it over with cars.
Well i believe them cause they offer 12 months warrant to back up their claims.
Budget Borderline – If you really like the Fade Lite but want a tougher version you'll maybe choose this
Pros – Lightweight 20oz and strong. Insulated pocket holds a 1L drink. 11 Colors to choose; Way Green, Sky Blue, Pumpkin (pictured above), Gray, Fuschia, Electric Lime, Dirt Brown, Camo, Blueberry, Blood Red, Black.
Side pockets are elevated to minimize wear and tear. It has tiny little feet underneath and the bottom is reinforced to help keep the bag upright. It does this to a really good degree most of the time, depends how many discs you are carrying and what size of water bottle you're packing.
Has card key clip and towel clip.
Cons – rainfly/shoulder straps takes this from being a cheap bag to an expensive bag which fails to compete with bigger rain resistant backpacks with more disc capacity and supportive straps like Dynamic Discs Trooper, the Power Shot from Athletico or for this kind of money you can buy Throwback Sports Sack bag and get a cooler!
Shoulder pad is sewn to the strap so you can't adjust it forwards or backwards.
No 21 – Latitude 64 Luxury E4 Backpack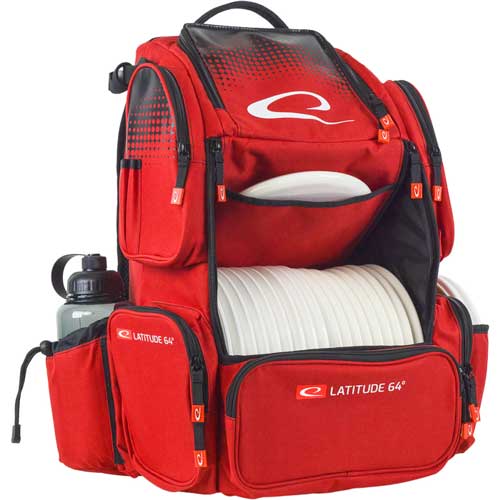 Another 20 + discer just made the list. This time the E4 From Latitude 64, which is a very nice looking backpack. Hitting close to the 100 bucks price tier it would better be good for the money. And it is. If you need a larger bag then a backpack it has to be. So here is what the E4 can do for you.
The outside of the bag can hold 3 putters and a marker. Two in a side pocket with a mini slot and 1 inside the main opening flap. There are an additional 4 zipper pockets on the sides, 2 at the top and 2 at the bottom. There is also a cool lateral pocket running sideways along the front of the bag. It could have been called the Lateral 64.
The bag doesn't have feet to keep it off the ground like the more expensive backpacks but it does have plastic ridges that reinforce the bottom of the bag, reduce wear and tear and help keep it upright once its planted on the ground.
The water bottle hold can fit a 50 oz or 1.5l water bottle. It has a drawstring to stop your bottle falling out. Its on a good location opposite your putters so you can walk, drink and grab a disc at the same time.
This is a tall backpack, measuring 20 inches. Its 15 inches wide but will still fit in a zuca cart. It has an umbrella holder that allows you to wear the bag with the umbrella open.
This bag is a big investment, it's a step up from a small summer backpack, it has a lot for more room to hold all the accessories you could ever need. But, although it is really well designed with lots of storage space, it is not worth the $100. The build quality is not up to scratch. If you are looking for something that will last a year or 2 and don't mind blowing a hundred dollars every couple of seasons you might be alright with it. But me, i like things to last a little longer.
Budget Just Got Serious – A cent or 2 under $100 usually
Pros – 30 disc capacity if you are just using it for discs, insulated plastic lining keeps the main compartment dry, very very stylish looking, the disc divide is adjustable
Cons – padding is thin on the straps so when its full it can be uncomfortable, bag is overpriced, feels heavy due to lack of padding and design, the Poly ripstop material feels rough against your skin when you carry it- definitely not soft, looks luxury but look beyond the veneer and the cracks start to appear….
No 22 – Lowik Disc Golf Sling Bag
This little sling bag from Lowik is smartly put together. It's form is intelligent and well organised. You can store 13-15 disc in this bag and it has 2 padded dividers in the main section which allows you a bit of easy visual which you can also remove,  and a putter pouch for 4 discs on the outside, which can be secured closed with a velcro strap. The padded dividers bolster the bag and help it stand upright once its set on the ground. If you want more disc space just whip the dividers out.
One nice touch is the leather bottom that keeps water from seeping into the bag. The rip proof nylon fabric is also waterproof and although it only comes in black, its pretty classy looking. The bag has a real nice shape, it's ever so slightly taller than most sling bags at about 10 inches, which makes it easier to close the top lid, especially when its full of discs (average disc is just over 8 inches tall). Its got reinforced stitching and you are getting quality workmanship for very low cost.
You can configure the padded adjustable strap to your liking and you can actually rotate the strap connections to get the strap exactly where you want it to hang. The bag has double zippers which makes closing and opening the little bag even much faster. Sling bags provide quick access to your discs anyway so this just ups it a notch.
There is a 9.5 inch zippered pouch on one side of the bag to hold all your valuables and scorecard. There is another cool pocket on the lid and one on the back of the bag. Very versatile. The other side will hold a regular 24oz water bottle, plus it has a drawstring. There is also a towel clip. So what more could you really ask for in a small bag. It has everything you need and more.
Budget lite – at around the $20 mark this bag has exceptional functionality and is great value
Pros – waterproof anti slip bottom, lightweight, budget friendly, great disc capacity, padded double dividers help with disc organising, 3 pockets, extra few inches heigh really makes a difference, reflective grey color on the exterior to light you up at night
Cons – have to make up a few negatives as I can't really fault a bag at this price, but for balance; strap has just basic padding, zippers are a bit thin (though most are on small bags)
No 23 – Prodigy V2 Practice Bag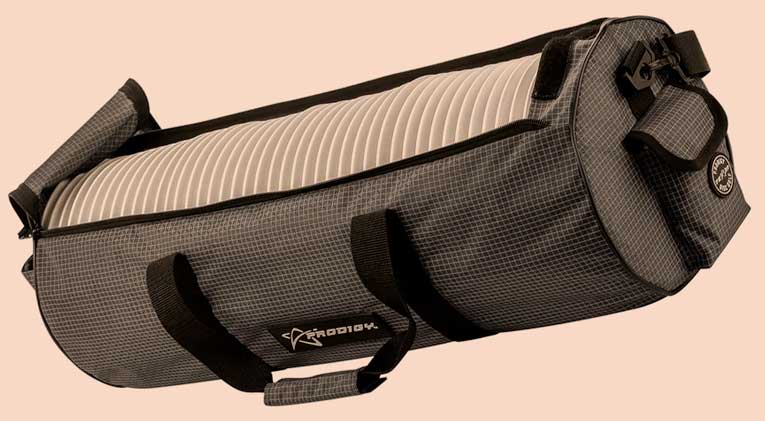 Breaking with tradition I've listed the pros and cons first, just to cut to the chase.
Pros – It can hold 45 discs – if you can afford to fill it up. Or you can grab a bunch of buddies and cram in all your discs together. You just won't get more discs in any other bag. Loads of colour options from camo, charcoal, green navy, black, red and even pink.
Has  a strap to sling it across the shoulders.
Good for working on your aces.
Cons – this bag is so wide. It is good for one thing and one thing only – to crank out discs from one spot, then bagging them up again and launching another load of discs.
The phone pocket won't hold a larger iPhone or Android. I've also found when I'm packing a full bag some discs can run off line as the runner doesn't stretch the entire width of the bag. This can put a bit of pressure on a few of the end discs.
So be in mind you don't warp a few discs when its full, don't put your prized babies at the end. The plastic disc insertions are also a bit fiddly to adjust, I have this problem with camera bags as well so maybe that's a me thing.
This grip bag is too wide and impractical to make use of in a competitive game of DG. But there's a clue in the name – practice bag.
How many people really need to chuck 45 discs out at a time? When practising I like to pick a spot and crank out 4 or 5 discs then go and pick them up, with a nice satisfied feeling if I've hit my mark or a feeling of rage if not.
Which i quickly forget on my next throw.
Apart from an insulated water bottle storage there's not much room for anything else only discs. Which may or not be no bad thing.
What do you need this for?
So for competitive disc golf rounds you won't want to buy this. I'm aware that this has been a really negative review of the Prodigy V2.  But it does excel like its name suggests for practice sessions.
Especially if you are playing mono. It lets you work on so many aspects of your game. You can experiment with distance, accuracy, extreme hyzers, forearm meathooks or just chuck all 45 discs at your basket.
Or you can spend some time breaking in your new discs in an open field or lot near home.
What is has got going for it is its water resistant and rip proof. If you don't have a disc rack at home you can use this to store up to 45 discs and 30 putters. Good to grab this bag with a friend and a basket and head to the beach or field near you.
Budget Keen –  Around $30 its a great price
No 24 – Fade Light Disc Golf Bag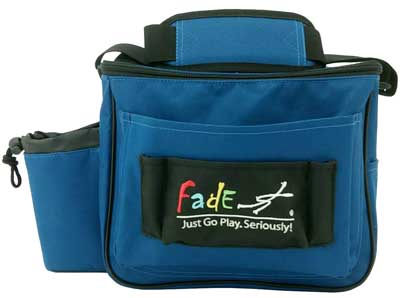 The Fade Lite comes in 11 different colors, its called Lite for a reason. Not just because it weights a meagre 11oz, but this no frills bag is designed to get you on the course with no fuss. You 12 discs and a water bottle. Game on!
This bear-bones bag like its bigger brother the crunch looks jut like a lunch bag, with its big main zippered pocket. Its designed for 10 discs in the main, but i've seen people cram up to 14 with ease, and 2 putters in the front pocket.
The disc divider is sewn into the fabric which you may or may not like as you can't move it. You can fit a 1L bottle on the side which is insulated.
Budget Friendly – Just under $20 usually it won't break the bank
Pros –  tough double stitched polyester, easy to clean, great starter bag
Cons– Won't hold a Nalgene, can't take separator out. Short strap might not suit larger individuals with elongated limbs.
No 25 – Infinite Discs Huck Pack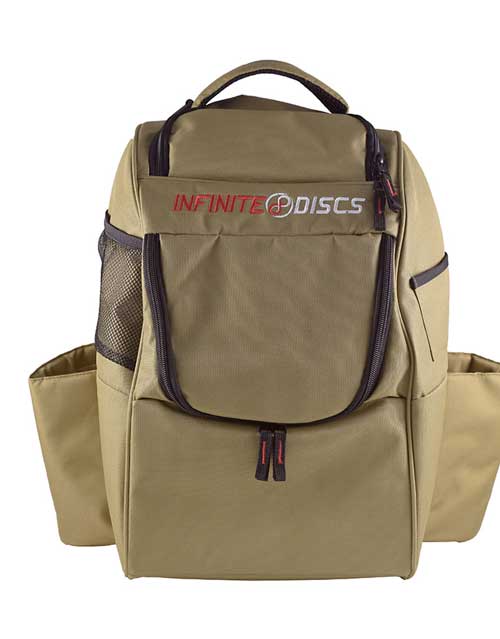 The Huck Pack is a cheap and cheerful lightweight backpack from Infinite. It has 2 large insulated water bottle holders capable of holding 2 32 oz bottles with ease, in fact it will fit a 40 oz. It has has 3 outer pockets. This bag can hold an impressive 22 discs. All in all not bad for a small bag that sits usually under $40.
With regards to disc capacity the top quiver pocket can hold 4 putters and the main compartment touted to hold 18. But thats with a bit of a squeeze. Beginners are going to love this bag, it has padded straps and a padded back panel and has enough space to store all your discs and valuables for a good 18 rounds with plenty of water to spare. With a mini marker slot and a pocket for your pencil, your game is sorted.
Trooper vs The Huck
Infinite Discs have set this bag up against DD Trooper, which is one of my all time fav bags and is No 2 on this list. The Huck Pack is good, but not quite that good. They have about the same disc capacity but the Trooper is better built and in my opinion much better looking.
The Huck definitely wins against the Trooper in the weight department, shedding serious grams with its Nylon structure. But to get your discs with ease I'd recommend only stacking 14 or 15 discs in the main, this bag is a bit more cramped in the middle than the Trooper.
Budget Right – Well Worth the price.
Pros – 600D Cordura Nylon lightweight, durable, well padded straps, holds a 32oz Nalgene or Hydroflask, or  36oz Yeti, good investment before moving on to more expensive bags
Cons – zipper very light grade, top of the bag can droop if you don't have putters propping it up, not a lot of padding, no specific slot for umbrella or disc dividers, Nylon can rip if you catch it on something sharp or raggedy, basic storage options
No 26 –
MVP Disc Sports Nucleus Tournament Bag V2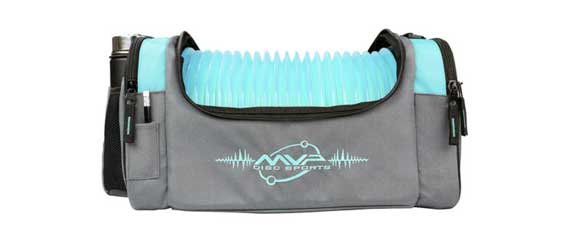 Another Tournament or field bag makes the top 30. It doesn't hold as many discs as the Prodigy V2 bag. This bag has been designed to fit the MPV Rover Disc Cart.
This bag is tougher than the original, its made the upgrade to 900D Polyester. It has a single strap but you can expand it to a backpack/4 quad carry harness. The single strap is a bit on the wimpy and uncomfortable side if you are running a heavy bag. An X Ray strap or the backpack harness would balance it better. There are 4 slots to hook up  your own straps.
With 2 big bag side pockets (with inner pockets inside) this bag makes a good choice for a long practice day or for some tournament action. The bottom of the bag is reinforced so you can expect this bag to last for a long time.
I wouldn't have it out every day as i find its too limited and hasn't enough options for an all round play day with a bit of recreation. Its strength is also its weakness, it is specified as a competition or practice bag. That's good and both bad.
Budget Debate – Is this worth the mid $30s price tag? look at the section above and make the decision.
Pros – strong velcro dividers, tough material, good access to discs
Cons – shoulder strap is uncomfortable especially if you're carrying 20-25 discs. Needs some heavier padding. Bottle holder has no drawstring to tighten, bad if you aren't carrying a large bottle.
No 27 – Axiom Discs Shuttle Backpack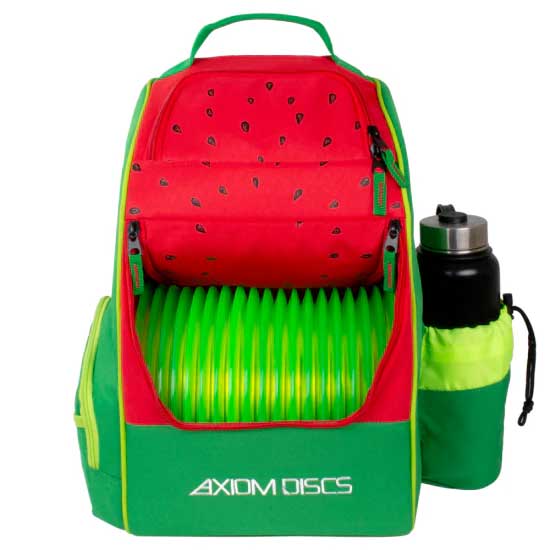 I'm sure everyones seen the stand out watermelon colored Shuttle backpack by Axiom. If the tropical incarnation doesn't suit your bonny, there are 5 other "normal" colors to choose from.
Starting at around $25 the Shuttle has a 25 disc capacity. It can hold a 32 oz tall bottle ora 64 oz Yeti in the side pocket and nicely comes with a drawstring in case you have to secure something a little bit smaller. Talking about smaller this bag is about the same size as a normal backsack, but it still manages to get great storage capacity.
One drawback is its a little tight to get wider putters in and out of the top pocket. You can still fit about 6 discs in there, 14 at a squeeze in the main compartment and another 4 in the side pocket.
As the bag is so compact its great at sitting upright. Axiom have done a great job considering it is not overly padded.
Budget Friendly – such a good cheap bag with great capacity for anyone who doesn't want to pay expensive for same disc capacity but more luxuries
Pros – a bag that holds 20 odd discs for $25, thats a dollar a disc, whats not to like?, Lightweight just over 1 pound weight and tough
Cons – not a strongly reinforced bag obviously for the price, zippers are cheap. Overloading it with discs causes it to fall over as it has minimal supports, due to lack of padding sides have a tendency to collapse, compartments also have no insulation to prevent leaks and keep your refreshments cool
N0 28 – Dynamic Discs Soldier Cooler Bag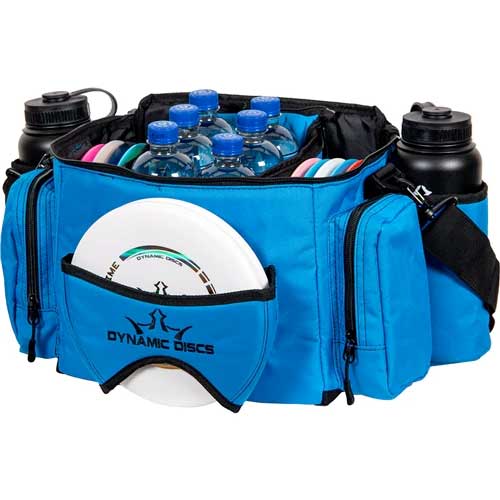 The Dynamic Discs Cooler Bag is a mid-sized disc golf bag that can hold up to 18 discs and 6 x 16oz cans in its insulated cooler. Apart from the cooler storage you can also store 2 x 32oz bottles on the sides of this bag.  Has 2 small zipper pockets for your phone, keys and wallet.
It also has a zippered mesh bag inside the top flap. This bag even with 6 cans in the cooler can fit 10-12 discs in it, which is plenty for a long day on the course if you know your discs well. This bag would suit intermediate to advanced players who have a need for a lot of chilled hydration and cooled snacks.
If you don't like to carry a backpack or a water bladder this bag makes for a good choice. It's compact has a nice strap and if you prefer sling bags this is a bit bigger but easy to manage. Plus it'll sit up straight due to its low center of gravity.
One drawback is the bag gets too uncomfortable for one shoulder once the bag is run to capacity. There is the option for a backstrap, but that takes it away from a sling bag. The shoulder strap should have been more padded.
Budget Pusher – Hittin up close to $60 in todays high inflation climate you really need to have loads of disposable income to justify this bag
Pros – A tonne of disc space to get you through the day combined with an adequate sized cooler, cooler bag can be removed. Good capacity when you don't want a backpack and want to keep your refreshments cool. Doesn't fall over.
Cons – can only hold 18 discs if you remove the insulated cooler bag, if you are running a full bag the shoulder strap can get a bit heavy. At approx $60 it isn't the cheapest bag in the world, it tries to mix cooler and disc capacity too much, needs a bit more cooler capacity to justify the price.
No 29 – Axiom Discs Cell Starter Bag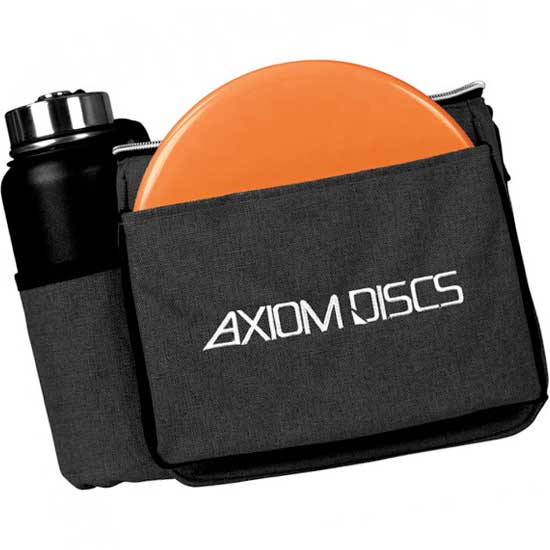 For a bag this small by Axiom Discs it does well to be able to store 9-10 discs. It will certainly get you started if you are a a beginner. Its very cheap, practically a steal usually between $12-15. Its just a bare bones bag with a mesh compartment on the inside to store a mini, your scorecard or personal items and a slot on the front to hold your mini.
The bottom does have some padding though so it will not flip over if you put it on the ground and it holds its shape nicely. You can also squeeze a small towel in the putter pouch if you prefer.
It does miss a drawstring though on the bottle slot and you'll struggle to fit 32 oz tumblers in there. The bag does get very tight if you are storing a lot of discs. After all it only measures 12 x9 inches.
The material is tough and water resistant so if you are happy carrying a small bottle this bag may be the one for you.
Budget – Entry Level Price usually under $15
Pros – lightweight easy to maneuver, good for light travel, good for vacations or to take to the office when you know you can skip out to the course. Great first time bag for your kids.
Cons – aimed squarely at first time disc golfers this bag is ok when you want to go light, covers just the basics, but sometimes you need more, very vanilla looking could have done better with the design, single drinks holder can make it unbalanced, hard to get discs out fast when its at full capacity
No 30 – Himal Disc Golf Bag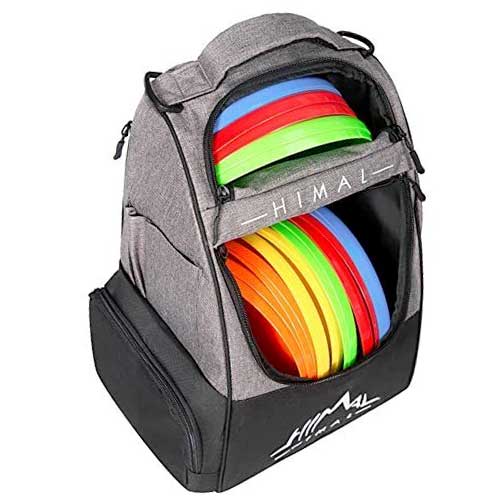 This is an 18 disc capacity backpack from a company named Himal. Its made from 600D polyester fabric like a lot of bags on this lit. This type of fabric keeps the cost down for manufacturers and its a tough hard to rip fabric. This bag is very plain looking in its 2 tone grey and black. If you prefer minimal design thats no bad thing.
So its got plenty of the usual backpack stuff, it can hold a 32oz bottle, and thankfully its got a drawstring so if you are carrying anything smaller it won't fall out. It has 2 pen pouches, a small pocket on the side for a towel and a small slotted pocket on the outside that can fit a phone.
This is a great bag when you're starting out and want to carry your entire play set. With storage for approx 18 discs you can't go bad with this. The back and side walls aren't reinforced so this bag won't sit up straight and has a tendency to collapse in on itself.
This bag is also waterproof its a bit smaller than regular backpacks standing about 14 inches tall so it won't hog your entire back. The straps are pretty comfy too.
Getting 2 putters out of the top pocket is also a bit of a squeeze, but if you can run with 1 and 12-14 discs in the main, and don't have the money yet for a mid-priced bag this is a pretty comfortable and adequate bag.
Budget Friendly – $25-30 pretty cheap for a bag with good storage
Pros – Double zippers add extra sturdiness, lots of room for essentials
Cons – plain looking, not a lot of padding in the main compartment or side walls.
No 31 – Slingshot Disc Golf Bag by Driven Disc Golf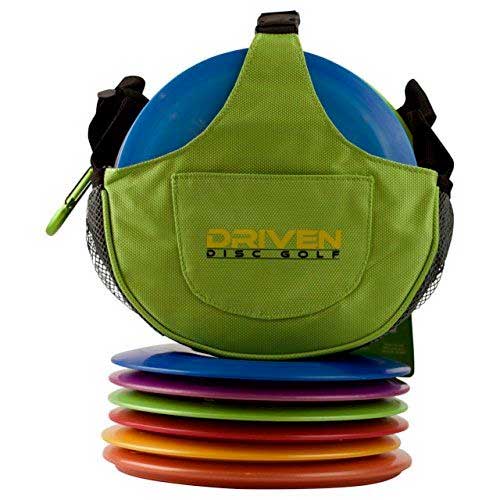 This is an unusual little bag with an open-faced design, like a hot rod with the roof down. Definitely one for the brighter days. So you have the Slingshot, a bag thats been designed by Bill Gilbert to hold just the absolute essentials. So this is the furthest thing away from an all night backpack.
There is space for 5-7 discs depending on whether you are carrying putters, drivers or mids. Bill designed it to keep his game fluid. He likes to shoot and be on the move, and not having to set down and pick up his bag, or hoke through a large backpack crammed full of discs.
So this thing is light, designed for fast movers, and the open top design is the main driver of all this.
This is a good bag for starters who don't want to be overburdened with disc choice and just want to work on a few select molds.
Theres a disc divider in the bag, and you get two zippered pockets to hold some small items like your wallet and key. There is also a velcroed pocket, a slot for your scorecard  and it also manages to squeeze a mini pocket into the design.
There are 2 small drink holders, and a supplied carabiner for attaching whatever you want – a towel, bluetooth speaker or a set of keys.
If you want to carry a lot of refreshments and drinks store them in one of your friends backpacks or hire a rolling cart.
Budget Pushing– At around 25 bucks its not that expensive but it offers the basics and there are far slings bags for the money higher up the list discs
Pros – lightweight, can keep it on your shoulder if you want, disc access is good, its a tough little cookie
Cons – don't hold much discs or any other stuff, if it rains you are in trouble
No 32 – NutSac Disc Golf Bag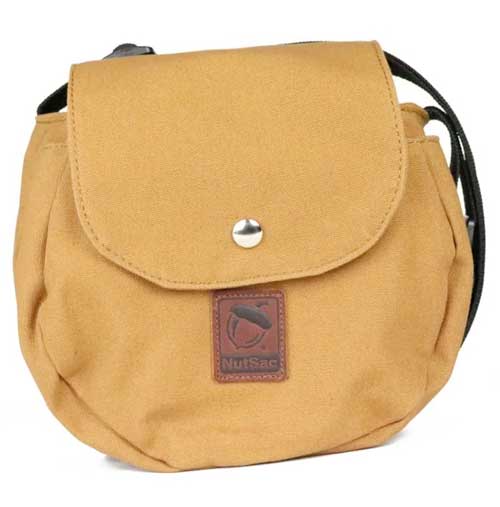 The cheekily named NutSac is sitting at No 28 on this list for a reason. It looks great but its close to $70. For a small capacity bag I'd want it lined with gold before deciding I've got to have this.
Its an extremely rugged waterproof bag than can hold 5 discs with ease. You'll fit 6 in it if you push it but it'll be a bit of a squeeze to get them out.
There's an outside pocket to store all your essential items you don't want rattling around in your pockets. Theres a stack of colors to choose from.
Now one major drawback is there no space for a water bottle. So you'll carry your own or store one in your buddies. Or strap a giant water bladder to your back, but that negates the point in this bag, running light.
A towel loop would have been a useful addition or a ring to attach extra items, so its you, your discs, a few small items and the course. Minimal indeed.
You can hack the Nutsac by strapping a carabiner to the strap then you can add on towels, or speakers or whatever. But to me thats a step too far once you've paid that much money for a bag.
Budget Beyond – Its sad for me to say that the rudely named NutSac is a very good bag but way over priced
Pros – color choice options are huge, waterproof, tough as an old boot, made here and not in China, warrantied for life, stitching is high quality, canvas feels so nice, great looking bag
Cons – serious money, no belt loops is shame as this bag is the ideal size to attach to your waist, another pocket on the back would have created better storage options, no water bottle slot
No 33 – Prodigy Disc BP-2 V3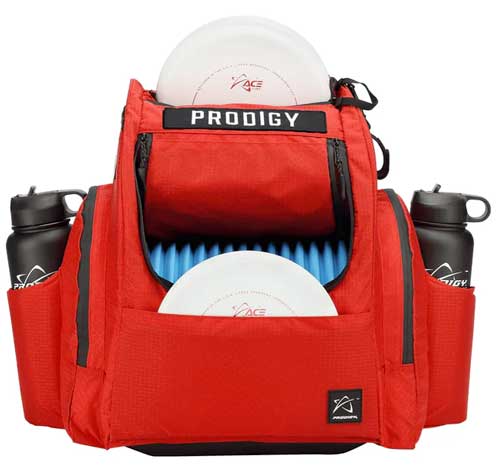 Another prodigy bag makes the list, this time its the BP-2V3, which was released in 2021. With 10-11 colors to choose from you won't be stuck with the same bag as everyone else on the course. The bag boasts the same material as the E4 by Latitude 64 mentioned earlier. Its the tough rip poof Nylon Ripstop Fabric. Which is also waterproof.
Although its tough wearing it can be tough on your skin, well mine anyway, its not coarse but a kind of cold and somewhat harsh material. Some people like it, I think it a bit too much backsack economy style for me.
The bag is mid sized and weighs 3 pounds. its managed to shed a half pound on the previous V2. Heavier backpacks weight 5 pounds and over. It can though handle over 26 discs depending on what you pack as theres ample storage space for all your possessions. It has 2 insulated bottle holders that can pack 32 oz bottles.
The top putter slot can fit up to 4 putters, 3 with ease, 4 with a squeeze. There is a slide in umbrellas sleeve and you get a clip that you can use to secure  extra items like speakers. It has two over size pockets on the sides. I would have liked it to have 2 smaller side pockets as well or the pockets to stretch all the way up the bag instead of about halfway.
The bottom of the bag has been beefed up with ground rails on each side which prevent the bag flipping over when its stationary on the ground. Reinforced side panels aid the bag in standing tall and they prevent it from collapsing inwards when you don't have a full bag packed.
There is a disc divider which allows you to separate your discs into 3 sections. This stops them flipping over when you are taking a lot of discs out or haven't pack the entire pocket with discs.
The straps are pretty comfy and the back is well padded. The bag will not grind you down by hole 9 like some heavier backpacks can. But the bag for me does have some issues.
Being mid size it misses on what larger bags can offer, making it easier to pull discs out of the bag.
Needs more organisation in the side pockets with mini compartments or just extra pockets. Yes you can stuff everything in but i like a bit things sectioned off.
I'm not sure about the material, some people love Ripstop can obviously it supposed to be rip and water  proof. I'm not a fan of how it feels or looks. Too much like a cheap back sack to me.
Some wider 32 oz bottles won't fit and theres no cinch cord to secure what fits in.
I like more padding in my bag. This compromises that for lightness which I get, but i like more padding and less rigidness out of my bag material.
Budget Sweet spot – its not budget but neither is it astronomically priced for what it offers
Pros – Great disc capacity, useful disc divider, lightweight for a mid sized bag, waterproof, good for people who aren't that tall
Cons – material can feel a bit unforgiving on skin, a few more side pockets for a mid 60 dollar bag would have been appreciated, no draw strings on the bottle holders – like c'mon man simple and cheap to add to design, the top handle is very thin
No 34 – Discology OG V2 Backpack
The Discology OG V2 is another disc golf backpack bag with a large disc capacity. Its different from most other disc golf bag apart from some of the little sling bags like the NutSac & Westside Discs shoulder bag as its made from canvas. Its very stylish looking and comfortable.
It got heavy duty double stitching which is a much needed improvement from the V1 bag as the haul handle and straps where prone to rips. The bag has stronger inserts than the V1 which stop it collapsing into itself.
Standing 17 inches its a mid-sized compact backpack and it has 2 insulated water bottle holders with drawstrings. It weighs just under 3.5 pounds, which is good for a backpack.
Getting the little things out of the way first, there is a small strap for securing your disc retriever, place it in the lower mesh pocket on the side and feet it through the elastic strap. You can further secure it with a D ring at the top if you want.
The padding at the bac of the bag zips open to reveal a hidden pocket for small items. It can even fit 2 minis. The front of the 02 has 2 putter slots.
Disc capacity is great, you can fit up to 26 discs in this backpack. The two big pockets on the side are exactly that, big and spacious. There are 2 pockets on the top of the bag, one opens to the rear.
There is an issue with the putter pockets – the flap won't tuck itself up neatly inside your bag if you are keeping it open to quick grab discs. There's hardly any room between the 2 putter slots which would actually have been ideal only the slots are very rigid. You really have to wrestle your putters out sometimes, so the point in these quick access disc slots is what?
Almost an exceptionally good bag that could have competed much stronger against premium line bags apart from a few niggles.
Budget Pushing – Around $90 its asking for a lot of your cash, definitely would have needed it to be completely waterproof for this type of money
Pros – Very stylish looking lightweight backpack.
Cons – canvas is not waterproof, you'll have to add your own liner or rain wrap. The top pouch is tight if you are carrying 2 putters. Although touted as rip proof canvas has a tendency to rip with heavy usage. Zippers could be stronger
No 35 – Kestrel Sling Bag
A small bag that manages to have 2 putter slots – so why do you need a big bag for? Well when you want to travel light and sacrifice all your leisure luxuries (or just carry them in your spare arm??), the Kestrel Sling bag looks awesome and has a 6-10 disc capacity. Although cramming 10 discs in there would be one heck of a cram.
It has strong zipper back pocket to secure your wallet and valuables. You'll have room for a small towel if you are carrying 5 or 6 discs. Sling bags like this are designed for players who know their discs, or want a light day on the course.
You'll have to hang this bag around your waist or get a buddy or tree to hold it as it won't sit upright when its planted. The lack of reinforcement does keep the weight down and that's the main point of slings, allowing you to travel fast with minimal weight.
The water slot can fit a 750ml bottle easily and you can even squeeze in a 32 oz if its not a wide bottle. Anything larger or extremely wide will struggle. One drawback with this bag is if you have a full water bottle and set the bag down it can roll to the side.
It also won't sit upright unless you pack it full or prop it up with something.
On the plus side the bag does have a liner which stops muddy discs soiling the bag interior. The strap is long enough to sling crossbody across your waist.
Overall its a good little sack bag for players who want to slim down for the day and try new things with the discs they have, or they just know their discs so well they can go lite for the day. Also a good starter bag.
Budget Friendly – there are cheaper disc golf sling bags, but at around $25 it's not exactly gonna break the bank
Pros – Fabulous looking, durable canvas, lighter than a feather, has a drawstring for water bottle holder, has great colors including Gray Camo. Discs won't fall out when the snaps are open as its a nice oval shape keeps them tucked in snugly-wugly.
Cons – only fits skinny or small bottles, the bag won't sit upright on the ground, detachable straps would be good as when they rip or they don't fit it would be good to be able to change. Larger bottles unbalance the bag.
No 36 – Throwback All Day Pack Disc Golf Cooler Bag
Is this a cooler bag with disc golf as a second thought? Looks like it from the first glance of The Throwback All Day Pack, but if you take a deeper look its practical if you like to carry a lot of liquid refreshment, and the discs pockets on the side are very practical and provide quick access. Plus this bag doesn't look like a disc golf bag, so you can use it for a lot more activities like hiking, trekking, vacationing, a general or beach bag.
This bag can fit 16 discs easy on the side walls. There are 3 on each side. 2 putters can slot in on a pocket in the front and the front flap has a zipper pocket and just to let you know this is a drinks centric bag, there is a 20 oz bottle slot built into the top of the bag.
If you decide some day not to cram the bag full of drinks and go disc only you can fit a whopping 36 discs into this trunk. You can squeeze 20 discs on the outside of this bag – 9 on each side and 2 in the putter pocket. That will leave the inside for 3 32oz bottles, or some cans if you prefer. Stack them flat and you can fit another 6 discs on top.
The capacity is great in that respect. it also has a handy little pocket behind the water bottle slot (max 3.1 inch diameter) that's useful for storing the stuff you'd normally carry in your pockets. of course it also has a slot for your sharpie and a loop for your sunglasses.
The cooler is designed to hold freezer packs or ice cube sheets. It's lightweight so it won't keep things cool all day but will get you away for up to 4 hours you are taking to play disc golf. If you've a long journey to the course pack it in the trunk and out of direct sunlight on hot days.
Love the vertical shape, apart from packing some discs on the side which are lightweight, the weight distribution is perfectly balanced on the Throwback All Day Pack Bag, you won't be over leaning to one side, the weight will be running through the center of your back. Its a great concept to have the water bottle slot running through the center of the bag. Just watch your head if your head if you're bending over with a 160z bottle or you'll get a smack in the noggin. Ouch!
If you don't like digging through bags to find your discs this is great, you can easily fit 6 cans and 12-15 discs, some food and a small towel. The outside of the bag could have done with a rag loop though.

Budget Big – if you have serious rehydration needs this bag is a good option, for a true disc golf lover you certainly won't miss it
Pros – lightweight bag, stretch side pockets provide quick access to discs (can take them out easily whilst carrying bag), can carry up well over 30 discs if not carrying a load of drinks/refreshments, can see a lot of your discs on the outside of the bag without having to open zippers or flaps, well balanced bag.
Cons – the cooler is not hardcore waterproof, if you like to keep your discs on the inside this isn't the bag for you, in the main bag compartment it's designed as advertised to be a cooler bag only, its not shaped practically for disc holding (can do it still but discs will be not stacked for quick selection) so you get an expensive cooler for a round of disc golf it wouldn't exactly be your 'main bag'
No 37 – Discology Izzo Bag

The Izzo bag is made by Discology, its lightweight, water -resistant and durable. IZZO's bag has a comfortable capacity of 22 discs. Naturally you can use the top and side compartments to store extra discs, so you'll easy make 30, more if you cram it. There is an extra-large Top Compartment (can hold 5 discs), and a spacious front Compartment. There are pockets on the sides, Putter Pouches on the Side, and Front Flap. It has tough zippers and the bag is built to stand upright and resist tipping. The Izzo can hold a large insulated water bottle.
You'll easily fit a towels or rain jacket in the front pocket. Side pocket is useful for your keys. wallet, and other small items. For a scorecard, refreshments, or other small items needed on your rounds, there are two side pockets, one on each side. Up to 48 oz bottles can fit in the bottle holder. A spacious putter pocket that can hold discs. Plus there's a slot to store a disc golf retriever or an umbrella. The top side storage is a great place to keep a small mini.
It has another spacious front pocket, big enough for rangefinders, snacks, flashlights, speakers and/or food.
Some features of the bag are:
It can hold up to 30+ discs – you can fit 23 easily in the main – 5 up top with a couple of minis and 3 in the side pocket
Includes insulated water bottle holder
It has multiple pockets for extra storage
Padded shoulder straps for comfortable carrying
Water-resistant dense material
Can attach a towel to a d-ring
It's a good option for players who want a bag that is versatile, portable and can store all you need for playing multiple rounds of disc golf. Although at around $90 it's a bit on the pricey side.
I like bags with big side pockets, the Izzo can hold 3 throwing putters in one side pocket, and 5 putting putters in the top compartment. 23 in the main so you can go disc ballistic if you don't want to carry extra layers or a lot of refreshments.
The side inserts are hard to put in but they really help keep the bag standing upright, if you play on elevated courses take your time putting them in. With so many pockets, you could push disc capacity up to 40, but if you are sensible and hit the mid twenties, you have a spacious top compartment to act as a cooler or carry your rain jacket or hoodie.
Budget Big – $90 is a lot of money for a bag – but this has the features and quality of materials to back it up
Pros – good disc capacity, bag stays upright, water resistant, 4 pound weight is good for a  large bag, fits a large 480z bottle, great stitching and beefy zippers, haul handle is sturdy
Cons – pricey, no expanded color options.
No 38 – Windspeed Cadet Sling Bag
The Windspeed Cadet bag is another nice little sling bag made from toughened tear resistant cationic Oxford fabric. I like its design. It has a zipper on front of the bag to store all your jingly jangly items, keys, change, cards, basically anything small that's gonna limit your movement when you are throwing discs. And even a small disc towel if you don't cram too much other stuff in.
Sling bags rule when it comes to speed. For quick access to your discs thanks to their portable size, you can't beat 'em. You can store 2 putter or your most used discs for that round, or for your entire day right outside the main compartment, on the front of the bag.
The strap is adjustable but it isn't padded, which it doesn't really need to be on a small bag. But if you are chugging through multiple rounds of disc golf it could get a bit grating on the shoulder.
A nice touch is the bag remains waterproof right through to the interior. If the heavens start to open your discs and bag contents will remain dry. If only it had a slot for carrying your umbrella!
It's got room for a small bottle which is secured in with a mesh. I personally don't like mesh supports for water bottles it's hard to get them to fit loads of bottles they are either too tight or too loose. Give me a drawstring (one that actually works of course) any day.
Budget Cheap – Around $10 its so cheap you may buy a couple and take the family or friends out for a treat and play some disc golf
Pros -lightweight, cheap
Cons – no padded strap, no extra color options, no padding or reinforcement in the bag to keep it upright when you set it down, no connectors for attaching towels etc.
No 39 – Divergent Discs Starter Bag
Another small bag from Divergent Discs with I wouldn't say big but adequate appeal. Obviously this is aimed at beginners. But its also a good size for anyone who doesn't want to be hit heavy with a load of discs that day. Just get out and play. This tuff nut is made of hardy waxed canvas. Small ok, but still has the storage space for 8-10 discs. Plus there's a putter pocket on the outside.
With a little mesh pocket inside you can neatly store away your cards and your keys. There is also a disc divider inside the bag. This is probably one of the simplest sling bags you can get. If you want go minimal when you are starting out this is a good fit. Grab 7-8 discs, 3 drivers, 4 mids, and a couple of putters. Pack a small bottle and off you go.
Life doesn't always have to be complicated. This is another bag that resembles a lunch bag, like the fade crunch mentioned above. It is lightweight but it also lacks any padding. I would also be concerned about the longevity of this bag, its put together, but that's about it. No extra double stitching or padding.
It will last you for a season or 2 of disc golf or maybe longer if you are mixing your day between light bag and full bag throughout the year.
Budget Beauty – Usually just about $15 it can't be bad to that
Pros – Good for beginners or casual rounds when you don't want loads of discs, lightweight, fast open magnetic button snappers
Cons – like all small bags very easy to outgrow, you'll get 2 discs in the putter pocket, but it will be a squeeze, water bottle slot is small, not water proof, no padding or reinforcement to prevent tipping over
No 40 – Qogir Backpack
The Oogir backpack, bonus points if you can pronounce it. So you want to upgrade your bag but you don't want to pay premium prices. So you need an in-between bag, this is where the Oogir comes in. Its constructed from nylon ripstop fabric that is weather, scratch, and tear resistant. Perhaps you don't want a large backpack, well this is compact and weighs under 2 pounds when empty, and can hold 18-20 discs. Larger bags like the Mission Rig Handeye or Westside Discs Noble weigh 5 pounds when empty.
If thats you this bag is not too big, not too heavy, but can store a lot of stuff. it's got 2 large side pockets spanning the length of the bag that are large enough to pack a hoodie.
Three to four discs can fit comfortably in the top putter pocket and there's no issues getting them out. For the main compartment you get a tray and dividers to separate out your discs, the bag also includes inserts to strengthen the sidewalls. There are two small mesh pockets located on the sides of the bag ideal for markers. Large D-rings on each side can be used to hang towels or clip on your stool, speakers or whatever.
To carry a 32oz Nalgene, the water bottle holder isn't quite big enough, but you could use one of the side pockets instead.
It's nothing spectacular, but the back and straps are sufficiently padded, and the base has some padding to stop it digging into your back.
On the bottom plastic rails helps the bag to remain rigid and not flop over once you set it down. It works, but just to be nitpicky, some oversized feet on the corners and one in the center would have help keep it a little more stable on the ground. The problem with rail systems is they are usually too thin to support the bags structure once you have it fully loaded. Over time as the rail is attached to the fabric it drags the bottom slightly out of shape.
This is a compact, lightweight mid-sized bag.  If you don't want to pay premium prices this offers a lot of value. Good for shorter courses, or when you don't want to push a cart.
Budget Satisfier – Priced at $40, its keenly priced, and with the storage and disc capacity options and strong design it offers good value
Pros –  holds a lot of discs, disc retriever slot, easy wipe fabric, light bag – weighs 3 pound,
Cons –  a strange mix of color options available, top putter pocket is tight, water bottle holder is small, back does not have a lot of padding, not good if you are really tall
No 41 – DSLEAF Backpack
If you'd like a bag that is subtle and isn't plastered with logos, and can also hold a lot of discs and other stuff, this bag from DSLEAF offers exactly that. Sometimes you pay through the nose for the logo, and although DSLEAF aren't a massive name they aren't overly pushy about their branding. It's not because this bag is cheaply made neither. So what do you get?
A quick disc access top pocket that can accommodate up to six discs, a pocket on the front for your putter. 2 water bootle holders, one extra large and a another one that also doubles as a folding stool or retriever carrier. There's extra pockets on the side for your phone, keys, and all your other small items you need to have with you as you play.
A few more discs can fit in the roomy side pocket. D rings for clipping towels and hooking on other items. The base is waterproof and the bag has one insert that runs up both sides to bolster it and keep it upright. It's not amazing, so the bag can slouch a bit, but does't all over on a flat surface too often. On uneven ground could be a different story unless you mod the bag.
The main compartment has dividers which you can remove, With them in you can fit about 15 discs. At 15 inches tall and weighing 3 pounds this is a compact bag. If you want to move from small to medium this is a great option, especially as it does not go anywhere near the mid price tier let alone the more luxurious price range.
Budget Bargain –  at approx $40 this is a great price for a mid capacity bag that holds about 25 discs.
Pros – looks like a military black ops bag – unbranded with no logos, good price for large capacity, reinforced stitching, looks cool in black nylon, removable disc dividers
Cons – no other color options, side wall inserts come as one foldable unit which weakens them.
N0 42 Dotpraise Disc Golf Bag
Yes, it's a Slinger look-a-like, it doesn't do as well in the quality stakes, but at around $20, it's a good bargain. Even if you can afford a massive bag with luxury padding like a Dynamic Discs Ranger, you aren't always going to want to go to the course packed like your ready for war. Some days you'll want to go light, like with this 1 strap slinger bag.
There are many sling bags of course, but if you want to go light and have a 12 discs capacity and room for a sandwich or light jacket, this lightweight Dotpraise Bag will see your through. You can fit 10 discs on the inside and 2 on the putter pocket on the outside.
It's got a drawstring water bottle slot and the straps have some basic padding on them, enough to keep your comfortable carrying a light 10 discs. If it's not boiling weather outside, carrying one large bottle of water around the course can see your through.
Really that's more than enough for a game of golf. But there is more you have 3 pockets to sore your personal items, there a telescopic rod/umbrella holder on the side, and there a nice flat zipper pocket on the back for your phone and scorecard. Although it won't carry a large iPhone or Samsung or pretty much any other brand that has a large size.
To avoid dirt and water, the disc golf bag's bottom is made out of PVC non-slip leather, which is easy to clean. Like such a nice feature to have on a budget bag. This is a great additional bag to have even if you own larger and more luxurious bags.
Budget Friend – would suit beginners for sure or anyone who wants a light bag and doesn't need a lot of padding or disc capacity
Pros – light, cheap, can fit a few accessories, has 3 sections inside for separation, made of tear resistant 600 D Polyester, can switch straps between shoulders
Cons – lack of padding, cheaply made, only 1 color option, the strap cannot be adjusted and is a bit on the long side, it can gather up a bit if you haven't a long torso
Like it Chilled?
Find out all about the latest disc golf cooler bags here.
Want A Budget Bag Only?
Here's some of the best sling bags in town
Brush Up On Your Throwing Technique
Read a super technique on how to get better spike hyzers
Hyzer or Anhyzer? That is the question.
Finally if you want to view a selection of the best backpacks only read 'How To Choose A Disc Golf Backpack'