Post Disclaimer
I may earn a commission for purchases made through my links. It helps me run this site. Check out my disclosure for more details.
If you're in the market for a luxury backpack the Dynamic Discs Ranger should be on your hitlist. A luxury bag like this will not leave you much change from 200 bucks. So if it holds the same amount of discs as its younger brother the Trooper which you can pick up for some 40 bucks, what's the deal with the inflated price?
The Ranger Is Built To Last
This bag weighs a whopping 5 pounds. Don't worry there are plenty of counter measures to take the load off you. They don't minimize the weight but they make carrying the bag easier.
Horizontal strips on the rear enable the Ranger to sit higher on your upper back. This reduces the load on your lumbar spine and makes the bag feel lighter. You came to enjoy yourself, not quit early with a busted spine
There are also horizontal pads with gaps in between them on the back panel which minimize the contact points your back will have with the bag. This increases airflow which prevents you overheating in peak summertime.
The straps are also legendarily comfortable. Just ask anyone with a Ranger and you'll get the idea.
Or ask to try someones on, though they may be a tad too precious about it to oblige.
Dynamic Discs Ranger Bag Breakdown
This is a premium bag that's been designed to do a lot. To provide adequate disc storage, space for accessories, bucket loads of comfort and superior build quality. And it does all of these things exceptionally well. There's the small matter of the price, and whether it lives up to it.
We'll get to that soon.
You certainly won't be slumming it around the course if you choose to travel with the Ranger. It's also ergonomically designed. When the summer heats streaming down the bags hybrid poly-nylon fabric remains cool. The back support is thoroughly padded to take the strain off your spine.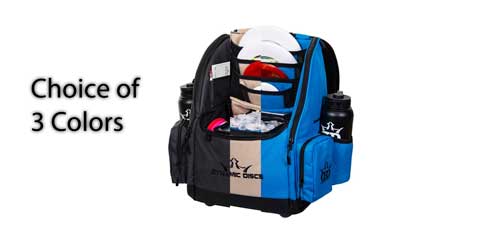 As you are going to carry this about all day on your shoulders you will be greatly aided by its thick comfortable straps which never lose their shape. Once you set this bag down it won't collapse in or fall over. The 600D poly and 400D dobby nylon oxford fabric memorizes its shape and you can't bend it out of it, unless you run over it with a truck.
Up top you will find a towel clip. Inside the bag there is a top pocket for holding discs or to bring extra clothing or to store any apparel you take off on a hot day.
There is also a holster to put your folding stool inside. You can fit the really large iPhone and Android phones in the side pocket. There's another side pocket big enough for a wallet and keys. There are pencil pouches and a mini pocket.
The main compartment pocket has room for 20 discs. Plus you'll get another 2 on the side pocket, which is good for quick access to signature discs. Any more discs and you are into practice territory, but this this not practice day, it's game day. That's what this bag is all about.
On the front flap you'll find a cool slide in pocket. It can hold a junior or mini marker in there if you want.
Access to discs in the main is made easier once you clip open the inside flap with its velcro strips. The bag has been accompanied with a disc divider which is useful for separating clothing or other items if you aren't filling the main pocket with lots of discs.
Take it out if you want to squeeze an extra disc or 2 in there.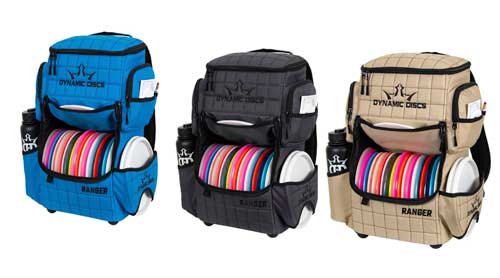 The Ranger is heavily reinforced. It stands tall like a general, (maybe should have been called that?) and the bottom is waterproof. It has 5 oversized feet to keep it off muddy ground and they also help keep the bag upright.
There is padding everywhere all over the bag, including on the haul handle.
Great Colors – Cobalt blue which really is a thing of beauty, Sandstone & Heather Charcoal.
Budget Heavy– a lot of money weight in around $170 unless on offer
Pros – Sandstone is fantastic looking.
Waterproof bottom and large exterior feet keep all your stuff from getting soiled. If you want to go absolute disc crazy you can get up to 30 discs in the Ranger – just take out the divider and use the side and top pockets and the slot in the flap.
Bag is massive, measures 19.4 x 15.4 x 9.1 in. The top pocket can fit a chunk of stuff, if you don't use it for putters you can throw all your extras in there and they'll be secure,- wallet, keys, scorecard, snacks, rain jacket……
Cons – you need to be moving in the executive class to afford a bag near $200 so lots of people will be put off right on affordability.
For this price it would have been nice for DD to break the mold and make the top compartment waterproof. Yes no one else does it but they really could have lead the way here. C'mon man just a simple waterproof liner, great if you're carrying ice or drinks.
Large diameter discs can get a bit pinched inside the main disc pocket, another inch or 2 of height space would have made this bag even better.
Umbrella slot won't hold a large sports brolly.
Dynamic Discs Ranger Bag Summary
This bag is the ultimate in luxury, storage and comfort. It costs a small fortune but to some degree you get what you pay for. This bag is premium and that's why the price is premium. If you aren't too bothered getting the most comfortable bag, and one that occasionally falls over there are loads and loads of alternatives that will do your job perfectly well.
This just does it with more comfort and style.
More Content About Disc Golf Bags
If this bag doesn't meet your fancy read my post about the top disc golf bags available to buy here