Post Disclaimer
I may earn a commission for purchases made through my links. It helps me run this site. Check out my disclosure for more details.
Are you on the lookout for a disc golf backpack? Are you tired of your small sling bag? Or is your current backpack just not what you hoped for? Whatever the reason theis posts shows you some of the best back packs currently available to you.
Why'd You Even Need A Backpack for Disc Golf Anyway?
Storage. Most backpacks house the bulk of your discs on the bottom of the bag. That gives you multiple other places to store extra discs. It can be another compartment on top of this, on the outside of the bag, the front of the bag. Plus with a backpack space doesn't become an issue for carrying extra items. You have space for clothing, hidden pockets, extra space for water bottles, some bags even have a cooler.
Plus a backpack is easy to latch accessories onto, you can easily store or latch on umbrellas, walkstools and towels. Trying attaching all those to a sling bag and you will soon get your arms and legs all tied up. Backpacks allow you to carry a lot more discs and refreshments. If you play longer than expected you can have back ups discs, extra clothing, drinks and snacks.
No 1 – Dynamic Discs Ranger Backpack
This bag costs a lot of money. You can pick up up usually between $170-80
Incidentally this bag took the No 1 spot in my overall best disc golf bags to buy post.
This allows you you travel with one of the most robust and comfortable to carry bags on the market. The build quality is impressive as is the space.
You'll be able to pack all you need for a long day on the course.  Carrying the ranger around doesn't feel taxing as it has big adjustable well padded straps and a thoroughly padded back panel. In fact the padding throughout this bag is outstanding.
Ventilation has also been factored into the bag, which you will need on hot days. The hybrid poly-nylon remains cool when the sun is up. And also air freely circulates around the back of the bag when you are carrying it because of horizontal pads with gaps running across the back panel. They help minimize the contact points your back has with the bag.
There is a holster slot for a folding stool which is big enough if you want to add a water bottle instead. You could also slot in an umbrella if you prefer.
This bag fits 18-20 discs in. You can fit 2 more on the side pockets and if you want to go disc overload you can store 3-4 disc in the top compartment.
This is though a great space to store layers, food,  and a towel.  There is though a dedicated towel clip on the outside.
Storage compartments continue on the outside you have room for sunscreen, wallets, keys or whatever else you want to junk from your pants in the 2 side pockets. There is a pocket for a large phone, a mini slot and 2 pencil pockets.
20 discs in the main bag, some food and a change of layers and a couple of putters in the side pocket is enough for most people for a long day on the course. Keep you signature discs on the outside for easy access and you can deliberate over what other discs to pull out of the main bag when you get a chance to think whilst other players throw.
There's a hidden pocket on the front flap which you can slide another disc into. Or perhaps you could use it to store your mini inside. For even faster access to your discs in the main compartment you can stick the flap up inside the bag with the adjoining velcro straps so the front of the bag can stay open.
There's also a disc divider which you can take out if you want more storage items apart from discs in the bag. If you take it out you can also fit more discs tightly squeezed together.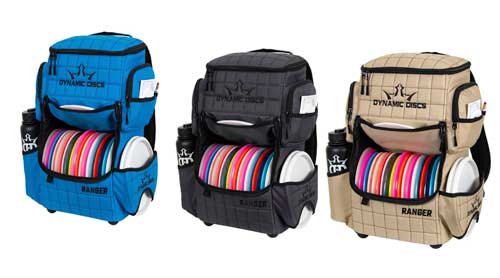 The Ranger is a stiff bag that will not fall over. The bottom, side walls and top have all thick padding. It has no staying on it 5 extra large feet.. They also keep the bag bolstered and rise it above dirty or wet surfaces
To help you carry a heavy load the horizontal strips on the rear panel enable the Ranger to sit higher up on your back which keeps the pressure away from your lower back. It helps keep you fresh as you navigate 18 holes.
Summary – this bag takes you into serious budget territory, but its outstanding. Its so well built and comfortable and has plenty of space and pockets. You'll love the upper compartment which you can use to store lots of good sized items.
Pros – Looks amazing, and the choice of colors is good. Sturdy feet lift the bag well of the ground leaving you less time cleaning it. The base is also waterproof so all your contents will remain dry.
If you want to just cram it with discs it'll manage 30 if you use the top tier and the side pockets, and the hidden pocket in the flap.
Cons – its a heck of a lot of money. The top slot has no waterproofing.
the holster won't hold a big heavy sports brolly.
The main compartment struggles a bit to fit large mid-range discs in, another inch of height in there would have left you with less wiggling to do when you are pulling out large diameter discs.
Westside Discs Empire Backpack
The appropriately named Empire by Westside Discs sets a new standard in the disc golf tech industry. Costing $250 on Westsides site currently at the time of writing its priced at a premium. But it is a premium bag.
Similar to the Ranger listed above it has 5 large feet to keep it off the ground which will stop mud and dirt clinging to the bottom and help the bag remain dry. It is waterproof as well but the large feet also help the bag stand upright once its planted on the ground.
There are 4 pockets on the side. 2 of them are huge and run the whole length of the sides. 18 inches approximately.  Each of these side pockets has a disc divider for storing 2 discs, so that goes to show how much space there is in there. he dividers stop your disc getting bent and damaged, especially if you have the top and main pockets in the bag crammed full of gear. The pockets are also padded so anything you put in there has a good bit of protection.
You'll also be able to stop items moving around by storing them inside elastic mesh pockets. To give you an idea how much room there is you can store an extra large tall boy in there or a 48 oz Nalgene. You can instead use a side pouch to carry a folding stool.
The side pockets are also insulated which will help keep your drinks chilled. Behind them there are insulated slots for 2 large 32 oz water bottles.
The 2 small zipper pockets at the bottom of the bag are the right size to fit in your wallet, phone, a chalk bag or even a towel. The zippers only run a few inches so these pockets provide quick access to your essentials. You can also secure towels/umbrellas/folding stools onto the bag by its stitched on strap loops, there is 2 on the front and 2 on the side of the bag.  There is a buckle for securing larger items like a bigger stool or golden retriever.
There are 2 side pockets at the top of the bag, they are big enough to store phones and compact items you don't want to move about, so you can separate your cell from your keys to stop it getting scratched for instance.
There is a front quick draw slot on the zippered main compartment advertised to hold 2 discs. But you can fit 4 in there, there are 2 slots and you'll fit in an approach disc and 3 drivers in it if you want.
There is a putter pocket behind the top compartment that can store at least 2 discs. So you don't need to store discs in the top compartment, and there's really no need to because you have loads of disc storage through the main compartment and in the side pockets. When you are wearing the bag you can reach behind and select a putter as if you where lifting an arrow from your quiver. So you can tap out still wearing your bag if you want to.
The top compartment can fit in more discs or some layers and food. You can store 3 putters in it , there's quite a bit of space but it runs kinda off-axis leaning more towards the rear and top of the bag towards the haul handle,  and the pocket doesn't open that wide so getting discs out can be tricky. It's a great pouch for using to carry all your accessories.
The back panel is has lovely thick ridge padding with more emphasis toward the bottom to protect our lower discs and to enhance air flow. There is a strap which you run around the front of your waist like a belt and click in which makes carrying the backpack a lot easier.
Summary – this bag is a beast. its so large and can store 30 discs depending on how many mids you are carrying. It's extremely comfortable and the options for adding on accessories like stools, towels, umbrellas and speakers etc are impressive.
Pros – carries loads and loads of discs.
Loads of pockets everywhere.
Plenty of padding all round including on the adjustable straps.
Bag stays upwards on the ground.
Waterproofed and the large feet provide ground clearance.
Waist click-in strap makes carrying the back more comfortable.
D clip for carrying towels or bag tags.
Cons – top pockets pouch could have had a bigger opening.
Very expensive bag at approx $250.