Post Disclaimer
I may earn a commission for purchases made through my links. It helps me run this site. Check out my disclosure for more details.
Sling bags are awesome. There are for players who know themselves, their discs and the game. Lots of new players will start small and carry a sling bag to keep things nice and uncomplicated. But what's better is when you see an experienced player using a sling bag. Because they know exactly what they need.
Sling bags allow you to travel light and fast. The free up your brain power so you don't have to deliberate between an enormous amount of discs each time you go to take a shot.
So let me show you some of the best sling bags available to you right now so you can get free up your headspace and get on with your game.
Best Disc Golf Sling Bags Round Up
Sling bags by their nature have limited storage. That's not really a drawback but just a reality highlight. So i won't be marking discs down to limited space. But saying that you really will be surprised what you can pack into a little sack.
Westside Discs Sling Disc Golf Bag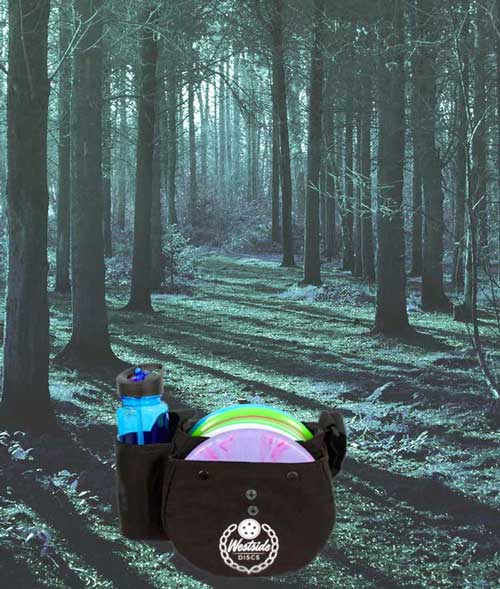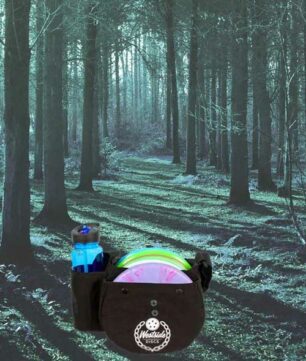 Westside Discs have made this little budget friendly sling bag and boy is it good. Look at the size of it and it will still hold 11 discs! Seriously.
Inside the flap you'll find has a zipper mesh pocket which will store your personals. On the outside there is a slot to hold a large water bottle. It'll manage a 24 oz tallboy. Not bad for a little 'un.
Want your discs in a hurry? Off course you do. Access to your best picked discs is fast. Flick apart the snap on buttons and you're into the main bag stash. Its not as cramped as you'd think as discs have some headspace and don't disappear at the bottom of the bag as it measures a mere 11 inches in height. Weighs a paltry 1/2 pound. Nudin'
You can squeeze even more discs into the sling if you keep the bag open. They won't fall out when you are walking as they'll cosy up together real tight.
If you don't want to sling it across your shoulder how about attaching it to your belt by the loops at the back of the bag.
The bag is so small you can even attach it to your belt by running it through the supplied loops.
Budget Babe – man it's so cheap you may as well buy 2. Usually $12-13
Pros– You have all you need for a good round of golf or a practice session. Discs, drink, and scorecard/pencil slot. What more do you need?
Snaps are faster to open than zippers.
Waterproof tough fabric.
Belt loop is great for keeping bag at your hip all day. You will have to patiently wait on your buddies to hoke through their bag to find their discs.
Cons – Won't hold a large or wide bottle.
No insulation in bottle slot.
Lowik Disc Golf Sling Bag
The craftsmanship on this Lowik sling bag is top notch. Its structure is clever and carefully thought out. This bag can hold between 13 and 15 discs, and it has two removable padded dividers in the main compartment for organization and convenience. Additionally, there is a velcro-closing putter pocket on the exterior that can hold four discs. Padded partitions on the inside help organize your discs into 3 sections. They also strengthen the bag and allow it to stand on its own when placed on the ground. Simply remove the panel separators to make room for more discs.
The leather and pvc bottom is a clever feature that prevents water from entering the bag. The nylon fabric is not only rip-proof but also waterproof and, while just coming in black, is quite sophisticated. The bag has a nice square shape, it has a flat top like a lunch bag. It's slightly bigger than most sling bags at 10 inches tall, and this extra height makes it easier to open and close and grab discs out of. For such a low price, you receive quality craftsmanship and reinforced stitching.
You can change the length of the padded strap and the angle at which it hangs by rotating the strap's connectors. The bag's two zippers make quickly opening and shutting the pouch a breeze. Since sling bags already allow you easy access to your discs, this is another functional bonus.
Your valuables and scorecard can be placed in the zippered compartment on one side of the bag. Both the front and back of the backpack have more pocket slots, and there is one under the lid. The opposite side features a drawstring closure and a slot large enough to fit a standard 24-ounce water bottle. A towel clip is included as well. What else could you possibly need in such a compact bag?
Budget Right – You can rest easy knowing that this bag won't break the bank because it has outstanding value and features and costs only about $20.
Pros – Waterproof, nonslip bottom, low price, large disc capacity, padded double dividers for disc organization, three pockets, elevated height that helps with disc storage and retrieval and a reflective grey top exterior contrasts with the black color
Cons – For the sake of fairness, I will name a few drawbacks, even though I find it difficult to criticize a bag at this price: the strap is not well padded and the zippers seem flimsy (though most are on small bags)
Slingshot Disc Golf Bag by Driven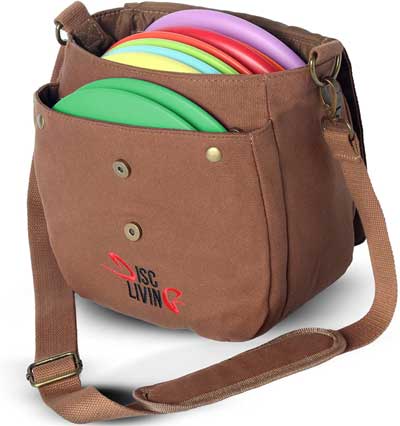 I love the Slingshot. Such a clever design. This is your open top roadster. Its for those sunny days when you want to travel fast and light. When you know what you want from your game and just want to get on with it without thinking.
That's why it has the open top design. Now it doesn't have as large as capacity as the Westside Discs sling bag above. It'll hold maybe 7 discs with a squeeze. So choose well and get ready to move. It will work even better with 5 discs.
So who will this bag suit? Yes its a good bag for new players who don't have a large disc selection. Its also good for experienced players who want to streamline their disc choice for a day. If you know the course and the conditions you can get a lot out of your game by trimming down.
Inside the bag you'll find a disc divider. There are two zippered pockets which will store a few of your personal items. You also have 2 slots to carry small water bottles. You can also attach a towel and any other carabiner accessories you like.  Finally there's a slot for a mini marker disc.
That's quite a lot. A small bag with big purpose.
Budget Pushing– So the bag with the hole in it costs about $25. It's a cool design but sits in the upper echelons of the money stakes for a small sling bag that really only carries a handful of discs. Look at Westside Discs bag or the Kestrel Bag that carry 10+ discs.
Pros – great design concept
adequate storage options
fantastic disc access
Cons – very light on disc storage
if the weather turn nasty you'll have to make your own hood with a disc towel
Kestrel Sling Bag
This bag can fit 6 discs or 7 with a tighter squeeze. It has a zippered pocket on the back for smaller items. It has a padded strap, but it could have done with making the straps detachable. If it rips you're screwed.
The snap on button is situated too low on the flap. You have to crook your elbow to open it when its slung across your shoulder. But most people keep their slings open for quick access, and due to the nice oval shape the bag contours around your discs which stops them falling out.
The bag has a tendency to flip when its set down if you are just holding 4-6 discs in it. It can even flip over to the side if you have a full water bottle in it. Once you have it filled with discs and a towel it'll hold its shape much better and most likely stay upright.
Why this doesn't have a carabiner clip or 2 I don't know. There's stripped down, then there's stripped down with great functionality. If it had of had these options this would have been a really good bag, apart from being an average bag.
Budget Raiser – priced in the mid 20s for a 10 disc capacity sling bag, so its not budget for a small bag, but its worth the money
Pros – lightweight, extra tuff canvas, looks amazing, padded strap
Cons – The water bottle holder should have been a few inches lower, it would help stabilize the bag once its set down on the floor. Bigger slot for a water bottle would also have been better. Fair weather bag, not one for extreme or rainy weather.
NutSac Disc Golf Bag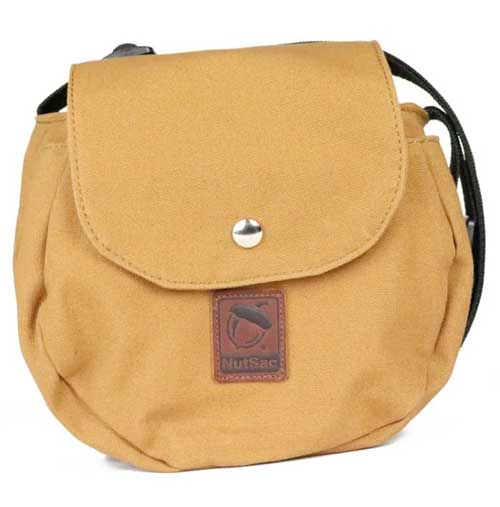 This little beast can hold 6 to 7 discs. Its made from heavy grade water resistant 18 0z canvas. So its tough grade hard wearing stuff but its priced at $69 mostly so it is very expensive.
Should this simple go bag accompany you to the course? One advantage this pouch has is its so light you can keep it on as you throw. Its extremely stylish looking, which isn't the main point but you can get away from how good it looks.
But this bag was supposed to strip back all your distractions so you can focus on your game. That's also the main marketing approach NutSac takes. Strip back your disc capacity and concentrate on your game.
On the actual plus side unlike bigger bags that are not run half full your discs won't slide about all over the place or tip out once you set it on an incline. The bag is tight fitting so if you have it full with discs and the top open, tilt it upside down and it still holds your discs.
That's why a lot of people love this bag. Its snug fitting, plus canvas fabric feels nice to touch.
But if you are going to a wooded course in the summer with a lot of ticks you'll have no room for your bug spray, and you'll have to carry your sunscreen separate unless you use the front pouch. Its really only designed for a mini and some extra  small items like keys. If you are storing a putter you'll have little room for anything else 'cept a scorecard.
Budget Overload – a shame that this bag is so good yet so expensive. I'd rather opt for a big bag than pay almost $70+ for this
Pros – You'll hardly notice much wear on this bag after going through 100 rounds. The material is top notch.
Extra pocket on the outside can hold another disc if you want to maximize disc capacity.
Waterproof
Made here in the USA
Lifetime warranty
Made from same material as Carhartt workwear – Rugged canvas fabric
Cons –  Overpriced.
Belt loops would have been a nice add
Discs can be hard to remove if the bag gets wet
If it was wider disc grabs would be a little smoother
Want a bigger bag?
Check out The Dynamics Disc Trooper Bag review here.
Read my review on Dynamic Discs Ranger bag here (hint: this bag is massive from price to size to luxuries)
Read about the best all time disc golf bags regardless of size here.
Find out all about the latest disc golf bags with coolers here.
Ever tried the Discraft Buzzz? You may be interested in these posts here
Discraft Buzzz – A Classic That Will Always Be Relevant
Esp Buzzz – The Master Midrange