Post Disclaimer
I may earn a commission for purchases made through my links. It helps me run this site. Check out my disclosure for more details.
The mid-range is the easiest disc you can get shape and distance with. It can be used off the tee but most commonly a mid is your putt and approach weapon of choice when the basket is within your range.
This disc excels when you need pinpoint accuracy on the fairway or between trees or objects (ala the tunnel shot). When starting beginners can use a mid-range for most shots on the course.
A mid-range can be your all-utility style disc for all holes on the course practically. They may not go as far as a distance driver, although many pros can reach over 400 feet with ease.
When middle distance and accuracy is required a good mid will be better than ripping a driver.
Beginner Tip> If you are struggling to throw a driver straight or reach 250 feet grab a mid-range and you will have more success.
They are easier and more accurate than a driver especially when you are starting out. You could always cave in and use a putter for the entire course but you'll be miles behind everybody else as you won't have the distance.
So here's a look at some of the best mid ranges on the market.
Top 13 Mid-Range Discs At A Glance
1st – Discraft Buzzz
2nd – Axiom Hex
3rd – DD Emac Truth
4th – Innova Mako 3
5th – Innova Champion Roc3
6th – Discraft Buzzz SS
7th – TSA Pathfinder
8th – Latitude 64 Compass
9th – Infinite Disc's Chariot
10th – Infinite Disc's Anubis
11th – MPV Tangent
12th – Discraft Hornet
13th – Prodigy M Model US
1. Discraft Buzzz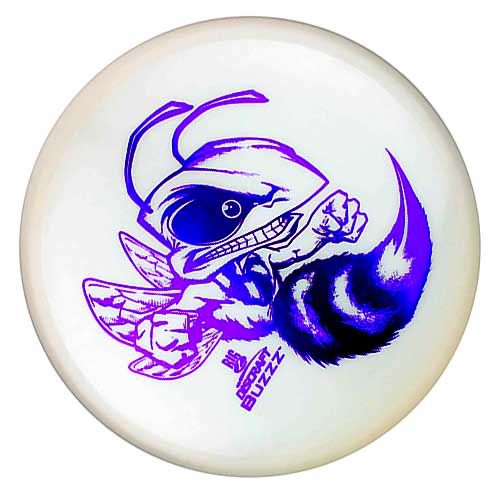 The Discraft Buzzz needs no introduction, but it's so good I'll give it one anyway. This disc is legendary, it's the best selling mid-range on the planet and If this was the only midrange on the market the game would still thrive.
This no drama straight flying disc is so easy to throw, it goes more more or less where you aim it. It's perfect for beginners and I would recommend buying one immediately if you are just starting out. I've done a full review on it here.
Good For: Very reliable straight flight path, easy to throw, beginner to expert friendly. Sets the Gold Standard.
Bad For: Can make you addicted to Disc Golf.
Flight numbers> 5, 4, -1, 1
2. Axiom Hex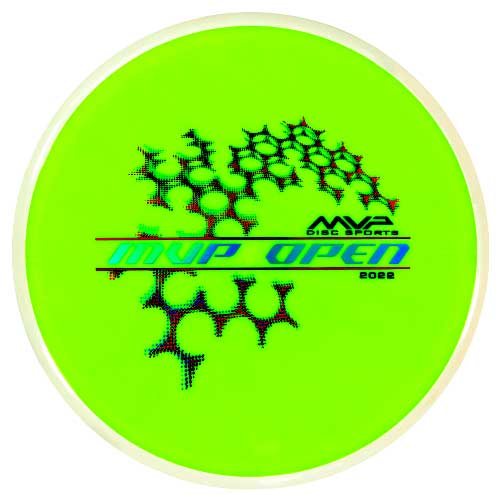 Another stable to understable disc, which means beginners or players with less arm speed will find it a straight flyer and players who can harness the power will be able to use this with a touch of fade.
Only a newb in the industry, in 2019 this disc burst on the scene as is a firm favorite with players of all abilities. This disc is teetering on the edge of dethroning the Buzzz, so although it's a classic, Discraft need to keep it relevant to today's players.
This could be a problem as changing it too much could ruin it, I mean a Buzz is a Buzz right? But I'm sure they'll revamp some of their plastics to give it a new spin. Now back to the Hex…
It has a narrower rim than an Mako and Buzzz. Seems to be like a lot of mid-ranges try to do, the Hex was designed to take on the mighty Buzzz. It does well but in a slightly different way. It has a bit more turn and glide than a Buzzz.
Neutron Plastic is real grippy and comfortable but can get slippery in colder weather. I prefer the Buzzz for back hand shots but for forearms this disc comes alive.
If you are sitting on the fence here's some comparisons – it flies very much like a Buzzz and Lucid Emac Truth. It's a bit more torque resistant and handles angles much better and arguably feels better in the hand. Much faster than the MaKo3.
Good For: Straight shots, forearms, hyzers and annies with a slight fade
Bad For: Neutron plastic can feel slippy and harder to grip when it's cold
Flight numbers> 5, 5, -1, 1
3. Dynamic Discs Emac Truth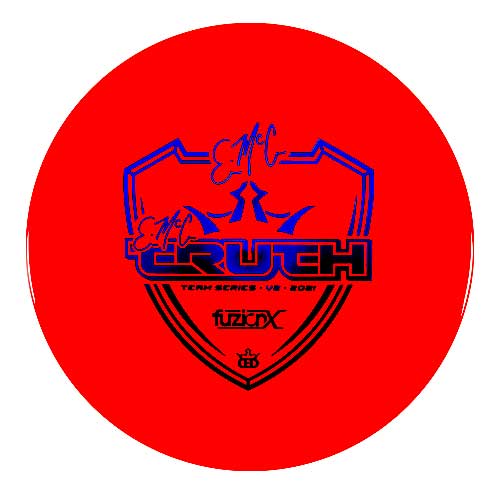 Ok so this disc works great if you can put the power down. Designed by 2010 World Champion Eric McCabe this is a revamp of Dynamics outstanding Truth. More stability is added which players who can grind out the power will appreciate.
In essence you can get the distance of a fairway driver thanks to it's long glide (slightly domed shape helps it stay in the air longer) combined with the accuracy of a mid-range, and that's why this disc comes so highly on this list.
Like the Buzzz the Truth exhibits a very neutral flight path, as the numbers show. It will run bolt-arrow straight with a gentle fade. It's more stable than the original Truth. If you are new to the game you'll find the regular Truth more appealing.
The EMAC has a low profile rim that just meets the playing standards of the PDGA. The wide rim fells shallow in the hand. It has a micro bead and nice rounded edge which makes for a smooth release and helps with stability.
Hyzer it and you will hit a smooth to hyzer flight without turning over. Throw it flat and it will hold straight before fading gently to finish. Consistently. That's the reason to bag it.
Good For: Upshots, forearms, approach shot, accuracy
Bad For: Beginners, anyone looking an understable disc.
Flight numbers> 5, 5, 0, 2
4. Innova Mako3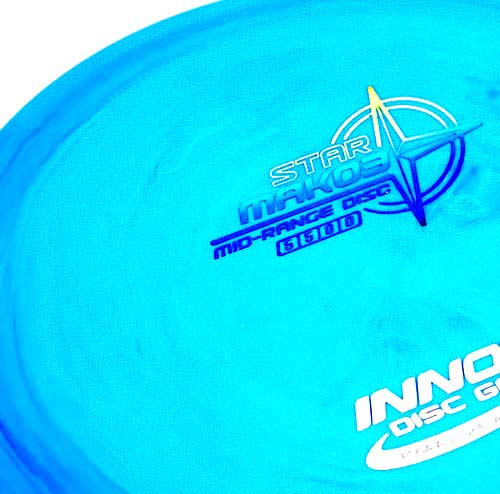 Faster than the original Mako, the Mako3 is one of the top 5 best selling Mids on Infinite. It's great for straight shots and shots you need to hyzer or turnover. If you're having trouble getting discs to land where you want them to, grab a Mako3.
With practically any shot type this straight shooter will fly where you point it.  Add a little hyzer on it and watch it subtly drift or turn it over nicely with an RHBH anhyzer and watch it sail to the right.
A lot of advanced players go with Star plastic for that extra grip, but Champion is also great.
Good For: low fades, straight shots, beginner to advanced friendly
Bad For:  too straight flying for extreme angled shots
Flight numbers> 5, 4, 0, 0
5. Innova Roc3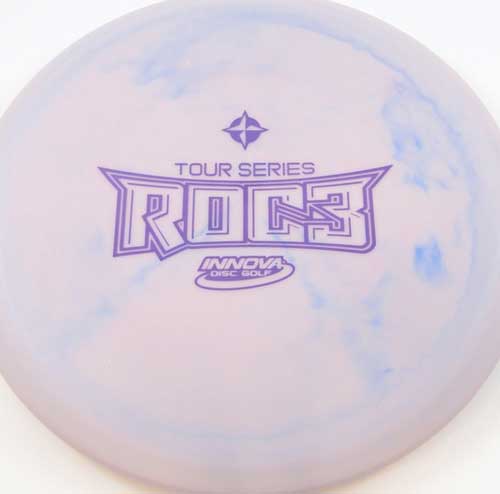 This 2017 PDGA approved disc takes the speed of the original Roc from 4 up to 5. It's a nice straight flying disc with a gentle overstable fade. It's got more end fade than the top 3 discs on this list, which technically makes it a stable to overstable disc- so it's good with flex shots to get more distance or to get round obstacles.
That's basically why I have it so high of my list. It's versatile. It will go straight and if i don't put too much angle on the release it will finish gently. So pretty predictable if you are a RHBH thrower. I really like to snap the disc out of the wrist on flex shots for distance and when i need more fade I throw it higher.
Flex shots are a bit tricky to master if you are new to the sport, although this disc is good for learning and perfecting the more smooth S bend throws. You will need to learn flex shots if the only course you can get to has a lot of trees in it, so here's a good disc to begin that journey with.
Good For: advanced anhyzer flex shots, mid-range drives, approach shots, wooded holes. Reliable straight shooter with predictable finish even in the wind.
Bad For: beginners can struggle with fade
Flight numbers> 5,4,0,3
6. Discraft Buzzz SS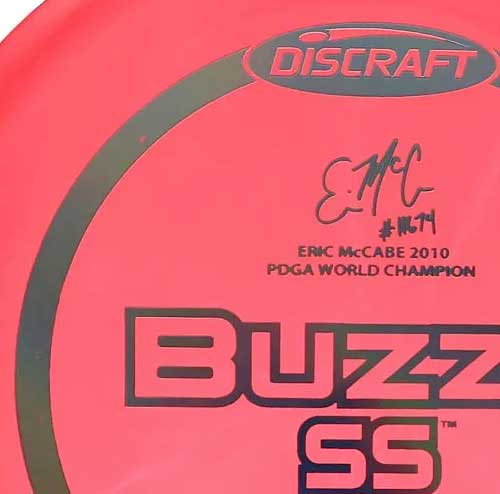 So why should another Buzzz be in this list? Disc Golf is all about versatility. A few mid-ranges in your bag can cover every conceivable shot you need. And if you know the course well you can dramatically cut down on the size of your bag if you know what your discs are capable of.
This Super Stable Buzzz is great when you don't have a good bit of arm speed or want to throw an overhand Tomahawk or Thumber it like a baseball when you need to lift the disc over a tree or high obstacle without the disc fading out sideways. If you have the power it has more turn than the original. Launch a huge turnover drive and watch it come back in.
With a slight hyzer flick you'll enjoy seeing it glide right where your landing spot is. It's like a beat in buzzz.
Overhands require a lot of snap so a stiffer plastic may work better than the ESP plastic which has a lot of flex. But that depends on YOU at the end of the day, so experiment.
If you want extra durability go for Z plastic, for feel the ESP mold is hard to beat. For toughness and feel you can't beat Titanium. All molds are great and bring something to the table. I've listed a lot more details on the Buzzz molds here.
Good For: hook shots, hyzers on wooded holes – try it as a putter
Bad For: It's just a more stable Buzzz so very similar
Flight numbers> 5, 4, -2, 1
7. TSA Pathfinder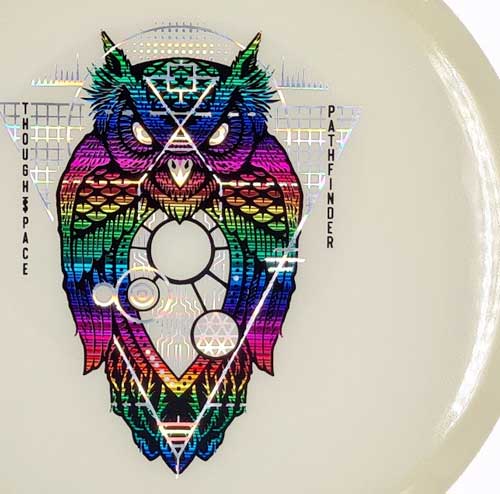 Thought Space Athletics Pathfinder has very similar flight characteristics to the mold making Buzzz but it flies more like a Roc. Needles to say it's super straight with a bit more overstability and will glide forever and stretch that little bit further than a Buzzzz.
With some of the coolest stamps on the market it can also handle a lot of power and still deliver true to it's numbers.
Good For: Flipping to flat on hyzers. Great Grip, amazing artwork.
Bad For: Bit more flippery with a lot of power
Flight numbers> 5, 5, 0, 1
8. Latitude 64 Compass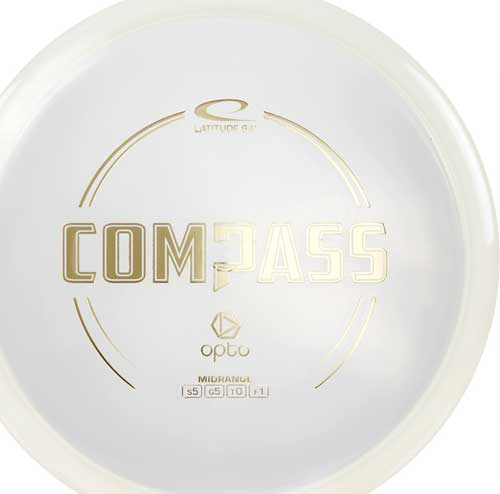 A firm fav with 2 x PGDA World Champion Ricky Sockibomb Wysocki, it does help he's on the sponsor list but this mid-range could easily have been in my top 5, and some days it actually will be my go to disc.
The Compass has a ton of glide and a shallow rim. For people with large hands (not me) it can be a little too tight to power grip, so you might fan or fork grip it.
If you want a no fuss straight flying disc with a gentle carrying fade this is it. Great for wooded courses. Thrown more aggressively it holds its line. Helped by it's blunt nose.
I prefer Opto plastic as I've found it the most stable off the shelf. Retro can get a bit flippy once beat in.
Good For: Beginners with it's natural straight flying ability and loads of glide
Bad For: power grips (rim too thin – esp if you have large hands)
Flight numbers> 5, 5, 0, 1
9. Infinite Disc's Chariot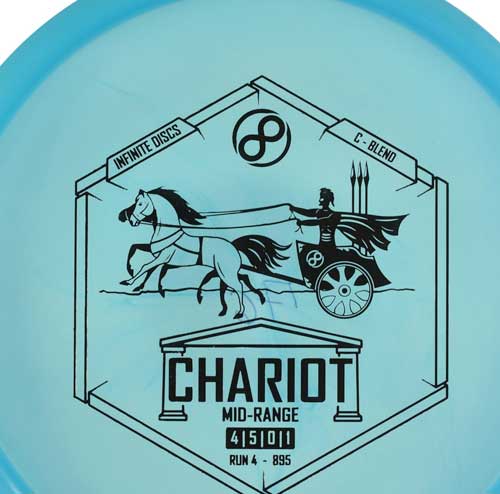 Just look at the flight pattern, 5 speed, 5 glide, 0 turn and 0 fade. What's not too like? Straight and long and good for upshots. In an range of fantastically named plastics, Concrete, D-Blend ,I Blend, Metal Flake Glow C-BLend.
Concrete is durable but with less grip, D blend is basic like the Innova DX line – will beat in quicker and has great grip. Metal Flake mixes in C-Blend for a more stable flight.
Flies close to the Mako3 with a bit more fade. Easy to turnover, throw flat and hard annie.
If you've played ultimate frisbee you'll love this larger diameter disc.
One of the most overlooked aspects with new to intermediated level players is power. Don't get hung up on power. This disc will help you bring some control into your game. No point going for power if you can't tame accuracy.
Good For: learning straight line throws and shaping shots
Bad For: not great in the wind
Flight numbers> 5, 5, 0, 0
10. Infinite Discs Anubis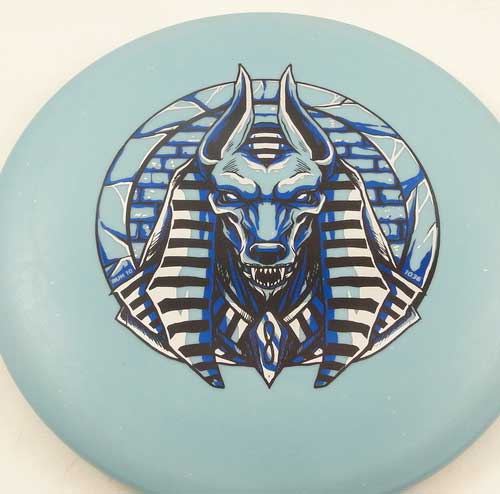 Another good straight flying to understable disc with a bit of glide and small fade. But is there more to this disc than just being true to the numbers?
Novices to pro players can sure get a heck out of this large diameter (like the Chariot) disc. It has a similar feel to the Mako3 and has a roundish rim and the top is flat. The beadless plastic feels deep and comfortable.
It will flip more than a Mako but it turns less and has a teeny bit more fade. Beginners will like how the disc stays on course even if they make a hash out of the release. For slower releases this is a great teaching aid.
Good For: Beginners trying to develop power and distance- will hold it's course, great for flipping hyzers
Bad For: hmmmm, it's too predictable, which isn't really bad, so i had to cheat on this…
Flight numbers> 5, 5, 0, 5
Here's a brief summary of the discs that didn't make our top ten cut. Still great to add to your bag.
11. MVP Tangent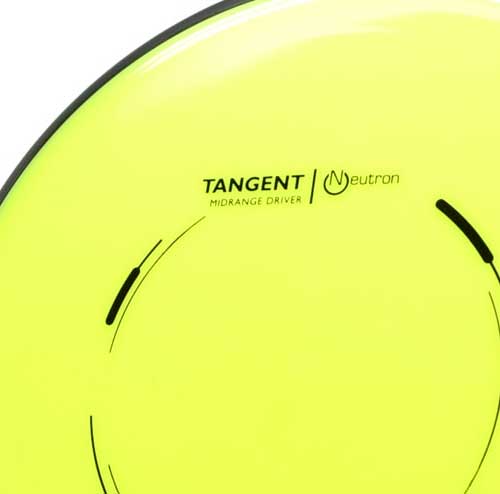 The Tangent from Maple Valley Plastics is a great disc for players who have a slower arm or are just developing power. Glides and flies dead straight.
Gets a bit flippy when the winds up, other than that it would be higher in the list.
Good For: Narrow shots, beginner ready
Bad For: Can drift once you put the power down
Flight numbers> 4, 4, .5, .5
12. Discraft Hornet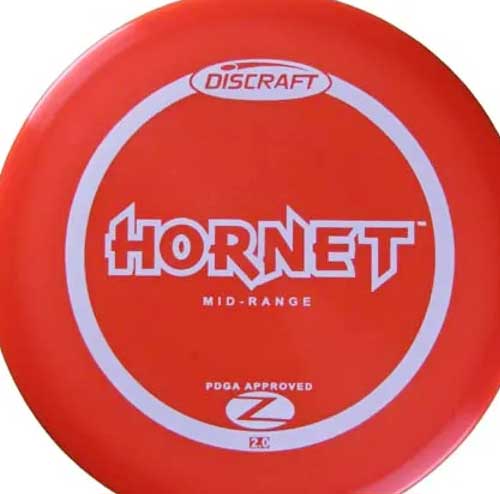 Currently out of production, the hornet is a super straight overstable mid-range with a lot of glide and good bit of fade. You might find it on Ebay or Amazon.
Great for meat hooks this disc can handle a lot of torque.
Good For: when the wind is up
Bad For: will turn quickly unless you lay down the power
Flight numbers> 5, 5, 0, 4
13. Prodigy M Model US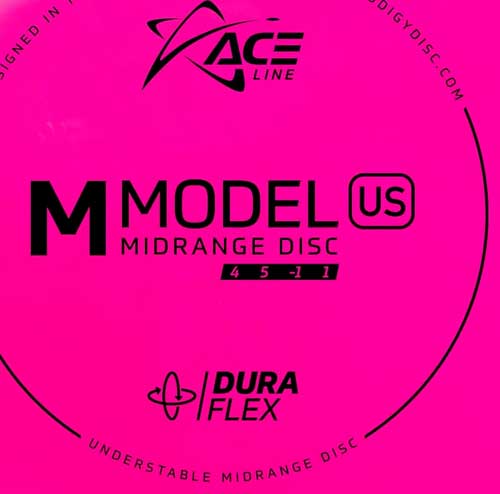 The US refers not to the land of the free, but understable. The M Model, part of Prodigy Discs Ace Line, this disc starts straight and starts to gently turn before fading back on the same line it started from.
Nice grippy feel.
Good For: no fuss, durable and comfortable in hand
Bad For: cheap unexciting stamp which fades quickly
Flight numbers> 4, 5, -1, 1
Should I Choose An Overstable or Understable Mid-Range
Mids come in all shapes and sizes, some wide and shallow like the EMac truth. They also come in multiple stabilities, depending on how you like to throw, what shape you need to make or the conditions you will find yourself in. For instance overstable thin profile discs like the Truth can excel in the wind.
Beginners should start with understable discs as they are easier to control if you are a RHBH player. An overstable disc will veer to the left so if you are a RHBH player and starting out this is not ideal, overstable discs are also more suited to big arm players.
An understable disc will turn to the right before it finishes back to the center. But you need to need to master under and overstable discs as the course and where you land dictates the type of disc you reach for.
All You Needs A Mid
Your mid can act as your all in one utility disc. Fire it straight off the Tee when your driver is annoying you or you have less yardage to make. Crank it out on approach shots, mids will land softer than high speed drivers and this also makes them more accurate and consistently reliable flyers.
A straight flying mid like the Emac Truth, Axiom Hex or Buzzz will restore your faith in DG, when you have lost the ability to get your discs to land just where you want them.
If there are objects either side of you a straight flying mid will let you crank out a tunnel shot with ease and let your disc reach it's destination without obliterating some tree bark.
Now pack your discs and get firing.