Post Disclaimer
I may earn a commission for purchases made through my links. It helps me run this site. Check out my disclosure for more details.
You don't have to spend big to get a good disc golf bag. This post will show you some of the best options for under $50. Spending small doesn't mean skimping on the details. These bags don't force you to compromise your game.
Cycling through the options on our list will help you find the right bag for you. Some of them are so cheap they give you the option of having multiple bags to cover multiple bases. You can keep a packed go back at all times, a bag for heavy days when you will play long and cycle through a lot of discs.
A practice bag strictly for field work. A light bag when you want to travel fast with a small amount of discs. A spare bag for a friend or unannounced guest. A full on crazy loaded bag with space for food and refreshments and with a cooler- yes you can get all this in a bag for under $50
Find Out What Do You Need In A Disc Golf Bag
Are you interested in the bare bones? A light bag to travel super fast, one you can keep on your waist or belt buckle as you throw. For those days when you want to use a select few discs and want to work on specific throws on holes on a course you know well, a little sling bag can serve you well.
The open top Driven Sling bag is ideal for this, but may not suit when the weather changes.
Want a bag that can handle more discs and has room for a large bottle but isn't  a large backpack size? The Infinite Discs Slinger bag is a great option.
Slingshot Disc Golf Bag by Driven
Price – Around $25
As it's name suggests this is a sling bag, a dinky little shoulder bag that has no top cover on it. Daring, original and damn well crazy if the weather turns bad.
So its essentially a sunny state bag, or at least a summer wear bag. The idea with the open top is to get discs out even quicker so you can get on with enjoying your game.
It's a bag that's done away with all the distractions so you can throw discs without fumbling through your bag. That' s its strength and weakness. It can hold 6 or 7 discs with a squeeze. But you'll move faster without only 5 discs. So you have to be a good decision maker or really know your discs well.
You get 2 zipper pockets to store your keys wallet and a cell. The bag also has a disc divider. You can hold 2 small water bottles and there's a clip to attach any item you can carabiner. Enough for a 18 hole day if you're not hungry.
Is it Worth It?   You can't fault it design wise but for 25 bucks I want my bag to carry more discs and have more storage for a bit of snacks. Unless you like to intermittently fast when you play. You have to admire the stripped down approach and you can throw a lot of your shots with this bag around your waist.
If you live somewhere that's prone to a lot of rain lets this slide.
Infinite Discs Slinger Bag
Price – Just under $25 usually
The Slinger by Infinite Discs is like a traditional backsack. It costs the same as Slingshot Bag by Driven but it carries more than double the amount of discs naturally because of its bigger size. But its still not a big bag. You can sling it across 1 shoulder its that compact.
So it's light depending on what you stuff in there. With regards to disc capacity you can get around 15 discs in the Slinger. There is also a Deluxe Version of the Slinger which has tougher fabric and Infinite have added a carabiner. Though the Slinger has double eye holes that you can attach a towel onto.
The Slinger also holds a 32oz bottle (with a drawstring to secure it) and there are zippered pocks to store your scorecard and personal items. Once you carry the bag across your back it hangs at an angle so if you like to travel with the zipper open your discs won't spill out.
You can travel fast and light. Less clutter can certainly enhance your game. Once you cut back on your disc and accessory selection (stools, speakers, beer, umbrellas) you can concentrate on your form. Try those extra flippy hyzers you've been running through your head. Crank your Destroyer out to 400 ft….
Take 3 putters, 6 mids, 4 drivers, and a mini and some snacks and water and off you go
Is it worth it?  This bag stores your essentials and a bit more. Its low cost and good for when you need more than a small sling but don't want to go backpack large.
This lightweight bag can handle 10-12 discs and some extras and still remain light enough to carry around single headedly. Its low cost and the padded strap makes you feel you are carrying nothing at all.
Don't expect a lot of storage space for loads of food and clothing and the like unless you maybe run it with half disc capacity.
Westside Discs Sling Disc Golf Bag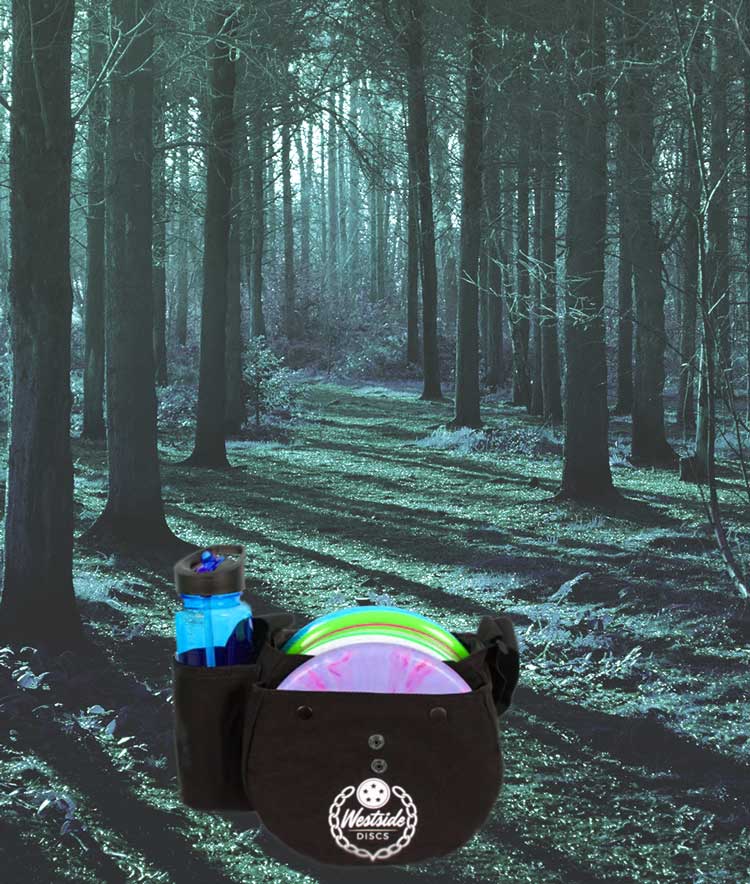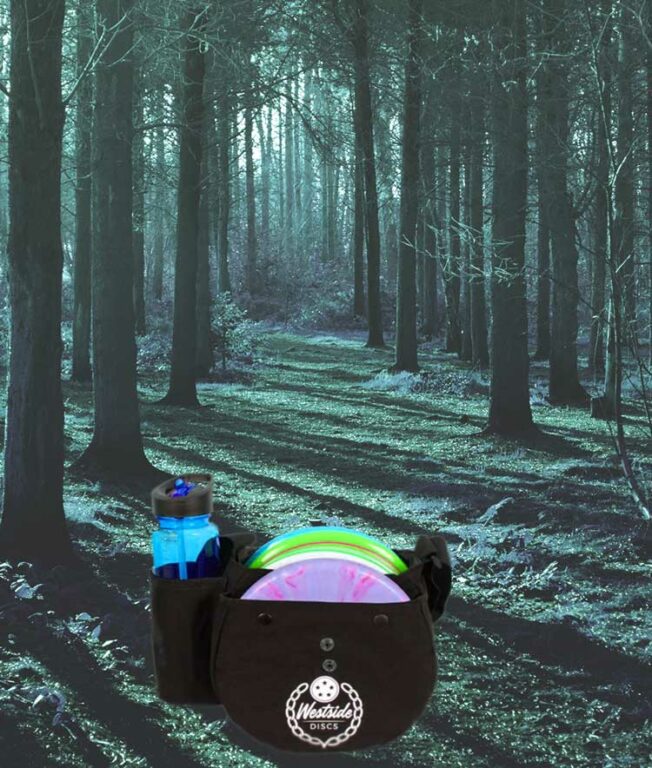 Price –  $12-13 usually
What can you get for just over $10 these days? Not much. But you can get a sling by Westside Discs that can carry up to 11 discs around the DG course.  Yip.
This is what you get with the bag – On the underside of  the flap there is a zipper mesh pocket which you can use to hold a scorecard, pencil, a card wallet/coins and a small phone.
Some bags are faster than others to open.  Snap buttons like this has open in a flash. A quick flick and the main bag hold is at your fingertips. If you want to get an extra disc or 2 inside keep the bag open. None of them will fall out as you walk around the course as its so tight fitting.
This bag weighs practically nothing its a half pound in weight and 11 inches in height. it can still hold a 24 oz bottle though. So that's your discs and hydration sorted.
Being so light you can keep the bag on as you throw or if you prefer you can loop it into your belt with the straps on the back.
Is it worth it? Well the cost is so low its a great asset to have on days when you want to travel light. Great for a family member or friend when they have no bag. It has all you need to get you around the course for a no fuss game, a drink holder, 11 disc capacity and a slot for keys/essentials. Snaps are quicker to pull apart than zippers so you can really hit the ground running and just play disc golf.
The fabric is also sturdy and waterproof. the belt loop is a great option your discs will always be close at hand so you won't always have to bend down staining your back to get your discs out of a large bag.
If you like to carry a bigger bottle this is not the right option. If you can't cram enough ice into your 24oz, or if your bottle isn't insulated it could be a problem in summer as there is no insulating lining in the bottle slot.
Fade Light Disc Golf Bag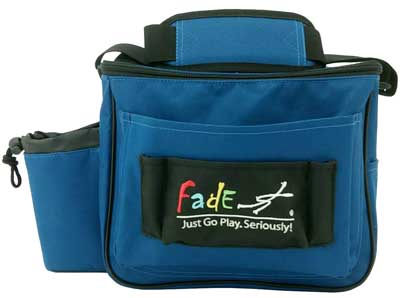 Price – Around the $20 mark usually
Introducing the Fade Lite. Weighing in at 11 oz you now know whys its called Lite. But it still manages to have an 12 disc capacity and a slot for a  1L bottle. This stripped down bag resembles its big brother the aptly named Crunch. Which looks just like a bag you'd take for lunch. The lite is designed to hold 10 discs inside and 2 in the pocket out front. You can cram 12 discs inside if you need to carry more. It has got a sewn in disc separator. Its not removable obviously. One good point is the bottle holder is insulated.
The strap is kinda short though so if you have longer limbs it might sit higher than you would like. You could just sling more towards your back. Belt loops would have been welcomed to attach to your waist, but alas they aren't there.
Is it worth it? For the price certainly, the fact you can carry 12 discs with ease and a 1L bottle is good enough for me to get round 18 or head out to practice as long as I've had a good lunch or breakfast beforehand. The polyester bag is very well put together with double stitching. It's a great bag for new players or for a spare. just remember it won't hold a wide hydro or Nalgene.
Further reading
Find out what overall disc golf bag made the no 1 slot in our post here
Check out the best disc golf sling bags in our post over here
Read our Dynamic Discs Trooper Review here
Want to know what the best cooler bag for a disc golf course is?
Find out what I think about the Ranger Backpack by Dynamic Discs
Now that you've got bags sorted you may want to look into shoes
The best disc golf shoes on the market