Post Disclaimer
I may earn a commission for purchases made through my links. It helps me run this site. Check out my disclosure for more details.
What better way to kick of our Hall Of Fame series with a player who needs no introduction, but we'll give him one anyway as he deserves it. Ken Climo. My favorite player and arguably the GOAT. Whaduthink? Agreed.
Let's move on.
Ken started playing professionally in 1987, and lo and behold he started out the blocks with a bang, he competed in and won his first amateur tournament in the summer of 1987, (i remember it well) the Crosstown Classic in Orlando. He played for 32 consecutive years on the trot before retiring. Not too shabby at all.
The tournament was split over 2 courses across town from each other – Turkey Lake & UCF – hence the tournament name. Ken had never competed in a professional competition before and he landed on the world stage with aplomb, a very heavy aplomb. After winning a few more competitions over the next 2 years, 1990 (9 tournament wins in 1990 alone) was the year Ken really broke through and began dominating the sport.
A good decade and a half before Tiger Woods began ruling the ball Golf World, Ken was becoming the biggest star in the disc golf world, all thanks to his performance on the green. Similar to Woods, Ken was known for his laser focus, pin point accuracy, unflappable competitive spirit, and sharp putting ability.
Climo was the original originator. And this was all before social media and huge contracts blew up the exposure of PGDA players to a worldwide audience. But Ken was no big headed spoilt brat. He held down his regular carpenting job in Clearwater FL whilst discs with his stamp where flying off the shelves and he was clocking up tournament wins everywhere.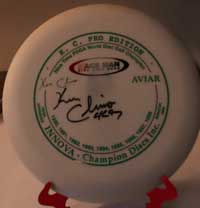 Climos Stats
The stats for Ken are just out of this world. Out of 467 Career Events Ken has 230 Wins. Approximately a 50% win ratio. Now just think about that number. Comparing to another sport, Roger Federer has played 1526 games and won 1251 of them. But tennis is 2 player games, one opponent against another. Disc Golf is one vs many.
He has won an unprecedented 12 World Championship titles!!!!
Ken Climo Career Earnings
Compared to other professional sports the prize money in disc golf is small. Ken has topped up a healthy $437, 630.32 to be exact. But disc royalties and sponsorship provide the bulk of players earnings today. But to put it into perspective in 1992 Ken made $10,668 earnings from his wins, so it's a good thing he held down that job.
Needless to say any players who weren't hitting the top form as Ken wouldn't have gotten into disc golf for the love of money. But thanks to players like Ken and his love and dedication to the sport, the profile of DG is now massive and their is a healthy influx of money and career opportunities and not just as a professional player.
Courses need tended to, there's all the admin work, coaching and educational opportunities, and if advertising, sales or being an ambassador is your thing, or being a course official, there are opportunities aplenty in this sport.
Arguably Ken's star wasn't as bright at the end of his career but he was well into his forties by then, not necessarily saying age was the definitive factor, but there was plenty of emerging muscle waiting in the wings, inspired obviously by Ken and emulation certainly leads to rivalry, which leads to excellence, which leads to pursuit then challenge and eventually the door closes on one champions career and in ushers the new breed.
He Coulda Been A Golf Contender
It could have been so different for Ken. He used to play ball Golf for his High School. He soon learned it was much different after he left high school and had to play for the privilege of striking the ball. He found it too expensive, back in the late 80s golf was a rich mans sport.
He would either have made a fortune playing ordinary golf due to his dedication, or perhaps he wouldn't have pursued a career in it at all and the world would not have got to hear about Ken Climo at all. Ken though had one thing in his locker. Living by the beach Ken had thrown plenty of frisbees. When a friend introduced him to a local DG course in 1986 Ken got a taste for it and never looked back.
How things quickly changed in a few years where he went from smacking a disc of a wooden pole without a net on his first ever course to turning pro in 1988. The dude had a natural affinity to it.
Climo came 5th at his first Worlds the next year in 1989. He then went on an unstoppable winning streak clocking up 9 straight World Championship victories from 1990 to 1998. Probably will never be matched again.
Imagine having to face this due in his prime in the 90s. His win ratio in all tournaments was 70 freaking percent. In 1995 when he was at his fiercest he won 23 of the 26 tournaments he entered. What a year, I remember it well the year I met my now beautiful wife.
Ken's Other Major Accomplishments
Apart from being one of the most humble guys you will ever meet Ken scored the highest ever rating of 1044 in 2002. Thats with plastic that is light years behind todays discs. Climo has also been accoladed Player of the Year  by the PGDA a whopping 7 times.
And just before he was inducted into our little ole disc golf hall of fame, in 1995 not surprisingly the PGDA inducted him into their official Hall of Fame at the tender age of 27.
Throughout his career, Climo has consistently been at the top of the leaderboards in major tournaments. In addition to his 12 World Championship titles, he has also won numerous National Tour events and has placed in the top 3 at the United States Disc Golf Championship (USDGC) on numerous occasions. In fact, Climo holds the record for the most USDGC titles, with a total of five.
In addition to his success on the course, Climo is also known for his contributions to the growth and development of the sport. He has served as a spokesperson for disc golf brands and has worked with the Professional Disc Golf Association (PDGA) to promote the sport and improve the player experience. Climo has also helped to design disc golf courses and has worked with local governments to establish permanent courses in his home state of Florida.
One of the things that sets Climo apart from other disc golf players is his throwing style. He is known for his consistent, accurate throws and his ability to execute a wide variety of shots. Climo is equally skilled at throwing backhand and forehand shots and is also proficient at executing hyzer, anhyzer, and spike hyzer throws. In addition, he is known for his ability to throw extremely long distance shots and for his mental toughness on the course.
Apart from being inducted into the PDGA Hall of Fame Ken has received numerous other accolades for his contributions to the sport. He has been named the PDGA Male Player of the Year on numerous occasions and has been recognized for his sportsmanship and leadership on and off the course. Despite his success, Climo remains humble and is known for his graciousness towards his competitors.
In recent years, Climo has retired from professional competition, but he still plays in local and regional tournaments and serves as a mentor and role model for younger players. He is widely respected by his peers and is seen as an ambassador for the sport of disc golf. Climo's impact on the sport will likely be felt for years to come, and he will always be remembered as one of the greatest players in the history of disc golf.
Hope you enjoyed this Ken Climo fanography. Stay humble like Ken.